The weather has been hovering in the 60s which means it finally feels like fall. As someone from Connecticut, I do have to say the foliage is lacking, but at least I can start to wear my sweaters again. With the return of the crisp mornings, fallen leaves beneath our shoes, and Halloween just around the corner, I am in the uttermost spirit for fall. Nonetheless, in addition to soaking up the perfect weather, I have been finding myself reverting to the same movies and TV shows I locate each autumn,  
Nothing gets me in the mood for fall more than movies/TV shows as nobody knows how to do the season better than Hollywood. There's just something about the atmosphere and fashion that makes me want to snuggle up under a blanket. 
Movies to Get in the Mood: 
When Harry Met Sally: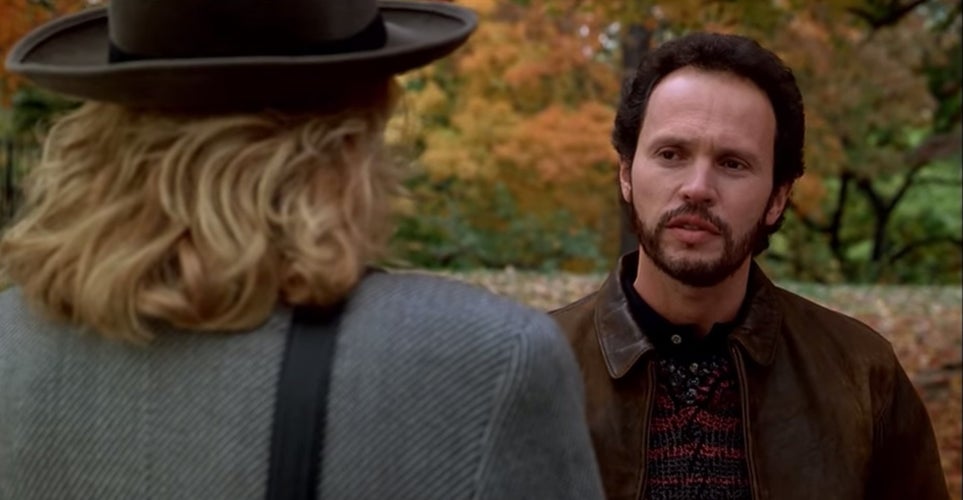 This '80s rom-com starring Billy Crystal and Meg Ryan has been one of my family's favorite movies for years. Although we typically watch this movie on New Year, this New York City-based film radiates autumn with scenes in a beaming orange Central Park. From the chunky sweaters to the blazers, it's the pinnacle autumn film complete with cold weather and pumpkins at the doorsteps of brownstones.  
Dead Poets Society:
Starring Robin Williams, this film from the late '80s takes place in a prestigious all-boys prep school. Most of this movie takes place submerged in vibrant foliage as it follows the student's first- semester with their new English teacher.  
Rudy:
Nothing screams fall more than college football does. Taking place at the University of Notre Dame, this biographical film follows the story of Rudy as he chases his dreams to play for the universities football team. It is an inspiring film that feels like fall while also bleeding with the message to never give up on perusing your goals. 
Harry Potter and the Sorcerer's Stone:
Thanks to Halloween, I cannot think of fall without thinking of magic. The first movie in the Harry Potter franchise emulates autumn as Harry and his peers learn their craft. Plus, the whole scene of Harry and Hagrid shopping on Diagon Alley and seeing Hogwarts for the first-time radiate fall to me. 
Hocus Pocus: 
Max Dennison hates Halloween and when he moves to the center of the witch trials in Salem, Massachusetts the holiday is all people seem to talk about. When he discovers an abandoned witch home on Halloween night, he accidentally brings back three evil witches. This movie is the epitome of a perfect movie for this time of year complete with all elements of a quintessential Halloween.  
Halloweentown:
Growing up, this was one of my favorite Halloween movies and was the only movie that got me in the spirit. Every year, I must watch this movie for nostalgic purposes.  
TV Shows that Scream Fall 
Gilmore Girls: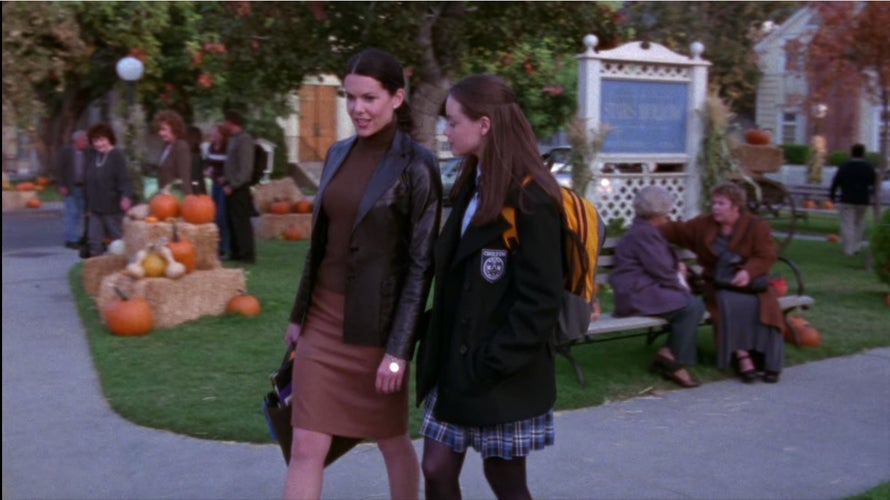 If I could live anywhere in the world (real or not) I would live in Stars Hollow. From the perfect Connecticut foliage and town center decked with pumpkins and decorations during its fall festival, it is the perfect fall tv show. I've been watching this show since I was about five with my mom every Friday, I find comfort embedded in each episode.  
Friends:
The Hollywood depiction of New York City has done it again. Another one of my favorite shows that inspires my outfits each fall. It's hard not to get in the spirit due to the Halloween and Thanksgiving episodes each season. 
Sabrina the Teenage Witch:
Anything to do with witchcraft gets me in the mood for fall. This sitcom follows Sabrina as she battles her teenage years and navigates how to use her powers.  
While you're watching these, chances are you're going to get hungry or want something to snack on. Popcorn is a must, obviously. But one of my favorite snacks to eat in the fall is an apple dipped with caramel. Literally, fall in an explosion of flavor.  
Even though October is one of the busiest months of the semester, this is your reminder to take a break and soak up the season before it's too late.