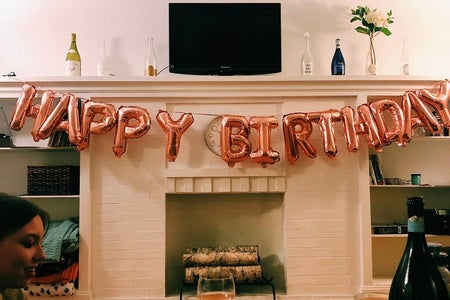 Original photo by Marissa Rainone
What It's Like Turning 21 in a Pandemic
Finally, the year you turn 21. You know what that means. Time to gather up all your friends, dress up all cute, go to all the bars and clubs you are finally allowed into, and stay up all night just having a blast. Oh but wait, there's just one thing. There's a pandemic happening and it's not a good idea to go club hopping with 10 of your closest friends all night long. Yikes! 
So what do you do when your default plan is out for the count? How do you have a fun 21st when staying inside is really the best thing to do right now?
Really, it's not as hard as you think. And yes, you can still have a fantastic 21st birthday. I know I did. 
First things first, gather up a couple of your closest friends. You don't need a million people to celebrate, just get together with a couple people you know you will have fun with. Since it is hard to go out during these times, plan to have a fun girls night in with some of your favorite snacks, drinks, and people. Having a chill night in for your birthday can end up being the best choice, despite possibly being the only choice. I know for me, I prefer a girls night in with a few close friends to spending the night weaving through a crowded club not being able to hear anyone over the loud music any day. 
Decorate your apartment with some cute decorations, get those classic big bubble letter number balloons and some streamers and you have yourself a party! And of course, don't forget to dress up all cute and pose for some pictures with your friends. After the photo shoot, get some yummy snacks, drinks, and break out the movies and board games. 
Having a 21st birthday during the pandemic is not ideal, but it can still be just as good as it would be in normal circumstances, maybe even better. By just surrounding yourself with some good people, you will have a fantastic time no matter where you are.