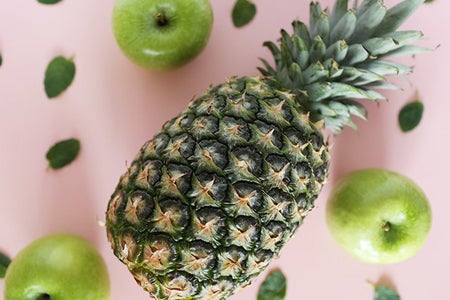 Simplify Your Skin Care Routine With Garnier's New 3-in-1 Product
Popular skin care brand Garnier has launched a new initiative to improve their products, packaging and formulation to be more eco-friendly. That initiative, — Garnier Green Labs — seeks to "bring about the best of nature and science to create clean, effective skincare solutions."
The product line currently includes three new serum creams, as well as three new cleansers, all of which are vegan and contain no animal byproducts, parabens, dyes, sulfates, microbeads and other harmful ingredients commonly found in skin care products.
To further the company's eco-friendly journey, the products in Garnier's new Green Labs initiative are produced in a plant powered by 59% renewable energy, the serum bottles are made from 100% recycled material and the cleanser bottles are made from 20% recycled material. 
I was gifted samples of the Pinea-C serum cream from Garnier Green Labs, and I was so excited to try it out. All of their serum creams are 3-in-1 products, meaning they have the benefits of a serum, the hydration and texture of a cream and the sun protection of a broad spectrum sunscreen. If I can narrow all of those steps in my morning skin care routine down to one product, count me in!
Each product in the line is created with a superfood and dermatological ingredient combination, and the Pinea-C serum cream is formulated with Vitamin C and pineapple, meaning it not only smells great, but it is also suited to treat dull and uneven skin tones.
The serum cream is very lightweight and easy to spread across the skin. I found my skin had a difficult time absorbing the cream completely, so though it did not leave any white residue, I felt my face had a sheen for a few hours after I applied it.
That said, my skin definitely felt brighter and more hydrated for the rest of the day! The Pinea-C products are for normal to combination skin, and my skin is still recovering from the Chicago winter, so it's still quite dry. Usually my skin gets significantly less dry in the warmer months, so I'm excited to give this product another try then.
I've used and enjoyed some of Garnier's products in the past, and I admire Garnier's push to be greener in their skin care production process. I think the simplification of three products in one serum cream will certainly keep me coming back to this product!
*Amanda was gifted this product by Garnier Green Labs through the #HCxGarnierGreenLabs campaign with Campus Trendsetters.*