We've started hosting monthly bullet journal events here at HCLUC, and to let you in on a little secret, they're mostly just for our CCs to hold themselves accountable for filling out their monthly pages. 
That said, bullet journaling can be a really fun and calming experience for just about anyone. Whether you're new to the BuJo scene, or you're a pro yourself, here are some of our favorite products that can really amp up your next spread!
Amanda
Not to be dramatic, but I would die for these pens. They're the perfect mix between pen and marker, so they give a bold burst of color without being too thick of a line. I love using these for accents, subheads, and highlighting key words.
These are actually pretty similar to the PaperMate Flairs, but they're a bit thinner, bleed slightly less, and have more of a controlled grip. I swear by the black ones for outlining and header writing!
This definitely isn't the most well-known notebook brand, and if I'm being totally honest, it's not the most high quality either. Still, it gets the job done. It's only available at JOANN, but it's super affordable and comes in so many adorable patterns, so it's hard to resist buying multiple at a time.
These are the trustiest markers I have ever owned. I got them for Christmas when I was probably ten or eleven years old, and I'm not exaggerating when I say I use them for EVERYTHING. Colors range from bold and bright to soft and pastel, and they're designed so that you can adjust the thickness of the line you want to draw. I love using them for fancy(ish) lettering or coloring in some doodles.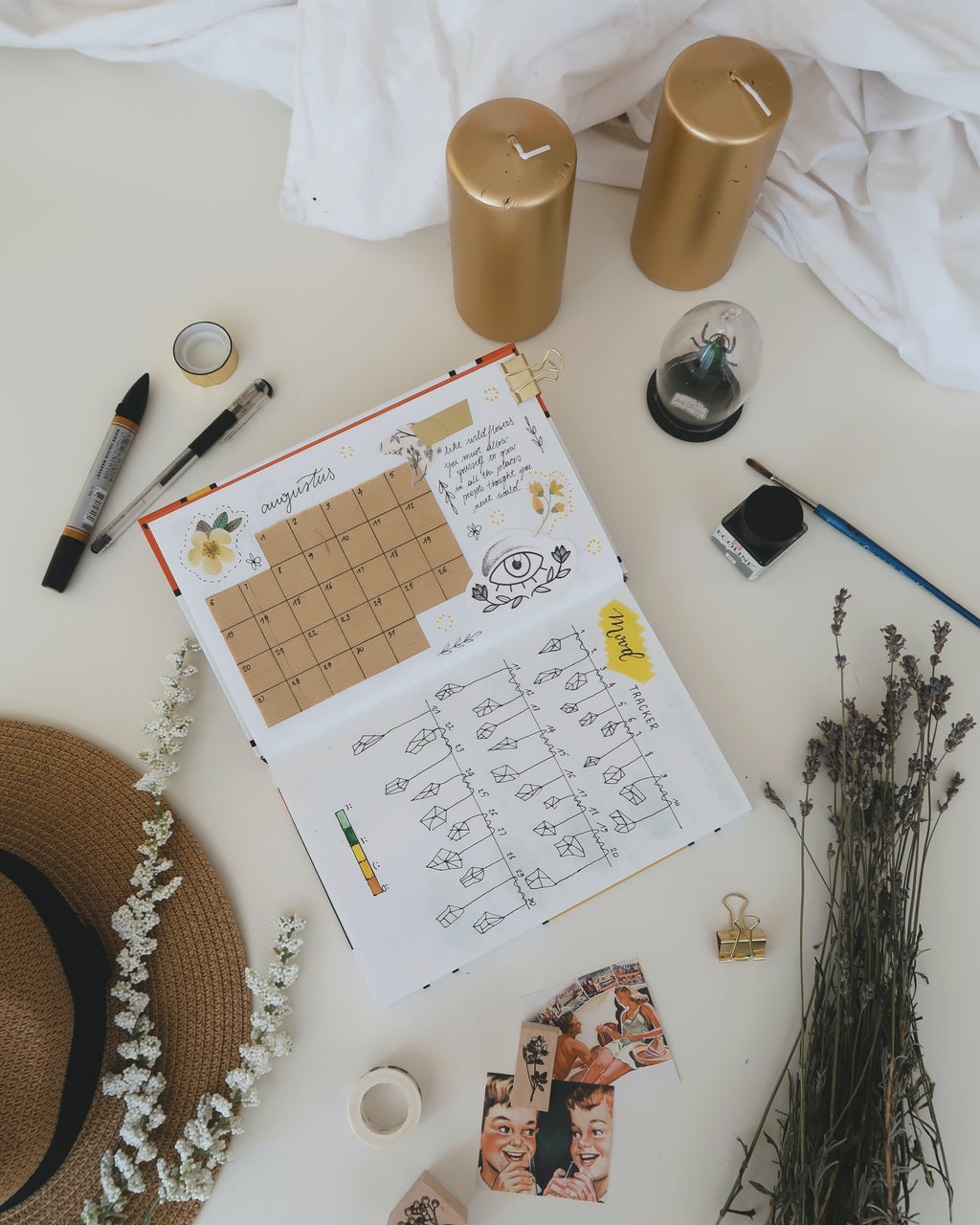 Ellie:
These are my go-to pens for writing and outlining my doodles with. I have a whole handful of black ones that I cycle between regularly. You can purchase them at almost any store that carries pens or stationary, but I got mine at Target. I get so much use out of them daily that they are definitely a staple in my pencil pouch.
These pen/marker combinations are a little on the pricier side, but in my opinion they are definitely worth it. One end of the marker has a flair brush and the other has a smaller, more chiseled ink head. I love using these for adding a little extra color to my lettering or adding detailed accents to my bujo pages. 
Although I'm an avid pen user when it comes to bullet journaling, these markers have changed the game for me. The set of 15 comes with all of the colors you could possibly want, and they have a different tip on each side so that you can create the exact kind of lines and shapes that you want. What I love most about these markers is that they don't bleed onto the next page, so you don't have to worry about the rest of your designs being ruined. The mild color shows up softly on paper to create the perfect look with ease and efficiency. 
I am genuinely in love with this notebook. It is durable, portable, and the color is so cute! I chose bright red for my hardcover notebook, but Moleskine carries a variety of colors to fit your personal style. You can typically find them at Barnes & Noble or a stationary store near you, but Amazon works just as well and most likely carries more options. If you're new to bullet journaling and are looking for a notebook that will stand the test of time, this one might just be for you!
Other than just pens and markers, we highly encourage spicing up your bullet journal with washi tape, stickers, and other fun accessories! There are many different brands available for products like these, so have fun searching for your favorites and stock up on deals when you find them. Paper Source, Target, JOANN, Michael's, and Amazon are your best friends. The best part about bullet journaling is that you have full creative control, so it's always fun to try out new products and see what you like. 
 
For inspiration for your next BuJo spread, check out our HCLUC Pinterest!