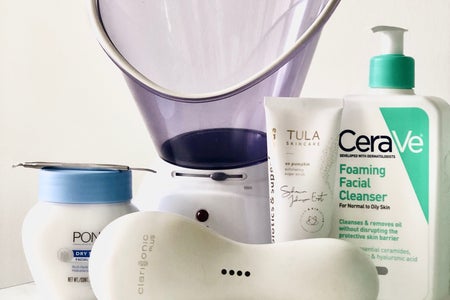 Original photo by Gabrielle Dolbin
My Weekly Cold Weather Skin Care Routine
Going to school in Chicago has its perks, but those cold winter days can really start to have an effect on your skin. So, I created a weekly skin care routine to help exfoliate and moisturize my skin. Every person's skin is different and requires different products to help fight off the cold weather, but I have found this routine to be highly effective in helping to maintain my skin's hydration. 
The first step in my skin care routine is to wash my face. I use the Cerave Face Wash for normal to oily skin and I use my Clarisonic to help get a better clean. You can use any face wash you want, but this is what I typically use day to day.
For the second step, I use my Face Steamer to help open my pores. After about 10 minutes, I use the Tweezerman No-Slip Skin Care Tool to help thoroughly clean out my pores. Once I feel like I have steamed and cleaned my face enough, I then use the Tula So Pumpkin Exfoliating Sugar Scrub to help exfoliate and remove dead skin cells from my face. Not only is this product very efficient in helping to exfoliate my face, but it also smells amazing, especially during the fall and winter seasons!
After exfoliating and rinsing my face with warm water, I then re-wash my face with my Cerave Face Wash. This time, I just use my hands instead of my Clarisonic, because I do not want to exfoliate my skin too much. After washing my face for the last time, I then use the Ponds Dry Skin Cream to help keep my skin hydrated.
I typically only do this skin care routine once a week to ensure that I am not being too rough on my skin. On the days that I am not doing this routine, I typically just use my Cerave Face Wash, Clarisonic and Ponds Skin Cream to keep my skin feeling clean.
While this weekly cold weather skin care routine might not be for everyone, I hope it gave you some ideas on how to keep your skin hydrated, especially with these upcoming winter months!