I grew a love for baking and sweets at a young age. Although I can decorate a four tier cake like no other, cooking is not my cup of tea. I can follow a recipe to a T but something always goes wrong when it comes to cooking. My Babci ("Grandma" in Polish) has always made delicious Polish cookies and some meals from time to time when I was younger.
 Growing up,  I was a Polish dancer for 10 years and have always kept the culture close to my heart. As I sat in my dorm room craving a home-cooked meal, I decided to tackle the challenge of making 35 perogies in my small college dorm kitchen on a Saturday night. Let's just say it was an adventure from the start.
A few months ago I bought a recipe book written by one of my favorite chefs, Candice Kumai, after I saw her make an appearance on Selena Gomez's new cooking show, Selena + Chef. The recipe book is titled "Cook Yourself Sexy" and is filled with healthier options of the foods we all know and love. I found a spinach and mushroom pierogi recipe and knew I had to try it to impress my Babci.
The recipe was going well until I hit the filling. The recipe called for a few ingredients that I didn't have sitting around so the new mission was to complete the recipe with only the things I had and still make it taste good. It was at this point I began to realize just how much work this recipe was going to be, a lot of waiting for dough in the refrigerator or allowing filling to fully cool down. I listened to music and tried to make the time go by. 
Before I knew it, it was time to assemble. First, I got the dough from the fridge where it resided for 30 minutes in order to chill and then got a cup of water, a yeti rambler (the closest thing I could find to a cookie cutter), a fork, and a left over paper towel cardboard tube (also the closest thing I could find to a rolling pin). 
I wrapped the cardboard tube with parchment paper but struggled to keep it on as I rolled the dough out so I gave up and just used the tube by itself. I rolled it to what my best guess of ¼ of an inch was and began cutting 3 inch circles with my yeti rambler. Once I had a majority of the dough cut into circles, I began wetting the edges of the dough and estimating the amount of filling I should use to stretch out the amount I had for 30+ dough circles. After placing what I felt was appropriate for each one, I shut the pierogi and closed the edges with a fork. 
After 30 minutes went by I began to worry about the amount of filling I had left compared to the dough. After some calculations, I realized that I had enough filling for 3 more pierogies and had 27 more circles of dough to fill. This last minute project had already taken 4 hours of my time and I was close to giving up when I remembered how the pierogies I have had before had mashed potatoes in them so I looked up recipes for a potato filling. 
Even the "easy" recipes were saying it would take 2 hours to complete so I took matter into my own hands and grabbed a few fingerling potatoes from my pantry (aka a small bowl above my microwave on top of my fridge because I have zero space in this dorm kitchen) and boiled them for 20 minutes while I finished off the mushroom filling I had left. I mashed the potatoes and added some butter and shredded cheddar cheese. I then scooped the filling into my remaining dough circles and finally finished assembling all 35 pierogies. Looking back and admiring my work, it hit me that I wasn't done quite yet. I still had to boil and plate the delicate looking masterpieces. 
I got out my medium sized pot and brought the water to a boil. I placed as many pierogies as I could into the pot and waited for them to rise to the surface. After another 30 minutes going by, all of my pierogies were boiled and it was time to plate them. I took three mushroom and spinach filled pierogies and two potato filled ones and set them on a skillet with some oil. After it began to become golden on both sides, I placed them on the plate and put a dollop of sour cream on top of each and sprinkled some parsley.  
I sat down and enjoyed my dinner. After many hours had been put into this meal and way too many pierogies were made for a solo college student stuck in a dorm, the final verdict was simple: delicious! I think it's safe to say that my adventure to feel connected to my culture was a success. This long journey made me think of all the cultures around the world like Italy, Poland, France, and many more put so much time into a meal and sit down with their family and friends for hours to catch up rather than focus on rushing through or sitting on their phone. 
I called my Babci after I was finished with the pierogies and I think it's safe to say I did her proud. I was asked to make them for our next family gathering and I can't wait to see what they will look and taste like when I don't have limited supplies and ingredients!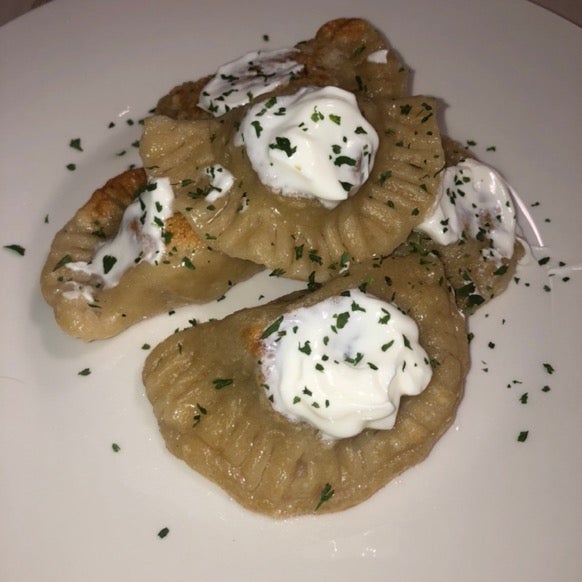 Recipe:
Spinach and Mushroom Pierogies
Makes 24 pierogies
Ingredients:
DOUGH
2 eggs
¼ cup light sour cream
1 cup water
1 teaspoon sea salt
3 ½ cups sifted all-purpose flour, divided
FILLING
1 tablespoon extra-virgin olive oil
½ large or 1 medium yellow onion, finely chopped
2 garlic cloves, finely minced
3 cups finely chopped cremini mushrooms
1 cup baby spinach leaves
2 tablespoons chopped fresh parsley
1 teaspoon sea salt, or to taste
1 tablespoon canola oil
TOPPINGS
¼ cup light sour cream
2 green onions, finely chopped on the bias
To make the dough:
In a medium mixing bowl, whisk the eggs, sour cream, water, and sea salt. Gently rain in 3 ¼ cups sifted flour, 1 cup at a time, until fully incorporated.

Turn out the dough onto a lightly floured work surface and knead gently until smooth. Place the dough in a lightly oiled bowl, cover it with a damp paper towel, and allow the dough to rest in the fridge for approximately 20 minutes.
To make the filling:
In a medium sauté pan over medium heat, add the olive oil and yellow onion and sauté until soft and fragrant, about 8 to 10 minutes. Add the garlic and cook for 2 more minutes.

Add the mushrooms, tossing well to coat, and cook for about 10 minutes. Fold in the SPinach, cooking just to wilt. Add the parsley and season with the sea salt. Cool slightly before assembling.
To assemble:
Remove the dough from the refrigerator and place it on a well-floured work surface. Set a small bowl of water next to your work area. Roll out the dough to approximately ¼ inch thick. Cut out dough rounds using a 3- to 4-inch round biscuit cutter (or use the rim of a drinking glass). Place about 1 to 2 teaspoons of the filling in the center of each circle. Dip your fingers in the water and moisten the edge of half of the circle, the fold the other half over to make a half-moon shape. Press and seal the edges together using the back of a fork. 

Transfer the dumplings to a rimmed baking sheet dusted with flour and repeat with the remaining dough and filling. Cover the baking sheet with plastic wrap and chill the pierogies for 30 minutes or up to 2 hours. (Or freeze them in a single layer on a baking sheet, and then transfer them to a resealable freezer bag for up to 6 months. The pierogies can be added to boiling water straight from the freezer.)

Set a large sauté pan over medium heat. Add the canola oil, then about 10 dumplings, taking care not to overcrowd the pan), and cook for 2 minutes on each side. Remove them with a spatula and place them on a paper towel-lined plate to remove any excess oil. Continue until the remaining pierogies are cooked. Serve topped with the light sour cream and green onions.