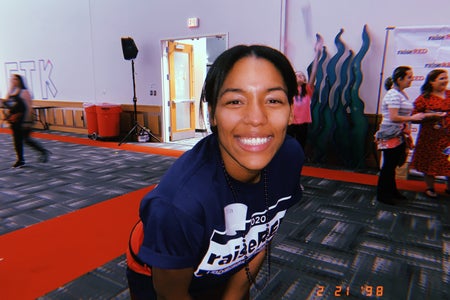 The University of Louisville's annual dance marathon is less than a week away, and as it approaches I've decided to share why I will be participating in raiseRED again this year. 
If you didn't already know, raiseRED is the largest student-run philanthropic organization on campus and it is the best place to be during the month of February. All year long, hundreds of students attending UofL choose to participate in a huge push to directly benefit the Norton Children's Cancer Institute and the UofL Department of Pediatric Oncology and Hematology. Over the past seven years raiseRED has been able to raise over three million dollars for the cause and they don't plan on stopping any time soon. 
My first year participating in raiseRED was a last minute decision, but the best last minute decision I've ever made,  which you can read all about here. I had been hesitant because I knew I wasn't the best fundraiser, learned through years of Girl Scout experience. But walking into the marathon, I was blown away. There were so many of my fellow students there, and something electric in the air. Everyone I had told about wanting to participate in raiseRED had met me with nothing but enthusiasm and encouragement. They had expressed how much fun raiseRED was and how I couldn't possibly miss it. 
I will forever be grateful that my peers pushed me to participate last year, because I don't think I would be the person I am today without my raiseRED experience. RaiseRED has shown me so much about myself and the people around me. I can say the most influential thing I've learned is that the community around me is powerful. Gathering with all of my peers to raise $690,000 for children affected by cancer and their families is one of the most meaningful things I've done in my life and I realized how much of an impact a bunch of college students can have. 
After a disheartening year with fighting for justice, fighting through a pandemic, and personal struggles, raiseRED presented itself to me as a way to feel hopeful for the future. Despite all of the challenges, the marathon was still up and running, that already meant the world to me. Anyone or anything that has the strength to continue fighting for what is right despite what may be going on around them, is a role model to me. Fighting to provide the funding these families are dependent on from the marathon despite there not being any in-person planning or contact has been more than challenging for the Executive Board of the organization, but they've decided to do it anyway because if they didn't, that would mean they would be giving up. 
I dance for resilience. I dance for hope. I dance for everyone around me. Even if someone may have not been personally impacted by cancer or blood disease, continuing to fight for those who have, sends the most important message. We will never give up. We will always fight for those who are not able to fight for themselves, and to me, that means the world.