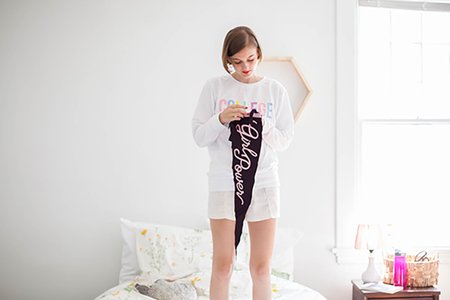 Kristen Bryant / Her Campus
The Ultimate Guide to Having a Random Roommate
Going into college without a roommate can be a daunting prospect. When you're filling out the housing application, it can be scary to click the "random roommate" option, especially if there are no questionnaires about personality, likes, and dislikes. There's always a possibility of getting a roommate that you don't have a lot in common with. If you follow these steps to make the best of the situation, having a random roommate can turn out amazing!
1. Contact your roommate ASAP
A while after you fill out your housing application, your college will send you the name of your roommate (and suitemates, if applicable). As soon as this happens, contact them! If your college only gives their name, find them on social media and message them by saying hello and introducing yourself. The sooner you talk to them, the higher the chance you can find things in common before move-in day.
2.  Don't ignore each other
Some roommates just live together and that's it. But it can be really helpful to have someone to go back to after class to talk about your day. You might have other friends that you vent to, but if you are able to talk with or be more vulnerable with your roommate, your situation will be much better. But be sure to balance this with quiet time. You and your roommate will want some alone time, so respect that. 
3. Hang out with them outside of your room
If you are only with your roommate in your room, you probably won't be close. Invite them to eat with you, go out with you on the weekends, or go shopping. 
4. Communicate!!
This really goes for any roommate situation, but if you are just meeting this person, you may not know their pet peeves and preferences. If you set ground rules when you move in, you won't have petty arguments. Also, you are likely to have other friends that don't know your roommate. So be sure to text your roommate before you have friends over!
Ultimately, you can make a situation that seems scary into a great one! I am a first year with a random roommate, and we've become great friends! And try to keep this in mind—becoming great friends with your random roommate can be rare. If you don't click, that's ok! It's all about the college experience. But if you follow these tips, you and your roommate are much more likely to hit it off!