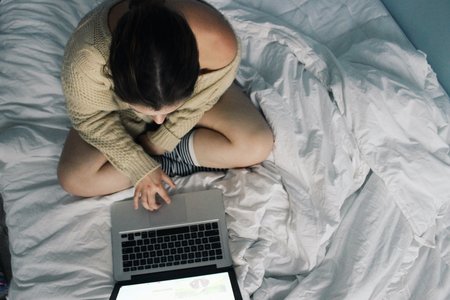 Anna Schultz / Her Campus
8 Must-Watch Documentaries
Knock Down the House
This documentary follows the campaign trail of four women candidates, Alexandria Ocasio- Cortex, Amy Vilela, Cori Bush, and Paula Jean Swearengin. The inspiring story of these women shows how with hard work and determination, victories can happen. Ocasio-Cortez was the only one out of the candidates that won the election, but the documentary shows that for every four fighting, sometimes only one wins. That message of perseverance is just one of the reasons this documentary is a must-watch!
Tower
In 1966, at the University of Texas at Austin, a sniper took to the campus' famous tower, killing 16 and injuring 31. This documentary not only showcases this tragic tale, but employs artistic combinations of animations and in-person interviews of witnesses. There are stories of heroism that will inspire any viewer.
The Hunting Ground
This documentary is a must-watch for all college students and especially women. It shows several cases and many statistics of the problem of rape and sexual assault on college campuses. The Hunting Ground is an eye-opening film that will embolden anyone to advocate for justice.
The National Parks: America's Best Idea
Ken Burns is known as one of the best (if not the best) documentarians. This documentary series in particular is one of his most groundbreaking works, showing an in-depth look of America's National Parks. It displays the most beautiful places America has to offer as well as the history of how the National Parks came to be.
13th
This documentary deals with the problem of mass incarceration in the Untied States, specifically in the case of African American men. The title references the often-forgotten clause of the 13th Amendment that states slavery is illegal "except as a punishment for crime." This clause has been used as justification for labor in prisons in the United States, and used as a prolonged form of slavery, still disproportionally affecting American Americans. Every American needs to watch this documentary to help educate themselves on the unjust systems our country perpetuates.
RBG
Ruth Bader Ginsburg is one of the most inspiring public figures in American history. She shows that goals can be achieved with devotion and diligence. This documentary details her rise to the Supreme Court and her place in American law. RBG also showcases her inspiring fight for women's rights, and how there are more women in law today than ever before.
Holy Hell
This documentary displays a fascinating look into the hive-minds of cults, specifically the Buddhafield and its leader, Michel. The film deals with themes such as narcissism, spirituality, and the mob-mentality.
Oklahoma City
This documentary explores the Oklahoma City Bombing, the deadliest act of domestic terrorism in the modern history of the U.S., and other important events that led up to it. It is a chilling look into this crime, and the documentary comes at a time in which violence is an important topic in the U.S., with several  recent high profile domestic terrorist attacks and mass shootings. Every crime and politics buff needs to watch this film!