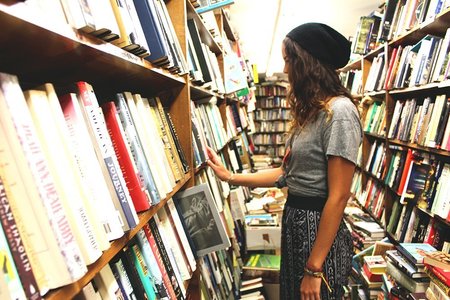 Recommended Reads From A Bored English Major
Recently I've pulled myself out of my hole of Netflix binges and endless Pinterest boards to revisit one of my favorite past times: a good book. It may sound cheesy, but finishing a book is one of the most rewarding feelings and what better time to get into reading than a national pandemic? Here are a few recommendations that may not have been on your summer reading list, but definitely should be. 
1. Big Little Lies 
Okay, this one was recommended by an old English teacher of mine, and I ended up becoming a huge fan of the author's body of work as a whole. Big Little Lies is a book by Liane Moriarty and it was recently adapted into an HBO series. The book follows three women whose children attend Pirriwee Public Elementary. There is a murder at the school trivia night, and as the police work to find the killer, the novel has flashbacks to the events leading up to the murder. It covers romance, mystery, abuse, and friendship. Definitely a read that has something for everyone. 
2. Beartown 
Two words: Character Development. Beartown centers around a varsity hockey team in a small town and challenges what we're willing to overlook when it comes to a local celebrity. I can't really put into words how amazing this book is, so here is the opening line. You can judge for yourself. 
"Late one evening toward the end of March, a teenager picked up a double-barrelled shotgun, walked into the forest, put the gun to someone else's forehead and pulled the trigger." 
Beartown is such an emotionally charged novel, and Fredrik Backman is a genius! 
3. All The Light We Cannot See 
Warning: this one is not for the emotionally compromised! All the Light We Cannot See is a World War II novel set in occupied France. The story follows a blind French Jewish girl who is forced to flee her home and a German orphan recruited for his technological ingenuity. It includes manipulation, quiet strength, sacrifice, and A LOT of tears. 
4. To Kill A Mockingbird 
Okay so most of us read this during school, but even so, it's worth revisiting. This is one of my favorite novels of all time. It covers the trial of a black man accused of raping a white woman in Maycomb, Alabama during the great depression. Scout Finch challenges social injustices with childlike innocence, and Atticus Finch is the voice of reason we didn't know we needed. Figure out why "it's a sin to kill a mockingbird" in this super worthwhile classic. 
Enjoy!