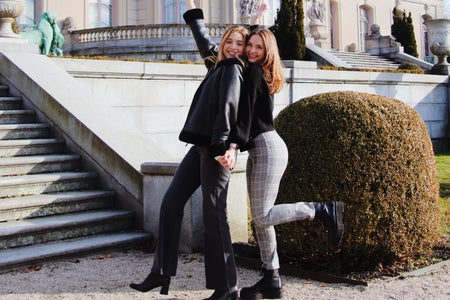 Each day you interact with hundreds of different people: roommates, classmates, coworkers, professors, baristas, mail carriers, and so many more. Each relationship is different from one another and has its own important role in life. For example, you would not expect your professor to whip up a grande almond latte nor would you expect your significant other to assign you a test. The most important relationships, however, ought to be with your friends and family. I personally refer to this group as my tribe. My tribe is made-up of the people who help me grow, watch me succeed and provide unconditional support. When times are tough, these people know how to listen and uplift my spirits. 
I have a long list of people I would consider to be a part of my tribe. They are the ones who influence my life day-to-day and stick around for all the craziness and victories along the way. I am fortunate enough to have a good portion of my tribe here at LMU: most notably, my best friends and roommates. While I appreciate all of these people for different reasons, I wanted to take a minute to talk about my self-proclaimed work wife, Olivia. 
I met Olivia during the first week of our sophomore year when we were learning lip sync dances for our sorority. Together, Olivia and I struggled through the new choreography and laughed at our many failed attempts. Our first "date" was getting ready for lipsync at my house as we attempted to squash our looming stage fright and get all dolled up for our big performance. I helped her curl her hair as she did my makeup. A best friend is someone who does your make up while you do their hair because you're both only talented at one thing. In other words, we are each other's complement to our own personality traits and habits. Little did I know that this Bobbi Brown-esque friend would soon become my work wife. There are certain people in your life that you mesh with instantly, and Olivia is one of those friends for me. 
Over the following few months, Olivia and I grew so close. We overshared every detail of our past and present lives and made an effort to have dinner at least once a week. She is someone I don't get sick of and can be completely candid with. We do not agree on everything but our differences have fueled important conversations and helped us both grow tremendously. I know that our friendship has taught me so much and made me a better person because we truly bring out the best in one another. 
In many ways, Olivia and I are our very own Babysitter's Club: best friends with a business idea. Instead of the Babysitter's club, we call ourselves Pineapple Play. One night over Sunday dinner, Olivia and I decided to make our own business plan for a management consulting company that aims at empowering female leadership. By creating our own business plan, I mean to say that we wrote out our top ten business goals and timelines to accomplish opening procedures and signed the sharpie-covered printer paper to make it official. A common phrase we use in our sorority is "empowered women empower women," and that is exactly what we aimed to achieve in our imaginative company. We both laughed as we ordered pineapple stickers and strategized the best way to buy the Pineapple Play URL by 2021. (By the way, the name "Pineapple Play" came from our shared love for the summer fruit and competition we have found in sports.) This night will forever be one of my favorite nights because it was like playing dress-up and creating stories, except it was real-life adult endeavors. Today, these business plans hang on my wall as a reminder of how important it is to pursue your passions but also as a tangible symbol of what being a work wife means. Olivia is my work wife because she encourages me to become my best self professionally and supports me each step along the way. We inspire each other to be imaginative with our business pursuits and approach each situation together in a logical manner. I am grateful for Olivia in my life, and I can't wait to see if any of our business endeavors actually turn into something real. At this point in time, we have aspirations for a consulting firm, cookbook, and pumpkin bread business. Who knows where we'll be in 10 years? One thing I know for sure is that everyone needs a work wife. Everyone needs someone who will push them to become their best and go after their professional goals. Find yourself a work wife.