Survival Kit: Face Mask Friday
This is a sponsored feature. All opinions are 100% our own.
I love facemasks. They make me feel so clean and relaxed that I fit one in whenever I can. I was so excited when I saw Freeman's face masks in our Her Campus Survival Kit and couldn't wait to try them out. I normally use the Freeman Dead Sea Minerals Anti-Stress Mask because you know college is stressful. But I was interested in seeing what else Freeman had to offer. To start I removed all my make up and applied the mask evenly all over my face. I let each mask dry for about 5 minutes before rinsing off. Really going for that scene from A Cinderella Story: "I can't show emotion for another hour and a half" kind of feel before you take it off.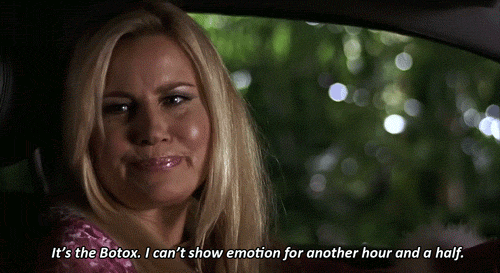 Apple Cider Vinegar 4-in-1 Foaming Clay: 7/10
I was excited to try this one after hearing about the new trend of foaming masks. However my experience was a little disappointing because it never actually foamed. So it was pretty much just a regular face mask that smelled like apple cider vinegar. Waiting for the mask to dry my eyes started to sting a little bit from the smell, so I didn't wait a full five minutes before taking it off. It was easily removed with water and my skin did feel fresh.

Avocado and Oatmeal Clay mask: 10/10
This one was overall my favorite for sure. The second I opened the pouch, I was welcomed with the refreshing and calming scent of avocado and some other tropical smells. I could literally see the mask being absorbed into my pores which at first was kind of creepy but then felt like it might actually be working. This mask was harder to get off including multiple rinses but once I removed all the blue color my skin looked cleaner and rejuvenated.
Charcoal & Black sugar polishing mask: 8/10
I was definitely most excited to try this one because I love charcoal masks and they usually work pretty well for me, and I was=nted to see how the sugar would play into that. Upon opening the pouch I realized this was more of like a thick sugar scrub than a facemask, maybe something you could also use on your legs. As I was applying the mask, the sugar was having trouble sticking so I would recommend using it more like a scrub and apply it over a sink. Because of the sugar this mask was a good exfoliant and left my face feeling very smooth.
Cucumber Peel-Off mask: 5/10
Even before opening this pouch I could tell it was going to be thick. I thought it would be more of a cream like the other masks but this one feels a lot more like a gel or slime. The transparent color of this gel mask made it really hard to see where I had already covered. I ended up just looking sweaty which was not the look I was going for even on face mask night. I had to let this one dry for awhile because if it gets wet it turns to a weird goo. Picture in elementary school when you would let glue dry on your hands and then peel it off for fun: that is this mask. So when the time came to peel the mask off, I felt exactly like Angelina Jolie in Salt when she is ripping that creepy mask off her face. Again because it's clear it was hard to tell if the mask was still on in some spots. The idea of this mask is cool and it smelled SO GOOD but I think the execution was a little off.