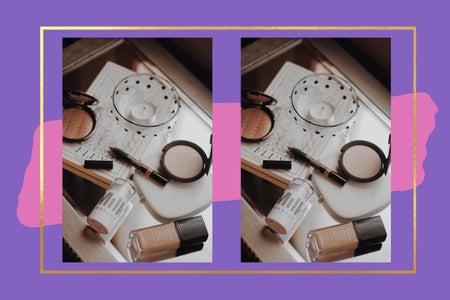 Anyone who knows me knows that I love makeup. Just ask my roommate last year because my desk also functioned as a part-time makeup table. I love makeup so much that I actually work at a makeup store where I help match people with their perfect product, so when I heard they were launching a new brand, I couldn't wait. Rare Beauty is a brand by singer, actress, and icon Selena Gomez. The brand promotes natural-looking makeup that has coverage while maintaining that no-makeup makeup look. I bought myself a bunch of products, so I could review them. Like every good makeup review, I'm going to start with the beginning of the makeup routine with the primer.   
1.

Always An Optimist Illuminating Primer

If you have dry skin like me, this is a great primer to use. I'm not a fan of sticky primers because they'll dry out my skin, and matte primers are a no-go. This primer is hydrating while providing a natural glow that compliments the foundation perfectly. 

2.

The Liquid Touch Weightless Foundation

Like the primer, the liquid touch weightless foundation is great for dry skin. The wide range of 48 shades provides a great match. I usually have a hard time finding a foundation that is my shade because I am so pale, but I found the perfect match for me. The only thing about this foundation is that it doesn't pair well with a heavy-duty setting powder. I used the Fenty Beauty setting powder and the foundation began to separate. However, it's a great natural finish foundation that provides light to medium coverage.

3.

The Liquid Touch Brightening Concealer

The Liquid Touch Brightening Concealer pairs beautifully with the foundation providing easy color matching due to the shade numbers matching the foundation. It is a very natural finish that doesn't cake after a long day's wear. I have a really strange under eye texture, so a lot of full coverage concealers tend to cake under my eyes. This concealer is light-medium coverage depending on if you layer it and has good coverage after one swipe.

4.

Soft Pinch Liquid Blush

5.

Positive Light Liquid Luminzer

6.

Always an Optimist 4-in-1 Mist

This is a priming/setting spray that is supposed to provide a natural glow finish. Honestly, for the price point of $24, it's nothing special. Yes, it's hydrating, but most setting sprays feel hydrating. I say if you want to try something new, go for it, but it's just another fine setting spray. 

7.

Liquid Touch Multi-Tasking Sponge

I was surprised when they released a foundation sponge at launch because people are so particular about their beauty sponges. What sets this one apart is that it has porous holes in it that give it an interesting texture. I'm not a fan of this product because it soaks up a lot of product with little return, and the texture is super weird.

8.

Perfect Strokes Eyeliner

9.

Brow Harmony Pencil and Gel

I always love trying new brow products because my brows are such a mess. I was excited to see the shade range because some brow companies don't have auburn, the color I use as ginger. The pencil itself is super pigmented, so it allows you to get a bold brow. The gel is a nice complement to the pencil because it provides the extra color to make your brow perfect. However, because it's super pigmented, you need an extra brow brush to blend the products together.