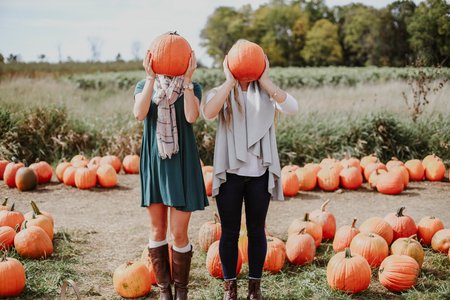 Breanna Coon / Her Campus
I've been really into fashion lately. With fall approaching fast, I want to share some of my favorite, current fashion trends as well as some places to shop in order to complete these looks.  
Blazers
Oversized blazers, or just blazers in general, are one of my favorite fall trends because you can either dress them up or down. To dress it up, you can throw on a pair of black slacks and some heels. To dress it down, you can throw on a pair of ripped jeans and some Nikes. A couple of affordable places to get a cute blazer are Zara and Princess Polly. If you wanted to spend a little bit more on a higher end blazer that will last you a lifetime, the brand Frame is a great one to look into.
Collared Shirts and Crewnecks 
Wearing a collared shirt underneath a crewneck sweatshirt is becoming one of the most popular fashion trends out there. This is ironic because I went to a Catholic school where this "outfit" was a part of my uniform. If only this was considered cute during my high school years. A collared shirt under a crewneck sweatshirt can be paired with a pair of ripped jeans or even a tennis skirt. You can get a plain, white collared shirt almost anywhere. I got mine off of Princess Polly. Crewneck sweatshirts are super easy to find, and you can even thrift them!
Sweatsuits
I feel like this is a trend that skyrocketed during quarantine due to how comfortable it is. I love the look of an all-black sweatsuit with some colorful shoes. I got my all-black sweatsuit from Jacks Surfboards. I know that's random, but any plain black sweatsuit will work. Some other places to get a cute sweatsuit is Madloveusa or Iamgia. I love to pair my black sweatsuit with a pair of colorful Jordan 1s. 
Shoulder Bags 
This is definitely my favorite fashion accessory right now. Shoulder bags are a cute accent to any outfit you put on. It can make an outfit dressier if you are in sweats, or it can complement a nicer outfit that you already have on. I have a couple suggestions for where to get shoulder bags to accessorize your outfits. You can get some pretty affordable ones that are also super cute at Urban Outfitters or Princess Polly. If you are looking to spend a little more money, Louis Vuitton and Prada have some very cute options.
Shoes (too many to name!) 
I am a big shoe girl, so keeping up with all of the shoe trends is a must for me. A huge trend that has erupted are Jordans. The Netflix documentary, The Last Dance, is partly responsible for the resurfacing for this old trend. These shoes come in low, mid, and high tops. There are so many different colors and styles to suit everyone's unique style. I personally love the Lightbulb Jordan 1s because the color palette is so beautiful. Platform Doc Martens are also in right now because they are a good boot for fall. They go well with jeans, skirts, and so much more.