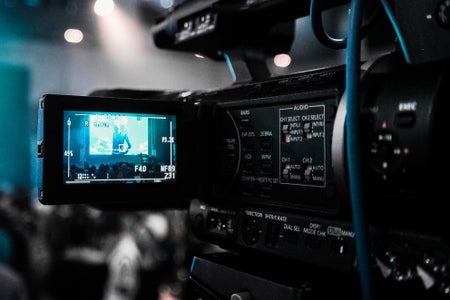 8 Best & Wackiest Moments From The Emmys
The Best
1. The 'Schitt's Creek' Sweep
I know that wordplay has been used by pretty much everyone who has written an article about this, but it's true! Schitt's Creek was truly the star of the show, breaking the record for most wins in one season of a comedy. Check out their big, gleeful wins below, and then, if you haven't already, WATCH THE SHOW! The final, Emmy-winning season will join the rest of the series on Netflix this October. 
72nd Emmy Awards: Catherine O'Hara Wins for Outstanding Lead Actress in a Comedy Series
72nd Emmy Awards: Eugene Levy Wins for Outstanding Lead Actor in a Comedy Series
72nd Emmy Awards: Dan Levy Wins for Outstanding Writing for a Comedy Series
72nd Emmy Awards: Andrew Cividino and Daniel Levy Win for Outstanding Directing for a Comedy Series
72nd Emmy Awards: Daniel Levy Wins for Outstanding Supporting Actor in a Comedy Series
72nd Emmy Awards: Annie Murphy Wins for Outstanding Supporting Actress in a Comedy Series
72nd Emmy Awards: Schitt's Creek Wins for Outstanding Comedy Series
2. Zendaya's Historic 'Euphoria' Win
Zendaya continues to be more and more of a powerhouse than we already thought her to be. With this win, she became the youngest woman ever to win Best Actress in a Drama Series. Crazy to think she was on Disney Channel just a few years ago, but I'm sure this won't be the only award on her resumé.
72nd Emmy Awards: Zendaya Wins for Outstanding Lead Actress in a Drama Series
3. The Virtual Styles 
No red carpet, but there were plenty of fits to go around. Some chose to go all-out with red-carpet-worthy looks, like Tracee Ellis Ross, others went more casual, such as Julia Garner who, according to her Instagram, wore "the classiest silk pajamas a girl could ever dream of." But perhaps the most popular look of the night was the choice made by nominees and presenters such as Regina King, Uzo Aduba, and Sterling K. Brown who wore shirts to draw attention to Breonna Taylor and Black Lives Matter. 
4. Shining The Spotlight On Essential Workers
Along with taking advantage of other virtual elements, The Emmys had essential workers present several awards. People from various vocations, including a UPS worker, teacher, truck driver, and healthcare workers were all present throughout the show to shine a light on many of those most affected by the pandemic
Emmys 2020 Celebrates Essential Workers - Emmy Awards
The Wackiest
1. The Mini 'Friends' Reunion
COVID might have postponed the HBO Friends reunion, but viewers got to see Jennifer Aniston, Courteney Cox, and Lisa Kudrow in a gimmick that they've been living together since the 90s. Many Friends fans seemed delighted by the cameos, but if you look at any recaps of the night, most found the segment to be cringy and lazy. See what you think here:
72nd Emmy Awards: Jennifer Aniston and her "Friends"
2. The Alpaca
Just wow… Randall Park thought he was presenting with Al Pacino. Instead, he got an alpaca and a joke about their lack of needing to social distance.
72nd Emmy Awards: Randall Park Presents with an Alpaca
3. The Emmy Delivery
You usually have to get up close and personal to deliver someone an award so the show had to get creative. This meant winners were given their awards by either someone in a full-blown hazmat suit or by a prosthetic hand popping out of a box filled with confetti. John Oliver of Last Week Tonight probably had the biggest reaction to his box popping open!
72nd Emmy Awards: Last Week Tonight With John Oliver Wins for Outstanding Variety Talk Series
4. Celebrities in Quarantine
Let's be honest, lots of celebrities really miss being celebrities. With nowhere to go, no work, and no one to see in person, many haven't seen the spotlight in months (some tried with the "Imagine" video, and we all know how that went). With that in mind, The Emmys was a perfect occasion to get some glam and camera time, as well as showcase some of the nutso stuff they've been up to, including Bryan Cranston doing an at-home "workout" with his Emmys.
72nd Emmy Awards: What Have You Been Doing During Quarantine
With all the good and all the wacky of the Emmys, there'll no doubt be more virtual award shows to come. We'll see what happens!
BONUS:
She might not have won, but just google "Alex Bornstein Emmys 2020." Her Zoom set does not disappoint.