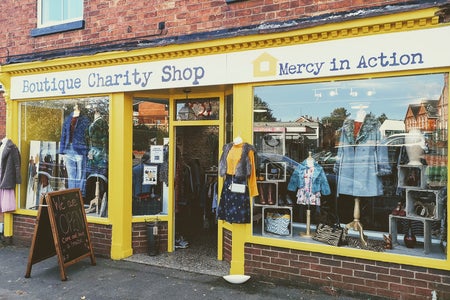 Photo by Allison Todd / Mercy in Action
Sustainability in Conversation: Mercy in Action
This is Sustainability in Conversation: a series where I talk to people about their individual experiences of sustainability. In a world where the media is a continual onslaught of negative news and general dreariness, I wanted to talk to the environmentalists, the business owners, the experts, the craftspeople - and everyone else with a love for sustainability - about what they are personally doing to help protect our beautiful planet. Additionally, maybe in doing so, remind myself (and hopefully, you) that there are some pretty wonderful people out there, doing some amazing good.
You might've noticed that a lot of people are talking about switching to ethical, sustainable fashion as one of their New Year's resolutions, but what does that really mean? This week I sat down (over FaceTime) with Naomi Fenna, manager of the Mercy in Action boutique charity shop in Bath, to discuss how switching out fast fashion for charity shopping impacts your environmental, social and even economic sustainability.
Mercy in Action started in 1995, when John and Allison Todd were on a trip to the Philippines. The couple met a group of young boys living on the street; they were starving and begging for food. In the short time it took for them to order the boys some food, John and Allison already knew that they had to do more for children like these boys. Thus, Mercy in Action was born, a charity which "works to alleviate the suffering of children living in poverty in the Philippines through feeding, education, shelter and love." Mercy in Action now work across both the Philippines and the UK. In the Philippines, they work to provide homes for street children through their Forever Families project, where children living on the street can live in residential homes, potentially being reunited with family members, if that's deemed appropriate. They further work to provide access to healthcare for those who cannot afford it, and to provide drop-in centres, where children living on the street can shower, wash their clothes, have a hot lunch, and even read in the library. In the UK, Mercy in Action facilitates multiple initiatives to support young homeless mothers and their children, young homeless men, and those suffering from food poverty.
But how does this impact your sustainable fashion consumption? Well, it's no secret that fast fashion isn't the most sustainable way to shop, with fast fashion purchases in the UK producing the equivalent amount of carbon as driving around the planet in a car six times, in just one minute. Yikes. In a world obsessed with excessive production and consumption, where fast fashion shops make more than people will ever consume, it seems the most sustainable clothes are those that have already been made. So, if you're looking to quash your personal carbon footprint, whilst supporting an industry with amazing social impacts, charity shopping does seem like the way forward. With a handful of boutique charity shops across the UK, Mercy in Action is bringing a little chic to charity shopping.
According to Naomi, the 'boutique' element of their charity shops is really all about choosing the high range items of clothing (such as those from big-name designer brands), as well as picking out items that she knows to be trending at the moment. "Anything brown is on trend at the moment," Naomi tells me, going on to say we should also keep our eyes peeled for corsets, anything green, and GAP hoodies. Fashion hint: Naomi suggests that loud, bright, and colourful patterns and prints will be all the rage come spring.
Mercy in Action charity shops further their environmental sustainability by maximising their resource usage. In a world where a circular economy (where resources are simply recycled and reimagined over and over again) is "fundamental" to solving our global climate crisis, it seems pretty smart. According to Naomi, the charity ensures it gets full usage out of all its resources by offering its stock to the general public in three different ways: their boutique charity shops, their traditional charity shops, and their outlet stores. Naomi explained that the outlet stores usually charge a maximum of £5, in order to ensure that all stock gets sold. Mercy in Action make the most of their stock even more with their rag system. "We have a rag system so I'll bag [any items that won't sell] and put [them] for rags… and [they'll] be shredded and recycled," Naomi explained. The items that the charity won't sell usually include those that are stained, ripped, a bit smelly, or generally just worse for wear. With the money that the charity receives for the recycled scraps, they get the most out of all their clothing donations to make a huge impact on so many lives.
If you're thinking of swapping to second-hand, it may seem a little daunting, so Naomi has some tips for everyone. "I think the biggest thing is baby steps," Naomi commented, "don't push yourself to be like 'Right, overnight, I'm gonna cut out fast fashion'. You've gotta ease yourself into it." She says that you need to set yourself goals, and achieve them gradually. "Think of new ways to wear your current wardrobe, so look at Pinterest and see what some current outfit trends are. Most of the time, you'll already have a couple of those things in your wardrobe, you just need to wear them in a different way to how you're used to," Naomi advises. She also says that with all the extra time everyone has at the moment (with all of us stuck at home!) we should start trying to get a little more inventive with our clothing. "Embellish or embroider or change up your basics!" Naomi encourages, explaining how we could all get a lot more out of our wardrobes, if we were just a little more creative.
If an overnight overhaul of your fashion habits really isn't your thing, Naomi recommends participating in events like 'Secondhand September', a trend started by Oxfam where people pledge to give up first-hand/fast fashion for 30 days or more. Alternatively, Naomi says that you could allocate one month of the year where you let yourself shop as normal. For one thing, as Naomi puts it, "your wallet will thank you for it." For another, Naomi believes that shopping second hand will actually improve your fashion sense and style. "[Second hand fashion] gives you more freedom to experiment with your style," Naomi comments, positing that because of the low cost, you're not making a huge commitment to a new item of clothing. It can always just be a quick love affair, that you just as quickly relegate back to the charity shop, into someone else's arms. If not, you've probably found an item that you'll love and cherish forever.
Despite all the sustainable benefits that charity shopping affords us, Naomi says she doubts whether fast fashion will ever become obsolete as a result. "There's always gonna be people out there that want the next hit thing," Naomi admitted, "but also in some respects, we need small amounts of that." Without fast fashion, there isn't the same "cycle", as Naomi describes it, of fashion. "[Fast fashion] will never really stop," Naomi concedes, adding that we need some small, 'fast' fashion shops that are "made with sustainability in mind".
While charity shopping at the moment is virtually impossible in person, many charity shops have made their stock accessible via platforms like Depop (you can find Mercy in Action's stock on Depop here). 
So, we might not be able to save the world with charity shopping alone, but the sustainable impacts we can have, just by shopping at the local Blue Cross, Helen and Douglas House, or even Mercy in Action charity shop, are pretty phenomenal.
Image courtesy of @naomifenna
Naomi is the manager of the Mercy in Action Bath shop in Margaret's Buildings. She feels that sustainability has always been a part of her life, influencing many of her daily choices; she shops entirely second-hand fashion, and eats a vegan diet. You can check her out via her Instagram, @naomifenna.
Words By: Gina Moran
Edited By: Laura Murphy