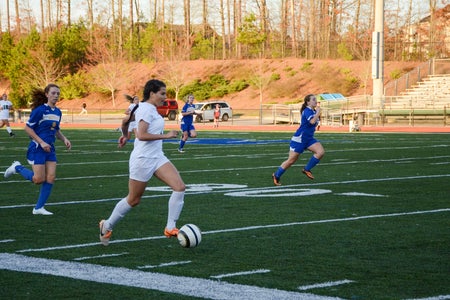 Her Campus Leeds International Women's Day Interview: Ellie Back
Ellie was on a train when we spoke, and it felt great to have a really informal chat with someone I hadn't spent that much time talking to before, about something so personal to her- her hobbies. It might sound trivial but when was the last time you really discussed your hobbies in-depth with someone? 
I think the last time I did… I was probably about 10 years old. 
I started by asking Ellie what her favourite hobbies are. She highlighted that they "Come under the sports bracket. Football is probably the main one… but I don't do it anymore. Skiing is another one I like, it's so peaceful. Tennis is another, even though I haven't played in a few months, but I've played it since I was five years old."
Whilst Ellie was telling me this, she realised, "Wow that's actually quite a long time, isn't it?"
Ellie enjoys playing sports. Not only for the peaceful time outdoors but also because she enjoys the team spirit and thinks that being a part of a sports team is an easy way to make friends.
After asking Ellie if she had ever been judged for talking about her hobbies, she told me, "[Sport] is quite a universal thing, it's quite easy to get into, whether you just want to be a spectator or get into it."
That being said, Ellie feels lucky that her favourite hobbies are well-loved by a lot of people, so she tends to not have people get tired of her discussing her hobbies.
I recognised that Ellie had only spoken about sports so far, and whilst this is a hobby, I would personally define a hobby as a lot more than this. I wondered what Ellie thought, to which she shared, "A hobby is an activity which someone does that brings them enjoyment and they do it on a regular basis because they liked doing it and they want to get better at it… that's how I would define it personally, but I think that having a hobby is quite an individual thing."
Ellie expressed that she also has some individual hobbies that are not sport or team related, such as reading she said, "I will watch anything on TV. If there is a TV on, I will just sit in front of it." 
I think we can all relate to the last one. We discussed how TV and reading can be a form of escapism and a way to relax, so while they may not be as productive as playing a team sport, Ellie does value these hobbies too. 
So next time you're binging Netflix, remember that you're not the only one and watching Friends for the 16th time; it's a valid hobby after all! ;)
Words By: Alice Colton
Interviewee: Ellie Back
Edited By: Ellis Idris