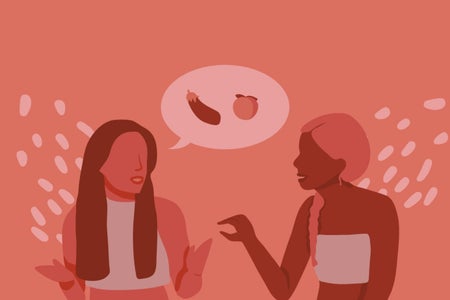 Her Campus / Addie Abujade
Cultural Attitudes to Sex in Uzbekistan, and How They Shaped My Sexual Adventures
The one thing I value the most in life is freedom – especially the freedom of choice.
Being an Uzbek girl living in Uzbekistan, a country with a maniacal obsession with tradition, means that your freedom is extremely limited. While that may sound slightly overdramatised, I really did hate my life in Uzbekistan.
Thank you to mum and dad for sending me to the UK. Honestly, it has been the best decision they ever made - on par with the decision to get a divorce.
I moved to the UK as a 17-year-old virgin who believed that it was important to remain celibate up until my wedding day. I valued marriage, never challenged dominant patriarchal discourse and thought that I would be married by the age of 19 to 22, at which point I would give birth to three children. That pretty much summarises the main goals of deeply traditional Uzbek girls. For example, I know of two girls from my last school in Uzbekistan who got married at 18 and 19, and I wouldn't be surprised if they thought of me as a loser with no life. To be fair, they wouldn't be wrong, thanks to uni driving me absolutely crazy even though it's just been two weeks of proper studying.
Here's some context: I never talked about sex with my parents, I never had any sexual education classes at school, saying the word 'sex' was treated as equal to swearing, and worst of all, I thought masturbation was a bad, sinful thing to do. When I would ask my classmates about sex, they would always say that not only have they never done it, but they never will. Why on earth are sex and masturbation considered such taboo? I don't know nor understand why people in Uzbekistan are so strongly against pleasure. I have big hopes for this and future generations, because honestly, I can't keep pretending that I haven't popped my cherry. In the course of 2 years, I have had 15 sexual partners, and they can testify that I'm clearly not a virgin.
My first partner was an Argentinian guy, who I met just two months after arriving in the UK. At this point, I had realised that sex wasn't that big a deal. FYI, my first time was nothing like in the movies. I asked him to stop after around 30 seconds as I was in so much pain. Thankfully, I didn't bleed too much. I don't know if there was something wrong with me, or maybe even with him, but I didn't enjoy the experience one bit, nor did I enjoy his company much at all. Perhaps the only interesting thing he could offer me was sex and at least he wasn't a weirdo like my next two partners would be.
At first I thought, 'Oh, those two sweet virgins', but they turned out to be the worst f**k-buddy relationships ever. Folks, when your f**k-buddy says that:
you can't have sex with anyone else, or it counts as a cheating
you can't kiss anyone else
you have to show your phone, if they think you're 'cheating'
It's time to leave that relationship behind. The whole point of having a friend with whom you can engage in casual sex, is that you are both independent from each other and free to date, to kiss and to have sex with other people.
They also proved to be extreme hypocrites. As soon as they found another girl, I became non-existent or 'intrusive, annoying and crazy'. What did they expect though? Why does only one side of the relationship have to abide by those rules? A guy ghosted me for a whole day and when I asked him why, he plainly said, 'I have a girlfriend now'. Brilliant. Every time I fall into a mess like, I'm not sad nor heartbroken. Rather, I'm mad at myself for being that silly girl who constantly falls for the wrong guy.
Now, as an ambassador of everything that is unhealthy, I don't tell guys how I feel and I try to spend no more than one night with every guy I meet. Who knows, maybe one day I'll become more confident and ready to open myself up to real relationships and conversations about my feelings. However, because of my culture, a culture where feelings don't exist that advocates a 'who cares anyways' way of thinking, it is a tremendous challenge for me to be open with my feelings. I WILL learn one day, but for now, I enjoy being that girl whose name you'll forget the next day.
Words By: Madina Latipova
Edited By: Anthea Pei