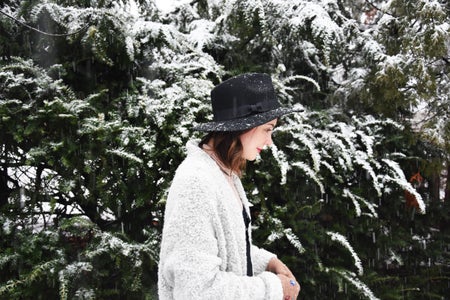 Anna Thetard / Her Campus
What to Do This Reading Week
Well, it's that time of the semester again (finally)! Reading Week is upon us and I don't know about you, but I am hoping to have a productive week of both work and play. Sometimes it is hard to maintain that work/life balance, especially during the semester when classes, assignments, work and other responsibilities seem to be crowded together. But it's important for our mental and physical wellbeing to take the time to enjoy our lives outside of school. In fact, a study found that when a healthy work/life balance is not maintained, it can lead to increased stress levels and decreased productivity.
While Reading Week is not as much of a break as our time off during the winter and summer breaks, with assignments dangling over our heads, it is still a great chance to catch up on work, connect with friends and get some much needed R&R. Whether you are looking for local events, DIY activities or simply relaxation methods, here are some ideas for what to do when taking a break from school this Reading Week:
I love music and going to concerts, so of course, this had to be my first recommendation for what to do on Reading Week. No matter what kind of music you like, there are always shows happening. For example, pop band Echosmith is playing at The Mod Club on the 17th and Canadian band The Beaches is playing in Guelph on the 22nd. Also, smaller shows like these will be relatively inexpensive allowing you to enjoy music without spending more than you'd like!

Another thing you could do this Reading Week is start a journal. You could create drawings, write a story, record your life, make a scrapbook or really anything. I recently started bullet journaling and I wish I had started earlier – it has really helped me to take a step back from the stresses in my day and appreciate the little things. If you have been thinking about journaling, now may be your chance to spend a little time creating a new habit.

Winter has been pretty mild so far, and that's great for walking! Whether you go for a walk around your block or you hike to check out some of Hamilton's waterfalls, the Reading Week is a great opportunity to get outside and get those steps in! Also, going for a walk is a great way to take a break from studying or working. Getting some fresh air can help you clear your head of what is stressing you out and become more mindful of the world around you.

Even if you get busy doing homework, taking extra shifts or hanging out with family and friends, it is important to take some time during the break to focus on you. A great way to treat yourself and relax at the same time is by having a spa day! From doing a facemask while you read a book before bed, or trying out a new bath bomb from Lush (or Brantford's own Bathtub Bakery) to going to the nail salon with some friends, there are ways to pamper yourself for everyone and every budget

Sometimes during the hustle and bustle of the school year, life gets messy. Your bed may stay unmade, a mountain of clothing may form out of nowhere and your backpack may become a bottomless pit of gum wrappers and crumpled up paper. Even if you manage to keep your things relatively tidy between classes and assignments, the break is a great chance to go through what you have, clean, organize, and maybe even donate!

I always find myself wanting to read for fun more often but can never seem to make time for it during the semester. While we do have to read for school, reading for fun is different. It can be an escape, stress reliever and entertainment. Have a book you have been dying to read or one you're halfway through? Cut down on your screen time and read instead! Reading before bed can also help you settle down for the night and get to sleep more easily.

7.

See your friends and family

Lastly, but probably most important, make time to see your friends and family this Reading Week. The break literally begins with Family Day, so take advantage of it! Watch a movie, head to the mall, grab a bite to eat or see your friends who have been away. Many of the other ideas I mentioned above can even be modified to include your loved ones.
I hope some of these ideas help you to make the most of your reading week, both in terms of getting ahead with schoolwork but also taking time to do what makes you happy! Have other plans? Let us know what you're doing during the Reading Week on Instagram @hercampuslb!