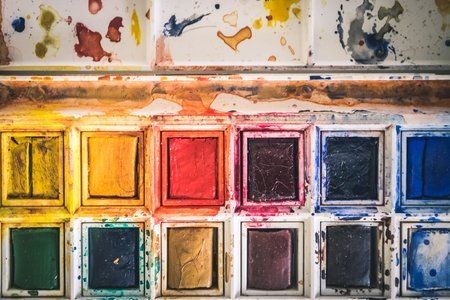 November Color Palette Based On Your Birth Month
As we move into our last month of Autumn (*sniff *sniff), a lot of us are still looking for inspiration to add to our wardrobe. Such inspiration can be found by taking a look at color palettes. You know, those ones from Pantone or your favorite mood boards. Here are some color combos based on your birth month!
January
Based on January's birthstone garnet, dark, edgy colors go well with Autumn's warm leaves. As these dark colors invade the wardrobe, they can be presented in dark academia outfits such as these. 
Colors: Dark Red & Dark Blue
February
With February's amethyst, a cloudy purple and grey palette comes off as soothing and perfect for rainy Autumn days. Grey bottoms and purple tops, with some rain boots, can make these outfits cozy.
Colors: Dark Purple & Soft Grey
March
Observing March's striking bloodstone, intense green and red splatter of emerald green on outfits can best be showcased in 80's inspired fall fits.
Colors: Emerald Green & Red
April
With light touches of yellows and oranges from April's opal gemstone, there's no doubt that April babies can't rock the colors of crispy fall leaves. These bright colors will surely brighten your outfit and your day!
Colors: Soft Yellow & Soft Orange 
May
May's birthstones present the bold greens and soft blues of the stones sapphire and chrysoprase. These gorgeous colors can be added to your stylish fit of the day with monochrome outfits.  
Colors: Soft Greens and Blues
June
The gemstone for June is the moonstone, which means the color palette for this month is light and soft. In opposition to January, we seek light academia outfits instead of dark.
Colors: Light Blues, Whites, and Creams
July
Taking a look next at July's ruby birthstone, bold reds make up most of the palette for those with this birth month. Soft red and dark red can be played together in relaxed autumn outfits. 
Colors: Burgundy Red and Red Wine
August
This month receives the birthstone diamond, where light greens and pastels are shown in the shimmer that reflects off of this gem. These shimmering colors can saturate everyday looks when put together with the principles of color theory. 
Colors: Light Green & Orange
September 
September's lapis lazuli gem showcases a striking blue with hints of brown. With this rare combination, it can make your fall outfit different from the rest. Blue tops and bottoms, brown coats and jackets, and brown shoes and boots make up a perfect fall ensemble for September babies. 
Color: Brown and Deep Blue
October 
October's tourmaline gives us another rare color combination of greens and pinks. With the watermelon color palette, it can add some fresh flavor into fall picnic outfits. 
Color: Green and Pink
November
November's topaz encompasses all of the Autumn colors we know and love. From browns, to yellows, to oranges, the warmth of the season can make its way into your wardrobe. 
Colors: Brown, Yellow, & Orange
December
The final month of the year features the calming turquoise stone as that month's birthstone. This stone's color palette, when used in your wardrobe, projects an air of success. Overlays of blue coats, sweaters, and statement pieces continue that celebration of style. 
Colors: Blue & Green