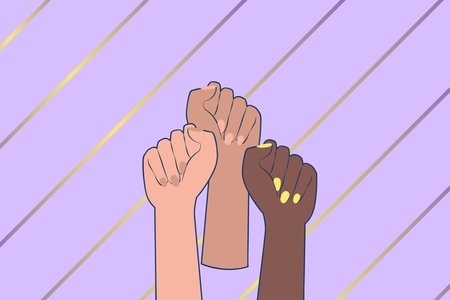 Original Illustration by Gina Escandon for Her Campus Media
Empowering Women Series: Lasell Fashion Design Student Ismahan Hersi
In light of International Women's Day on March 8th, Her Campus Lasell found it necessary to highlight the woman that has impacted our lives or who we see making a difference for their community for this week (and every day).  In this Empowering Woman Series, we have chosen to interview students, friends, family, and professors about what they do and what it's like being bada** empowering women.
Smart, hardworking, always happy, and accepting, these are words I would choose to describe Ismahan Hersi, best known as Isma. 24, Junior Fashion Design and Production Major here at Lasell University. She lives in downtown Boston with five of her siblings and mom, while commuting to Lasell. As a first-generation college student with ten siblings, she has had various part-time jobs throughout her college years to help pay for college and all her supplies for her designs. In her free time, she loves trying different makeup tutorials and making custom designs. 
Isma was born in Kenya and moved to America when she was just nine years old and was put into the fourth grade. While learning what everyone else had to learn, she also had to learn English. She said moving to the states was a huge adaptation. It was all new to her, "new language, new food, new friends, and more freedom." 
In the near future, she wants to have many internships to gain experience, a dream internship would be with Vera Wang. She can also see herself in NYC for a couple of years, for the experience. After that, she wants to move somewhere warmer but loves the city life so maybe L.A. She wants to have her own brand of either wedding dresses, sportswear, or modest wear. She would start out online and then have a store in a warm city. 
The woman who inspires her the most in her life is her mom, mainly because she raised and supported ten kids. Growing up, her mom's biggest message was to never give up and be strong. Her mom has supported her and her siblings with their decision to go to college or any of their other dreams. Her mom's mottos according to Isma are to "never take anything for granted, go after your dreams, never listen to anyone who tells you cannot do it, never discourage yourself, and be patient with yourself and others." These are messages that Isma will always keep near and dear to her heart. She wishes she could repay her mom for everything she has done. 
Isma thinks it is really important to stick together with your family during hard times. Her family is super important to her and knows to never take anything for granted. She thinks it is important to remember where you came from. If she becomes a rich and famous designer someday, which I believe she will, she wants to donate to those who are less fortunate. Isma believes in hard work and knows there is always room for improvement in your skills. This is important to Isma because " you have to show you are better than other candidates when applying to jobs and internships."  
Isma inspires me and others on campus because she is clearly a hardworking student and highly motivated. She is selfless and puts her friends and family's needs above her own. Anytime I see her she is always a ray of sunshine, makes others laugh and smile, and is very kind-hearted. We need more people like her in this world. All those late nights in the sewing lab will be worth it one day for her because she will be very successful if she continues having the motivation that she has.