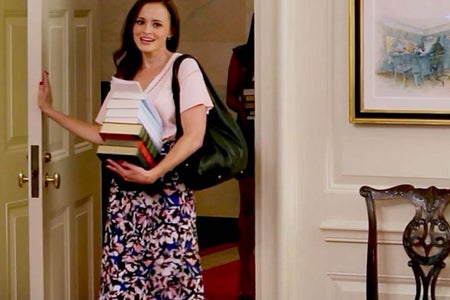 Why You Should Rewatch Gilmore Girls Right Now
If you're looking for an escape after a long day, some laughs in between classes, or a new thing to talk about with your friends, look no further than rewatching Gilmore Girls on Netflix. Even if you've seen it dozens of times, I promise you'll notice new things, you'll get new insights into characters you never noticed, you'll get to live vicariously through the most iconic mother-daughter pair to grace the CW. If those reasons didn't convince you, here are seven more:
1.

To Get Into The Fall Spirit

There is nothing that says Fall quite like Stars Hollow. Watching "A Deep-Fried Korean Thanksgiving" with your family or imagining what costume you'd wear to the Autumn Festival will instantly put a smile on your face and get you ready for a cozy rest of Fall.

2.

So You Can Try Out Sookie's Recipes

3.

To Count How Many Times They Accurately Predicted the Future

Emily and Richard Gilmore partook in social distancing from opposite sides of the dining room table long before it was law. Rory was taking selfies a decade before Instagram. Taylor Doose wore cardigans years before Taylor Swift released her hit song. There are probably countless others.   

4.

Two Words: Emily Gilmore

I don't think even the most skilled writers in the world could capture Tony-award winning Kelly Bishop's brilliance. In most shows, Emily would be a simple villain, for whom no audience member would actively root. However, Bishop takes every quip, joke, and monologue and elevates it to comedic and sensational genius. If nothing else, you need to stick around long enough to watch her walk the runway to the tune of "Girls Just Wanna Have Fun."

5.

Start the Semester in Style

I remember watching Rory go off to Yale and dreaming of what my first semester of college semester might be like. While starting online might not be exactly what I had in mind, Gilmore Girls still comes in handy with so many great pieces of advice. These include but are not limited to knowing your dates and deadlines, biding your boundaries, being open to every experience, asking for help when you need it, cultivating a creative outlet, raving for your rivalry, and of course, Copper Boom.

6.

For All of Those Fabulous Celebrity Cameos

Did you know that Victoria Justice, Nick Offerman, Max Greenfield, Jane Lynch, and so many other hilarious actors came by Stars Hollow long before becoming household names? I certainly didn't notice so many of these on the first go-round!

7.

To Remember Just How Great Luke Is

The free coffee and donuts would've been enough to love this character, but the reasons keep stacking up! He is the definition of a loveable curmudgeon: from his uniform baseball cap and flannel to then turning around and being Lorelai's shoulder to cry on, Rory's chauffeur, and the Dragonfly's key investor. 
So please, grab your favorite coffee and snacks, curl up on the couch, enjoy, and belt out that theme song every time!