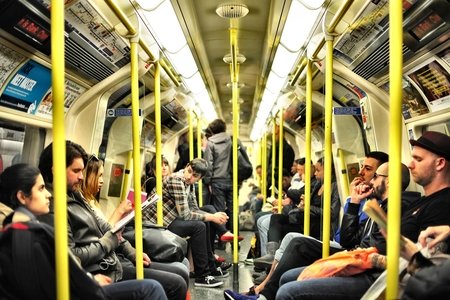 Places to Visit in NYC When It's Just Too Cold Out
Anyone who has visited New York will tell you New York City during wintertime is a truly magical experience. With its twinkling Christmas decorations, the melodious Jingle Bells Rock playing at almost every store, holiday markets, the famous Rockefeller Center, and how can we forget Kevin McCallister's Home Alone? However, something I have learned during this winter break is that no matter how magical and promising these places sound, the winter cold can be discouraging and strolling down the streets of the Big Apple is not always the best option. But don't panic, I've compiled a handful of underrated spots I've discovered this winter so you can stay warm and enjoy NYC during the most beautiful time of the year (at least according to Andy Williams).
BROOKLYN FLEA + SMORGASBURG WINTER MARKET
Looking for delicious food and vintage relics? Brooklyn Flea's has got you covered! Located at 25 Kent Ave. (8th Floor) in Williamsburg, Brooklyn, it has become one of NYC's best attractions plus it's always open through rain or shine. Brooklyn Flea features hundreds of vendors of furniture, vintage clothing, collectibles, and antiques, as well as a mind-blowing selection of jewelry, art, and crafts by local artisans and designers, plus delicious fresh food. Although Williamsburg is its winter location, you can find it in its Dumbo location from March to November. This is undoubtedly one of my favorite spots to find unique treasures, to take aesthetic photos, and enjoy the breath-taking view from the 8th floor. Plus it is located in Williamsburg, famous for its hipster culture, art, and vibrant nightlife.
Martha's sure knows how to make life sweeter. And listen, I don't really have a sweet tooth, but this bakery has stolen my heart since the day I tried its Mix Berry Tart with a cappuccino. The delicious smell of fresh cakes, pies, and roasted coffee transport you to another universe because of how delightful it is. Martha's is located only a few blocks away from Brooklyn Flea, so if you are in the mood for a hot chocolate or a piece of cake, don't think twice and head to Martha's. It is located in 263 Bedford Ave, Williamsburg, Brooklyn, and has other locations in Astoria, Bayside, and Forest Hills. This is definitely the best place for a coffee date, to get cozy, or to catch up with your friends! Oh and they play a ton of Ed Sheeran's songs, what else can we ask for?
You probably already know about the viral and photogenic Eggloo waffle that has conquered Instagram lately. I know it sounds crazy because you might be thinking "Ice cream during winter?!" But no, I have not lost my mind. The moment you walk into the bakery, you'll instantly see how much of a cozy spot it is and it'll keep you from shivering while eating your ice cream. Something that makes Eggloos unique is the variety of ice cream and waffle flavors--from chocolate and matcha to strawberry and vanilla. And don't forget about the toppings, ranging from fruity pebbles and coconut flakes to seasonal fruit and granola! Sounds amazing right? Plus, it is located at 60 Mulberry St, in the heart of Chinatown. Make sure you give it a try if you visit NYC, any time of the year. 
Do yourself a favor and ride the Holiday Nostalgia Train. New York City continues the tradition of placing vintage 1930s train cars in regular service every Sunday between Thanksgiving and New Year's in different routes, for just the cost of a Metrocard swipe!!!!! If you're able to catch the train for a trip next winter, you'll find rattan seats, paddle ceiling rands, period-appropriate advertisements, and incandescent light bulbs. It's a very immersive experience so you might as well go all the way and do something crazy like wear a fun hat or an old-fashioned dress. NYC trains might not seem like an ideal place to find fun, especially if you don't want giant shopping bags pushed into your face, but being able to travel in time to the 1930s is something that you don't always have the chance to do.
Enjoy all of these hidden city gems and popular spots this winter, and don't forget to bring your friends along for the ride!