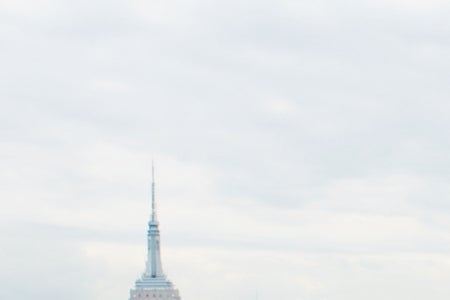 Anna Thetard / Her Campus
NYC Date Ideas On A College Budget!
As cuffing season comes to a close and spring begins to tease us with her sporadic warmth, many young couples may find themselves asking "well, what now?" Hectic workloads and packed social schedules are not the most conducive for fostering healthy new relationships. Dating in college is far from easy, and coming up with creative weekend activities that don't break the bank is just as difficult. If you and your significant other find yourselves craving a weekend getaway, take a quick trip to New York City and try out one of these (budget-friendly) date ideas!  
1. Essex St. Market (88 Essex Street) 
Essex Market has been a token Lower East Side fixture since 1888. What started as an outdoor market stocked by individual pushcart salesmen has blossomed into a trendy indoor culinary hub. Open from 8am-10pm, you can take a tapas-style approach to your meal and sample small dishes from as many vendors as you have the time for! My best advice would be to grab a map when you walk in and circle all of the spots that you want to try. Not only is this date much more interactive than a classical sit-down dinner, but it also takes the stress away from having to choose where to eat. Instead of having either Italian or sushi, you can have a cheese slice with a spicy tuna roll on the side and you don't have to break your bank account. If it's your first time visiting Essex Street, a few of my personal favorites are Café D'avignon, Mille Nonne, and Eat Gai. 
2. Mini Golf at Pier 25 (Hudson River Park)
For $5, adults can play unlimited mini golf at Chelsea Piers beautiful outdoor 18-hole minigolf course. Located on the Hudson River, this secluded spot illustrates the peaceful side of New York City and provides a stark comparison to the hustle and bustle that most experience when visiting Times Square or Grand Central station. Pier 25 is the longest pier in the Hudson River Park and this degree of separation from the busy streets creates a rather romantic atmosphere.
3. Jane's Carousel (Old Dock St, Brooklyn New York)
A quick subway ride from Manhattan, this beautiful carousel built in 1922 looks out over the beautiful New York City skyline (and only costs $2 per ticket!) The ride itself is open Thursday through Sunday 11am-6pm, the perfect activity for after an early lunch or before dinner. The surrounding neighborhood is filled with great places to grab a bite including my all-time favorite chocolate store, Jacques Torres. Pick up a snack after your carousel ride and wander through the cobblestone Dumbo streets. If you are up for it, walk back to Manhattan across the Brooklyn Bridge (located directly next to Jane's Carousel.)
https://www.janescarousel.com/
4. Row Boats at the Loeb Boathouse (Central Park) 
Coffee. A classic daytime date activity, however texting your significant other "let's grab a coffee" may be somewhat of a passion killer especially when the honeymoon period of the relationship has come to an end. Make your coffee date more than just typical by taking your caffeine fix to go as you and your loved one paddle around a beautiful lake in the heart of Central Park. Located off of 72nd street, the Loeb Boathouse is a quick walk from major subway stations and rowboat rental is just $15 per hour. Each boat can hold up to four passengers, and there is no reservation necessary. 
http://www.thecentralparkboathouse.com/
5. Staten Island Ferry (Whitehall Ferry Terminal)
Long before any bridges were constructed, the ferry system was the sole means of transportation between Manhattan and New York City's other boroughs. The Staten Island Ferry is one of the last remaining ferry services operating today. On average, 22 million people a year (and nearly 70,000 people each day!) utilize the free rides between Staten Island and Lower Manhattan. The twenty-minute boat ride provides astounding views of the Lower Manhattan skyline, Ellis Island, and the Statue of Liberty. After you arrive on Staten Island, I recommend visiting Joe and Pat's for (subjectively) the best slice of pizza you will ever have. The ferry operates 24 hours 7 days a week with more frequent service (every 30 minutes) during rush hours 6-9:30 am, and 3:30-8pm. 
Hope you enjoy exploring all these different places in the city while ballin on a budget!