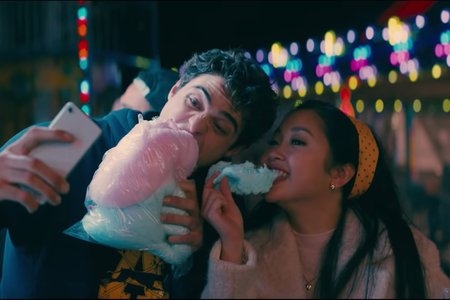 Spoiler Free Review of "To All The Boys I've Loved Before: P.S. I Still Love You": A Sequel Worth Watching
In August of 2018, the first film installment of Jenny Han's To All The Boys I've Loved Before premiered on Netflix. The story details the romance journey of Lara Jean Covey, an Asian American high schooler who is looking for her perfect romance. Her story begins with five love letters she wrote that were mailed out to the intended recipients without her knowledge. Thos love letters introduce leading man Peter Kavinsky, a hunky lacrosse goalie who is just looking to get his ex-girlfriend back. After a fake relationship turned real between Lara Jean and Peter, an infamous ski trip into the mountains, and a large romantic gesture, the movie concluded on a classic zoom out of the new couple finally enjoying a moment together. 
On February 12th, the second movie, To All The Boys I've Loved Before: P.S. I Still Love You, premiered. I waited to watch until Valentine's day because I thought it would be the perfect thing to do on the holiday. This review isn't going to have spoilers, so don't worry, your watching experience will still be just as gratifying. 
A little preface. Lara Jean and Peter are still the main characters, but there is a new character. When Lara Jean's love letters were sent out to the recipients and one of them, John Ambrose McClaren, decided he would respond to the letter by writing Lara Jean back. He plays a conflicting love interest in the newest movie. 
This movie is definitely less light than the first one. It deals with the struggles that come with a new relationship. You know, communication, connection, and transitioning from a fake relationship to a real one. The movie had plenty of cute moments between Lara Jean and both men, but it was balanced by adult conversations that happen in a relationship. It was a different vibe than the first movie, but the conversations did make you feel like things were being accomplished rather than the very childish way of speaking to each other in the original movie. This movie provoked more stress than the first one, but it also gave a sense of character development that the first movie left me craving. 
The movie did a great job of getting me attached to the male leads that were presented. Peter was portrayed as the hometown boy who you're meant to be with. He's kind and caring, a little ignorant in regards to relationships, but forgiven when he explains his adorably pure intentions. Then there's John Ambrose, the piano playing poet who has this confident yet soothing air about him that just makes you want to sink into his arms. The movie presents very few scenes where the two interact, which makes it hard to make a definitive decision about who you like better. I honestly had a hard time picking a side because I felt like I should be loyal to Peter after the first movie, but John Ambrose had some particularly wooing traits that almost won me over. 
By the end of the movie, I was on the edge of my seat desperate to find out how it ended (whether I predicted it correctly or not is beside the point… I did). The movie is not the most surprising in many ways, especially if you've seen enough YA romance movies to figure out a pattern, but it is produced well enough where I don't care about that. I am significantly attached to the characters, and while I have yet to read the books (I know I know, I'm disappointed in myself too), I certainly am planning to seek them out. I recommend the series for the heartwarming reality that it provides.