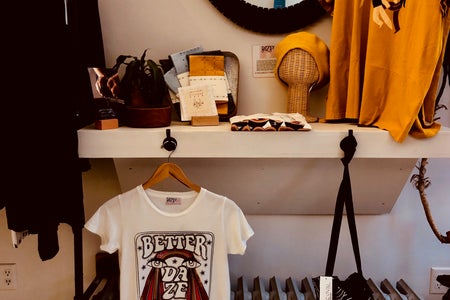 The Power of Thrifting in an Age of Fast Fashion
Jocelynn Hessler, a Kutztown University junior, age 21, gets ready for the day and leaves her apartment wearing only name brands. She's wearing a Free People sweater worth $128.00, American Eagle jeans that sell for $49.95, and Franco Sarto booties that cost around $139.00. This can be seen as impressive for a typical college student and it doesn't take much energy for her to look put together; it looks effortless. It also doesn't cost her much. Everything she is wearing is from a thrift store. Everything she is wearing, she got for a quarter, maybe even less, than the retail price.
Hessler worked at Plato's Closet in Mechanicsburg, Pennsylvania for three and a half years. Plato's Closet is a store that sells gently used clothing for both girls and boys who are in their teens or early 20s. "The same clothes you're getting at the mall, like H&M and Forever 21, you could be getting for so much cheaper used at thrift shops. It's cheaper and its better for the environment to thrift." Thrift stores and consignment shops are also extremely convenient for college kids who have a budget and are continuously trying to find ways to save money.Stores like Plato's Closet, Goodwill, and other consignment or thrift stores have been growing in popularity, especially in recent years. More often than not, when asking a teenager or young person where they got their clothing, they will say "I thrifted them.".
It makes sense that people do not want to spend a lot of money on clothing. Trends are continuously changing, personal tastes evolve, and so do the size and shape of bodies; however, buying clothing at the local mall comes with an out-of-sight humanitarian and environmental issue that is hidden under cheap prices, bright colors, and shoddy fabric. The people shopping at these stores, browsing aisles upon aisles of what seems to be endless possibilities of cheap, fashionable purchases, have no idea about the horrors behind where the items come from. Brands like Forever 21, Zara, H&M, and many more have become extremely popular and well-known over the past decade because their clothing is considered to be "on trend" while remaining affordable. This is the work of the fast fashion industry.
Many sweatshops that produce the ever popular clothing in the local shopping malls are making their products with toxic chemicals that can negatively affect the laborers and the environment. The people working in these establishments work in conditions hard to imagine and barely make any money. Plus, this clothing is also thrown away in mass amounts. The dislike of the poor quality clothing that results from the fast fashion industry combined with the excess of clothing made that no one buys, leads to a lot of products ending up in landfills. Many of the times, the fibers used in the production of this clothing, cannot disintegrate because of the material used.
Hessler, herself has learned to stay away from places that are known for fast fashion; she relies heavily on thrift stores for most of her clothing purchases and only goes to the mall if she is in desperate need of something. "In the past three years, I've stopped shopping at H&M, and Forever 21, and most of the places that I know of in the mall that are fast fashion places. Before I even go to look for something I need, I always go to a thrift store to see if I can find it." She mentions Zara, Charlotte Russe, and Primark which originated in the UK as stores to avoid.
Recently it has been reported that Forever 21 filed for bankruptcy leading to hundreds of stores closing. Hessler says, "No one is buying their clothes anymore because of fast fashion. We are becoming more educated about it." Fast fashion isn't the sole reason for Forever 21's downfall; however, it definitely plays a role. If people don't want to thrift yet still avoid fast fashion, they might have to invest a little more into what they are putting on to their body. She continues, "The better the material or quality of the clothing, the more likely it is not fast fashion, in comparison fast fashion clothes tend to be poorly made. You're always going to have to spend more for better quality, but it might be worth it in the long run."
Locally, there are a few consignment stores on the main street of Kutztown, Renee's Finder's Keepers and Once Again Thrift Store just to name a couple. There are multiple Goodwill thrift stores nearby and the neighboring Lehigh Valley features local favorites like The Attic in Bethlehem, Last Chance Ranch Thrift Store in Coopersburg, and Divine Resale in Allentown.
College students can also buy reliable, name brand clothing from online thrift stores such as ASOS Marketplace and thredUP, the largest online consignment and thrift store. People can also purchase gently used clothes from Depop. Depop markets itself as a "mobile marketplace" and one can easily buy cheap name brands or sell the clothing they don't want anymore, rather than throwing them away.
It's deeply ingrained in our materialistic society to have more stuff. Everyone wants what seems to be trendy and new without acknowledging that there could be a dark side to whatever they are purchasing. Shopping at thrift stores and consignment shops, buying locally and selling clothes to secondhand stores or even online, are small steps to help defeat the hidden dangers of fast fashion. Hessler asserts that thrifting is the best option for most young people, especially college students who live on a budget. Shopping at thrift stores also supports small businesses. "Definitely thrift. I can't say that enough. And try to support smaller businesses and people who are making clothes themselves because you know where your clothes are coming from, a lot of people don't."