Kristan Pagliei: Fall 2017 Alumni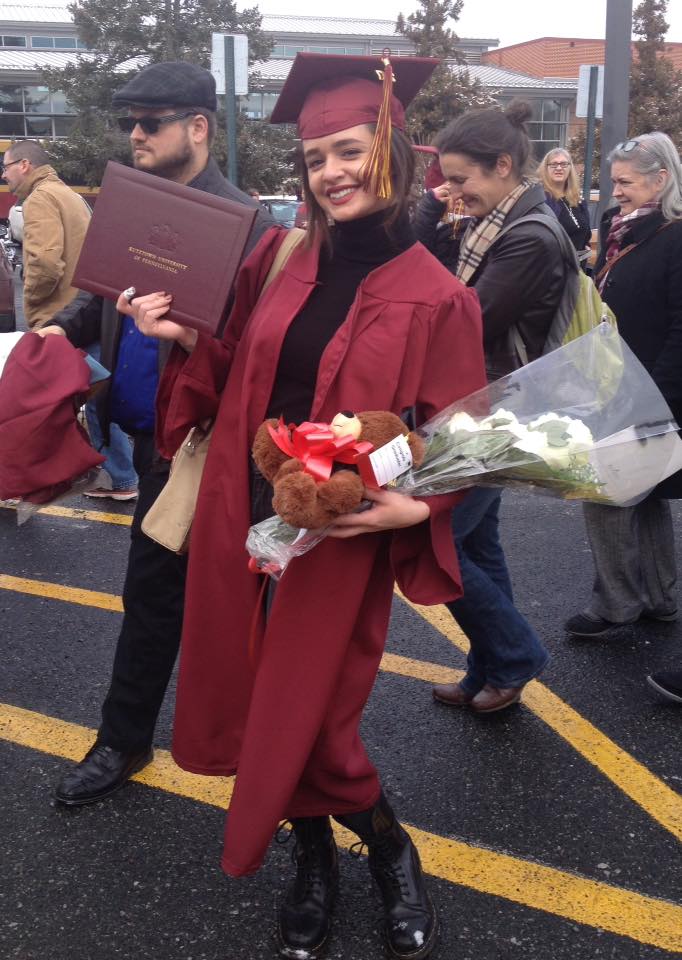 Pagliei finally Graduating and getting her Degree 2017
Sitting across from me drinking a cup of coffee, her black hair in a ponytail and her large tan peacoat still wrapped around her, Kristan Pagliei was ready to start our interview. She held a pen in her right hand, and was calm and collected, which she stayed through the entire conversation. It had been three years since I'd seen Pagliei, and it was great to be sitting across from her and talking to her once more.
Pagliei graduated from Kutztown University in December of 2017. She needed to stay for extra semesters for online classes as well as taking her internships, which is why it took her so long to graduate. When prompted, Pagliei inquired, "I was an editorial intern at Main Line Today magazine and wrote lots of random listicle and local bits. I also worked for 'For Pete's Sake,' which is a cancer respite foundation, as a writing intern. The founder of the foundation wanted to write a book, so I spent my time transcribing her personal journals, consulting with her on the book's details, and writing press releases."
Originally an English major when she first arrived at Kutztown, Pagliei switched to a professional writing major in her junior year and ended up having enough credits to fulfill the literature minor. She was one of the lucky ones, and she knew it. It took her around five and a half years to graduate, but Pagliei didn't care. Her only dream, when she got to college, was just to graduate! "It's a miracle it happened!" Pagliei laughed.
Her dreams have since changed since graduation. "Now that that's done, I guess my dream is to travel more, get regularly published again, get an apartment in the city, better my French and be a 'real' adult." I laughed at this, relating to her sentiment. She also told me that being out of college wasn't really any different than the "real" world. "Real is a very loose term, I'd say. My life isn't any more real than it was in college, just a different routine." 
So, with all the talk about being a student for over five years, what was Pagliei's student life like? She's one of the original members of Actors Creating Theatre (Formerly known as Perforum) who was part of The Great Gatsby as Daisy, and played Veronica in ACT's first musical, Heathers. She was also in a few table reads with Dr. Hines's flash drama, as well as a staff writer for the Keystone Newspaper where she wrote for the news and the arts and entertainment sections.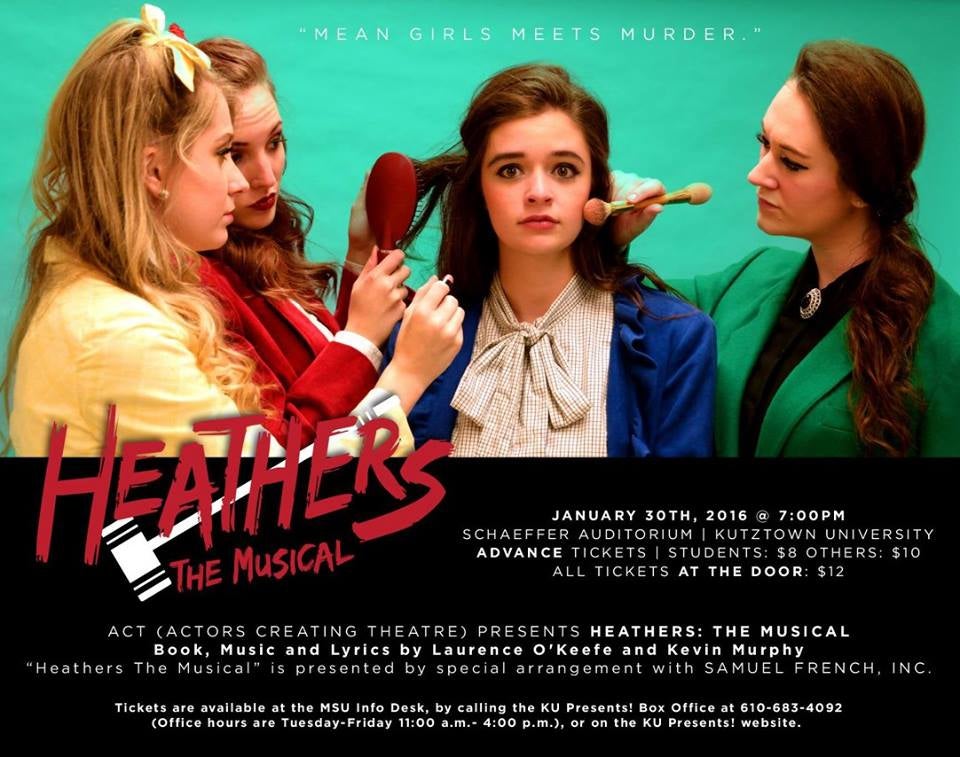 Pagliei as Veronica Sawyer in ACT's Production of Heathers, 2016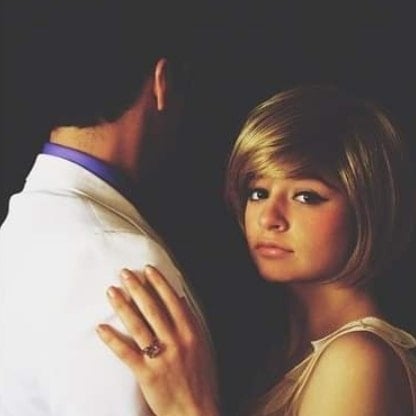 Pagliei as Daisy in ACT's Production of The Great Gatsby, 2015
Pagliei was also asked many, many times by members of the Cinema, Television, and Media Arts Department (Previously known as the Electronic Media Department) to act in short films, commercials, etc. She also worked at Kutztown's Letterman's Diner for a few years, as well as at The Quality Shoppe for a while.
All of that is a lot to take on as a student on campus, especially with two jobs. After learning she did all that and then moved to the city, I really wanted to dive deeper into whom Pagliei has become. 
I wanted to know what inspired her to become the writer she is. Pagliei had been a student for so long and was very well known in the English department, so I asked her to dive deep. "I had a blast working on my 'Period Piece' for Dr. Lynch-Biniek's class. I talked to females across lots of platforms about the lack of appropriate feminine products on campus. Always a good time to get a bunch of girls in a room to discuss their period. I also loved covering the happenings at Young Ones record store and making music listicles for the Keystone. After college, for the magazine, I was asked to investigate the current happenings in a local 'cult,' Father Divine's peace mission, which was pretty damn cool."
As Pagliei told me of this, it was clear this was the information that lead to her being inspired. When prompted, she said, "My favorite creative writing as of late can be found in my journals from my trip to Paris and Amsterdam. The inspiration was…well, obvious."
We laughed at that comment, our mutual understanding of the different ways inspiration can hit resonating with each other. I loved that it was part of college, and that it's part of her life now, too. I had a few other personal questions that I also wanted to include while we were speaking of inspiration, so I asked about other, more simple topics.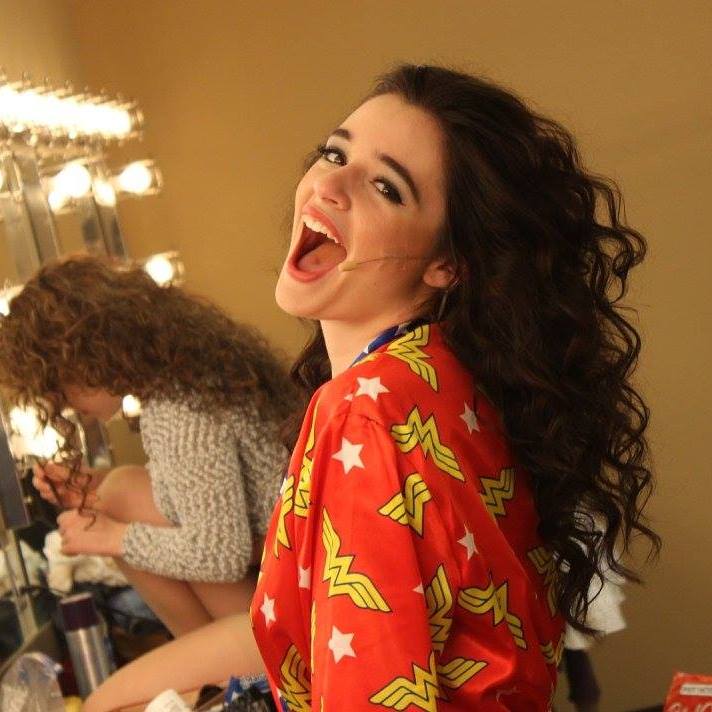 Pagliei in the green room on opening night of Heathers, 2016
I told her she could choose one: pen, type-writer, or computer. I shouldn't have been shocked when she answered: "I'd say pen. When all else fails, you can write on your hand." That one made me laugh again. I wanted to know if she did a lot of writing, too, and also how much she was willing to write around others, how much her family and friends think of her writing, and what she's been doing recently in writing and even reading. 
She replied, "I've been writing for myself, really. I haven't been published in a while and had a pretty long writer's block after my internship ended. I've been jotting down experiences and documenting life for another time, and I love writing about people. I make up lots of tall tales about people I see out in public. For some reason, older people are one of my favorite canvasses. I've been working on a collection of poems about older people I've met, seen, or have heard stories about."
"As for my family and friends, they hate me because I don't write enough anymore. They always dig what I come up with when I do, though. That's the great thing about most family and friends — even when it's shit, they're happy for you for writing. A tip is to find writer friends that will be honest with you. And going off of that, I can't write around others, it's solitude for sure, with the exception of a new poet friend. But when it comes to reading, I proofread for a living, and my eyes are tired at the end of the, so unfortunately, I don't do as much anymore, but I do love to read. It was a resolution of mine to read more, so I guess I should get on that, shouldn't I?"
We let out another laugh as I marveled in Pagliei's confidence, her honesty and her ability to give tips on the fly without being asked for it. But her answers also gave me more questions that I was interested in. She'd just spelled out all the wonderful facts about her experience about being a writer, but what did she really hate when it came to being a writer? When I asked, Pagliei was ready.
She blew air out of her lips and moved her sleek, black hair out of her face, telling me what she hates: "The expectation of 'being a writer.' People assume when you're a writer, that you have a book out, a column, or something else. And going off that, the most challenging part of being a writer for me, besides battling writer's block, is the balance between what I want to produce and what can be published. I'd love to delve into my new dating life à la Sex and the City, but it's tough to know what's appropriate anymore."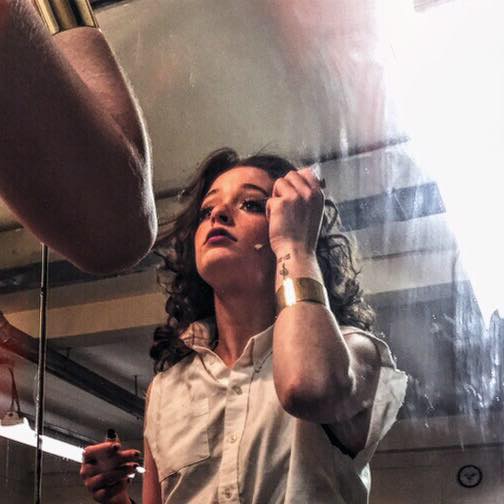 Pagliei fixing her makeup before a performance
Knowing she battled with writer's block, I knew the next answer to my question, but still wanted to ask her if she believed in writer's block. Many online writers claim that writer's block is just an excuse not to write, and I wanted Pagliei's take on the question. "My god, yeah. My most brutal relationship in my life is with writing. It's hard to practice what you preach. Writer's block happens to the best; what comes out on the other side of it is what matters."
Pagliei's easy rapport made the rest of the interview fly by as I asked her to share a few more personal details that many people may not know, including her favorite books and what book she first cried at.
Well, I'm quite an open book, so that's hard. But I was on the front page of the Philadelphia Inquirer Sunday [Feb 15]. But my favorite novel? God, that's hard. I can't say what's my favorite of all time. The Great Gatsby was the first in my semi-adult life to really stick with me. But I'm a big fan of essays more than novels. My favorites of the moment are a collection of essays by Durga Chew-Bose called 'Too much and Not the Mood' and really any Joan Didions. And on that topic, 'Exit Here' by Jason Myers is the first book that made me cry. It was my favorite book growing up. Drug books were my thing."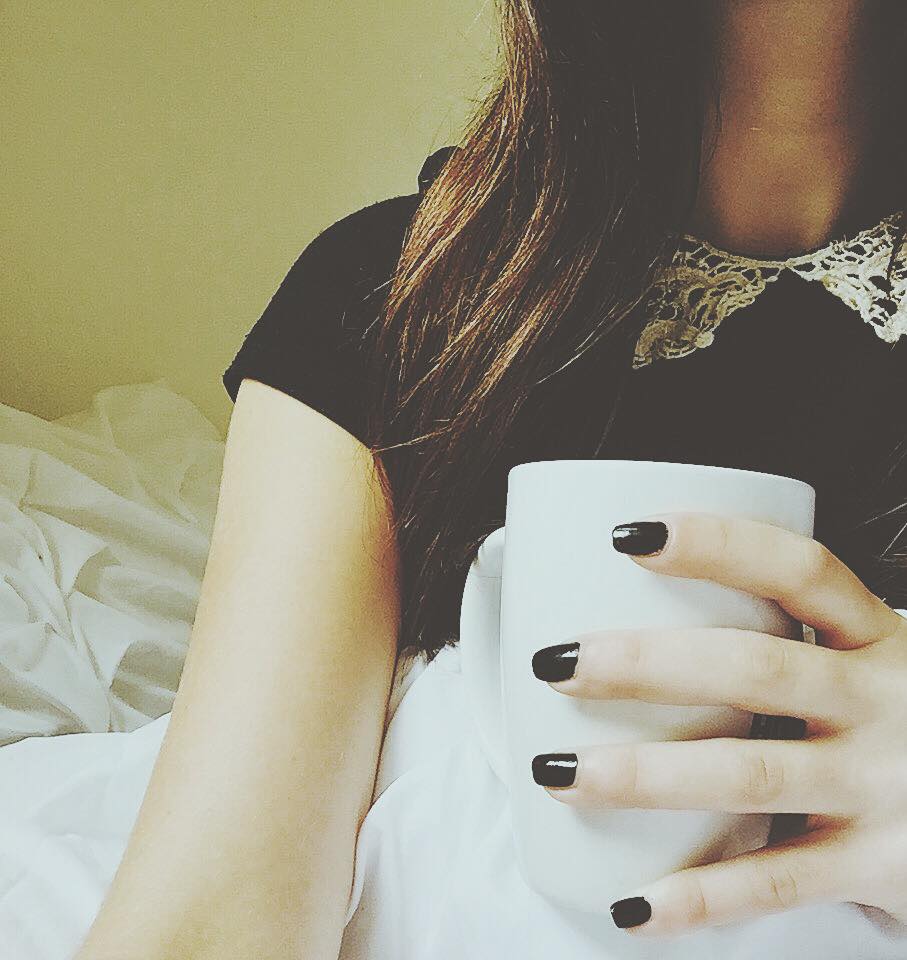 Pagliei with her coffee ready to write, 2016
A well-rounded writer, person, and individual, it was so interesting seeing someone from Kutztown finding herself so much in the 3 years since she left the school. While succeeding in this major and this field are not easy feats, it was clear Pagliei was able to find a piece of herself out in Philadelphia. In the end, she not only found herself, but she also found a place to be.
So, to wrap up the interview, I figured it was best to ask the last questions I'd really been wondering the answers to since the beginning. I wanted to know if she believed people should still be interested in writing, especially since the amount of people who start off as writing majors and don't continue writing after college are insane. Not only that, but I also wanted to know what she'd say to freshman writers now if she could.
Pagliei was immediately ready to give her answer. "Hell yeah. Writing will never go away, no matter how weird the formats get, people will still be born with that weird instinct. The only good advice I've ever received or given was to simply write every day, even when there's nothing to write about. That's a topic in itself. I just need to take my own advice! Aside from me, having relationships with your professors is so important. Talk to them. They're writers! Real ones!"
Right before we left our spot in the coffee shop, Pagliei gave the last piece of advice she'd been holding onto: "A message to all: Read more poetry, travel, and annihilate your comfort zone." Those words resonated and felt like the most important piece of information she gave through the entire interview. A story like Pagliei's is inspirational, and one we both hope encourages more young writers to tell their stories.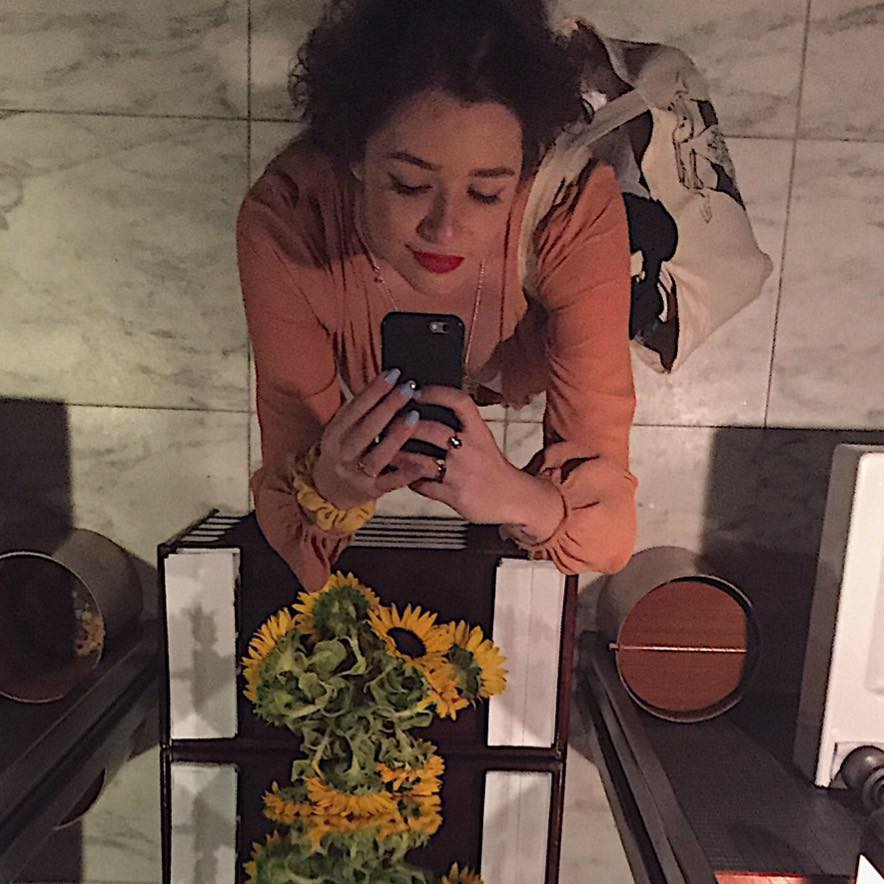 Pagliei enjoying her life, 2017
For her front-page spotlight in Philadelphia Inquirer:
https://www.philly.com/news/columnists/late-night-diner-melrose-oregon-broad-street-mayfair-diner-south-street-penrose-20190215.html
For samples of Pagliei's college writing:
Music recommendations for the month of October
Frank Turner makes surprise visit to Young Ones  
Top ten album countdown welcomes fall  
Holiday listicle of alternative/punk Christmas songs