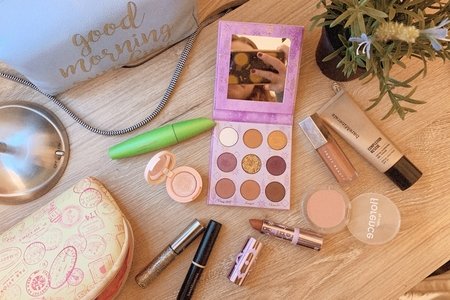 The Conspiracy of Jeffree Star and Shane Dawson
It's an understatement to say that November 1st 2019, was filled with high strung emotions, anxious heart palpitations, and endless tears. Whether tears of joy or sorrow, last Friday marked the major success of a huge beauty collaboration: Jeffree Star and Shane Dawson. Through their makeup palette, Conspiracy, the makeup CEO and Youtuber redefined makeup and friendship in the beauty world.
The duo sold an 18-shade palette, Conspiracy, along with a 9-shade Mini Controversy palette, liquid lipsticks, and pig-branded merch. The palettes featured matte neutrals to bright neons, including names such as "Just a Theory," "Trisha," and "Diet Root Beer." There were also imprints on each shade: a pig, a tea cup, and even a soda can. Dawson not only created a theme of conspiracy, but showcased important friends or aspects of his life he wanted to highlight. 
Conspiracy was sold through Star's site as well as online and in Morphe stores. During the first few hours of the launch, Star's site was down constantly and Twitter had much to say about it. Some inquired if the real conspiracy was the process of purchasing the palette, which came with a lot of difficulty. The collaboration was the #1 Trending hashtag as people frantically tweeted about site crashes, hopes their order would go through, and giving up to buy pizza instead. 
To say the least, Star and Dawson's collaboration shook the entire beauty community. Many makeup artists or brands schedule certain palette launches around this time of year for holiday collections. Among this season include Two Faced's Gingerbread Spice, Tarte's Winter Wonderland Luxe, and Anastasia Beverly Hill's Carli Bybel palettes. The great fear is that other palettes will fall into the shadows of Conspiracy as it is so hyped compared to other palettes being released around the same time. 
Additionally, there is drama surrounding the collection being available for purchase at Morphe specifically. James Charles, another beauty Youtuber, celebrates his one year anniversary of his palette with Morphe tomorrow. But today, all the light is shed on Dawson and Star's new launch. For Dawson and Star to directly compete with large brands and completely sell out nearly all the products of the collection sends a message for the beauty world. 
The craziest part of it all was Dawson did not intend to collaborate in the beginning. It all started when he created a six part series on Star's life, called "The Secret World of Jeffree Star" last year. His original intent was to get a glimpse into who Star's controversial figure really was. At that point in time, Dawson had actually been quite intimidated by Star's personality, surrounded by scandals, popularity, and wealth. One of the first things Dawson joked to Star was, "All I do know is I want to live a day in your life, and I want it to be real, and I want you to make me rich." Little did either of them realize that one day, all that would become true. 
Over the course of the series, Dawson became very close with Star, and they formed a budding friendship. From there, they decided to create a palette from scratch. His second documentary series was titled "The Beautiful World of Jeffree Star." Featuring nine episodes, the documentary filmed their collaboration from the first pitch to inside the labor that went into the palettes. 
If you are one of the lucky ones who gets their hands on any piece of their collection, wear it proudly. Conspiracy will forever be remembered as the makeup collaboration of the decade. And that's the tea, sis.