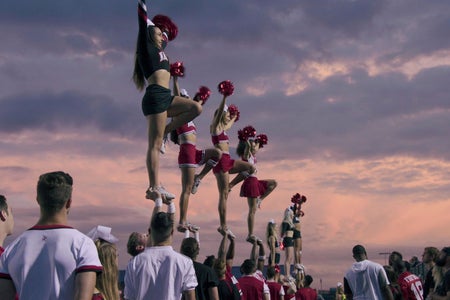 "Cheer," an Unexpected Neftlix Gem
Being stuck inside of my house leads to much time spent scrolling through Netflix, trying to find something new and interesting with the potential to take me out of my own thoughts during this crazy time. When I first saw Cheer pop up on my TV, I didn't even let myself read what it was about; I immediately scrolled past it. A few weeks later, after I had finished my coursework for the day, I decided to hit play. I still hadn't read what it was about, and I had no idea what I was getting into, but what I was expecting was an over dramatic reality show similar to Lifetime's Dance Moms. What I got in return, however, was something so much more—one of my favorite shows of the year and possibly one of my favorite documentaries.
I'm not sure why I immediately judged Cheer, and I'm mad at myself for doing so. When I think of the word "cheerleading," I think of pretty girls with lots of makeup on their faces, doing dance routines with pom poms at high school football games. It's also worth mentioning that I had just finished Tiger King and wasn't sure if I was ready for another dose of reality. Cheer tells a story about a sport I never really knew existed; the first episode talks about the "all-American" ideals of what cheerleading is, but there's a lot that people don't know about it and how it has progressed over time. The documentary focuses specifically on the Navarro College Cheer Team and their head coach, Monica Aldama. It follows their team during their intense practices where injuries are common, tears are shed, and competition is fierce within the team itself.
Navarro College is a community college in middle-of-nowhere Texas, and it is known for having one of, if not the best, cheer teams in the whole country. Kids from all over the United States go there to cheer at the collegiate level. And Aldama, the coach, is the reason the school's program is so powerful; people go there to cheer for her. The program discusses how students from big cities have to learn to adjust to small town life and the conservative Texas way that they are not used to. Aldama herself didn't see her life being the way it is now. In one episode she explains that she has a business degree and had goals to work on Wall Street in New York City. She explains that she ended up where she needs to be, which is in her hometown of Corsicana, as she feels like a huge part in these kid's lives. At one point she says, "Those are my kids. I'll fight tooth and nail for them."
The six-episode series also focuses on five individual members of the team who all come from drastically different backgrounds. Topics touched upon include drug and alcohol usage, coming from a broken home, losing family to cancer, over-involved parents, and sexuality. I don't think there was one episode where I didn't cry. Sometimes they were sad tears and sometimes they were joyous tears, but regardless, I was completely invested in the different storylines. 
The last episode of the series shows the team in Daytona Beach, Florida, where they take part in the only major competition for collegiate cheer: the NCA Collegiate National Championship. This day of the year is the reason that they ruthlessly work day in and day out— all for a single two minute and 15 second routine filled with high energy tumbling, intense stunts that involve throwing people into the air, and synchronized jumping and dancing. They work themselves into the ground for a small moment.
I recommend Cheer to everybody. It is a show about working together, it's a show about overcoming any hardship in your life and persevering, and it's a show about an athlete-coach relationship and how strong that can be. It uncovers a world that usually goes unnoticed, and once learned about, becomes extremely intriguing and exciting; you find yourself rooting for the team as if you are right there in the crowd watching them. Cheer is a powerful docu-series that portrays real life in a positive, inspiring way, and I believe that is something we need right now. It has something for everybody to enjoy, as the messages are universal and powerfully told through real and intense storytelling.