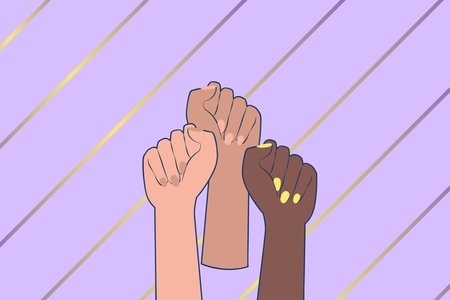 Original Illustration by Gina Escandon for Her Campus Media
Black History Is American History
Morgan Freeman once said that "Black history is American history." If that's the case,why do we only take the shortest month of the year to learn about the prominent black members of our history? And it seems to be the same few people. Though they are important and have had a large impact on our world, schools only ever seem to teach about the accomplishments of Martin Luther King Jr. and Rosa Parks. Those are the only two I can remember learning about year after year. But there are so many more icons that have lived and changed the course of history, despite racist socio-political barriers. 
Shirley Chisholm was the first Black woman elected into Congress in 1968; she served for seven terms. Chisholm was also the first black American to be nominated for president by a major political party, the first woman to run for the Democratic Party's nomination for president, and she was the first woman to appear in the presidential debate of the United States. 

Robert Sengstacke Abbott was the founder of two important things in Black history. He founded the Chicago Defender in the early 1900s, which became the highest circulated Black-owned newspaper in the United States. He also founded the Bud Billiken Parade and Picnic. It's a celebration of black youth and culture that has become the second largest parade in the nation.

Bessie Coleman was a pioneer in aviation. She was the first of Native-American descent and the first woman of African-American descent to own a piloting license. She was also the first black person to earn an international pilot's license. Coleman had three strikes against her in the world, since African Americans, Native Americans, and women were not allowed to pursue an aviation education. Rather, she raised enough money to attend school in France so she could follow her passion of flying. 

Bayard Rustin was a figure in social movements, including civil rights, socialism, nonviolence, and gay rights. He worked on the 1941 March on Washington to end racial discrimination and organized the March on Washington for Jobs and Freedom. Rustin also played an imperative part in supporting Martin Luther King Jr.'s peaceful protests. 

Marsha P. Johnson was a trans, gay liberation, and AIDS activist who is probably best known for being present during the Stonewall uprising in New York City. She was killed in 1992, but police dismissed her case as a suicide. It has recently been reopened, and the cause of death has since been classified as "undetermined." 

Thurgood Marshall was the first African American to serve on the Supreme Court. Before becoming a justice, he was a lawyer that had presented many cases to the Supreme Court, including that of Brown v. Board of Education, which deemed racially segregated public schools unconstitutional. 

Ruby Bridges currently works as a civil rights activist and has been making waves since she was six years old. Although she originally attended a segregated school, Bridges was the first African-American child to attend the all-white school, William Frantz, during the New Orleans school desegregation crisis. 
There are hundreds of American icons who are not recognized solely because they're Black. It takes more than 28 days to learn about the important perople in our history that have paved the way for so many others. We need to start recognizing Black history as American history, and we need to treat it as such.