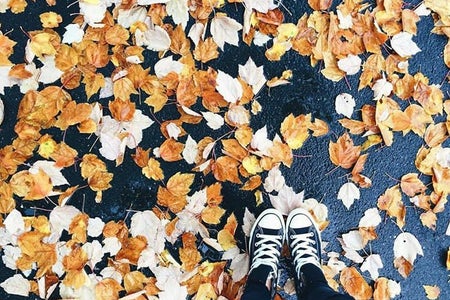 10 Reason to fall for Fall
It's finally fall y'all! To all the autumn lovers out there, there's a universal, internal excitement just waiting to be unleashed this time of year. Who couldn't be more thrilled for spooky season? But if you don't find yourself in that category, keep scrolling to see why you should change your mind. 
During this time of year, trees cascade through a beautiful palette of colors while shedding their leaves. Whether you're merely observing during a walk in the woods or letting your dog jump into a few piles, it's one of the first signs of fall.

Going to a pumpkin patch and picking out something to carve is a favorite pastime for many of us. It's time to put your art skills to the test and give your pumpkin personality.

Thrillers only get a thousand times scarier during the fall. Now's the perfect time to check out a creepy movie like "IT Chapter Two," which released Sept. 6.

As someone who mainly buys sweaters, fall finally allows me to cycle through most of my wardrobe. Hoodies, oversized sweaters, and cardigans are essential for autumn and  keeping you comfy and fashionable.

 Ahh, doesn't the cool breeze brushing past your hair feel so refreshing? Fall's temperature drop is perfect for walking to class. There's no more suffering in summer's heat, yet the commute isn't an ice tundra to venture through—just yet. 

 Just as our physical surroundings change during the fall, so do our taste buds. As soon as I start seeing the first few leaves fall down, I immediately start going to Starbucks more than I'd like to admit for Chai Tea. Among other drinks they are serving this fall are their classic Pumpkin Spice Latte, Salted Caramel Mocha, and new Pumpkin Cream Cold Brew. Be sure to pick up something sweet at a coffee shop near you.

Of course, this list could not be possible without Halloween. The well known holiday, which occurs every October, combines the best elements of fall—clowns, candy, and dressing up in costumes—into one night.

As the sun begins to set earlier, it's only appropriate to burn as many candles as possible in the evening. Fall-scented candles, like P.F. Candle Co.'s Amber & Moss or Yankee Candles' Sugared Pumpkin Swirl, bring a soft, scented atmosphere to your apartment.

Now that it's chilly out, it's easier to snuggle up with a favorite blanket and hibernate for three days straight. No one can judge you for reading or bingeing Netflix for the whole weekend.

Depending on where you work, you might see a large decrease in tourism during the fall as summer vacations die down. If that's the case for you, it feels like one of the best treats you could ask for.
Out of all the seasons, fall is the best to look forward to. While the last summer days dwindle down, get ready. It's time to embrace spooky season.