If you have TikTok, or even if you have any social media period, and you are a self-proclaimed fashionista then you have probably heard about the Gen Z vs. Millennial fashion debate. This debate says that side parts and skinny jeans are out and middle parts and straight leg jeans are in. Well, I'm here to tell you that this is a bunch of bullshit.
Jeans aren't about what's on trend, it's about what looks good on your body type. Though I wish I was a 90s baby, I'm not a millennial but I will never stop wearing skinny jeans. They are way more flattering on my body type and they make me feel more confident. Though, I will admit that I bought my first pair of straight leg jeans and I do like them and wear them quite a bit, I am still loyal to skinny jeans. 
It's the same thing with high-rise versus low-rise. With the resurgence in 2000s fashion popularity, many TikTokers are trying to bring back low-rise jeans, to which I scream "no, no NO!" every time I see it. But then I thought, maybe on some girls, like Britney Spears and Paris Hilton, it's what flatters them and makes them feel confident, just not me. But, again, I am forever loyal to high waisted denim because it's the most flattering for my petite 5'1 and a half body.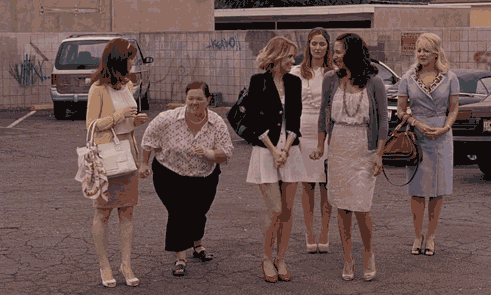 Now, I'm not saying there aren't denim trends. There are. Every decade finds new ways to wear denim. There were overalls in the 1900s, borrowed-from-the-boys jeans in 1940s. Jackie Kennedy and Audrey Hepburn sported Capris in the 50s. There were the bell bottoms and daisy dukes of the 1970s, the denim jackets and skirts, mom jeans, and acid wash of the 80s, skinny jeans of 2000s, and patchwork and distressed jeans of 2010s. However, when it comes to your jeans that you pair with your favorite graphic T-shirt, it's about what's flattering for your body type and makes you feel good, and not what's trendy. There are other trends to follow, and those will flatter and make you more confident. Jeans and how they fit you can make or break a successful outfit and your self-esteem. 
So, this TikTok denim debate either means that most Gen Z'ers have body types that flatter the wide straight leg jean, or they just want us to think that. Why is this so? Because like denim trends being a toxic, self-esteem destroying fashion trend, another toxic fashion trend is trendy body types. 
Hear me out: In the 50s, every girl wanted Marilyn Monroe's hourglass figure, but it was seen as unattainable, which gave way to women like Audrey Hepburn, who had the opposite body type of being ultra-thin and small-chested. Then in 2000s, everyone wanted to be small-chested, thin, and have a flatter stomach like 2000s It-Girls Paris Hilton, Leighton Meester, or Hilary Duff, which gave way to women wanting to admire celebrities with the exact opposite body type like Kim Kardashian, Christina Hendricks, Nicki Minaj, and Mariah Carey, who have big butts, beautiful curves, wide hips and small waists. Now, that hourglass, big butt body type was the "trendy body type" during the 2010s. Do you see the cycle? 
Women are trained to want what they can't have. This is fed to us by the media, celebrity culture, and through brand advertising. One of the biggest culprits of this toxic cycle is our jeans, a wardrobe basic every person has. Jeans are meant to make us feel confident, but when we are told what makes us feel confident isn't cool, that lowers our self-esteem. And fashion is all about boosting our self-esteem. 
And BTW, it's the same thing with side parts versus middle parts. Whichever flatters your face and makes you feel more confident, do that! Parting your hair isn't about being trendy, it is about feeling confident.
Moral of the story: follow trends, NOT denim jean trends.