Three Holiday Stories (brought to you by a girl and her one-of-a-kind family)
IT'S OFFICIALLY HERE, FOLKS: the holiday season. If you're anything like me, you eat, sleep, and breathe for this time of year. There is truly nothing like Christmas time to me. I love the cheeriness, movies, people, Starbucks cups, you name it. An important part of the holidays to me is my family and spending my time with the ones I love so very much: reuniting with those distant cousins, no school, feasting guiltlessly- say no more.
In honor of my favorite time of year, I'm going to share three of my favorite holiday memories/stories involving my crazy dysfunctional yet lovable fam. Brace yourselves; however, I'm sure a few of y'all can relate. That's what it's all about, right? Spending time with loved ones and making unforgettable memories. So, enjoy this compilation of a few of mine.
1.   Thanksgiving
A few years ago, my family hosted Thanksgiving at our house. I took the job of setting the table and placing the dishes of food on the table to be served. My brother's job was to fill the cups with whatever anyone wanted to drink. We had the table set, all the food was out, and my brother was finishing filling glasses. I was ready to feast, but of course, he made sure EVERYONE had drinks before he filled my glass. Finally, he gets to me, but when he asked what I wanted, he raised my cup in the air, fully extending his arm while holding the glass, which consequently hit the chandelier hanging above the table with enough force to shatter the glass, sending shards of glass into the plate of turkey, green bean casserole, corn, mashed potatoes, and my hair. I was sitting there with pieces of glass on my head like: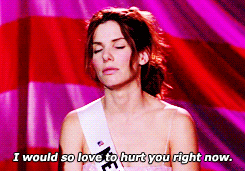 And that's the story of the year we ended up having deli-meat turkey sandwiches as our main meal on Thanksgiving. Shoutout to Cameron for such a great feast. 
2.   Black Friday
    This year on Black Friday, my mom and I decided to do something new. Being avid shoppers, we are usually out Thanksgiving night through the dark hours of the morning Friday, but this year we left our house around 6 AM. The goal was to get to our favorite boutique by 7AM because of its door buster sale. Not only was leaving the house at a new time a change, but we had an appointment at 6 PM that night to get our first tattoos together!
Before even starting the day, I knew it'd be one to remember. Additionally, my mom recently had rotator cuff surgery, so I was the one driving in the Black Friday craziness! She had to fight off the crazies shopping with her arm in a sling. God bless the sweet angel. Shopping and what seemed like buying everything in the boutique (for a great price though!) took us a grand total of 21 minutes, and we were already on to the next! We ended all our Black Friday shopping for the day by 9:30 AM; we planned this so we could get breakfast somewhere at a decent, relevant time. I had chocolate chip pancakes, two bacon strips and scrambled egg whites and remained full through most of the day, plus I knew I was getting a big supper that night and wanted to save room. That being said, I had little to no food from 9:30 AM to what ended up approximately 8 PM that night. This was not the initial plan!
We spent the day chillin' at home until it was time to head to get our tattoos! After waiting AN HOUR past our scheduled appointment time, I obviously made her go first (ya know, just in case it hurt or something). The tattoos were small finger tattoos, by the way, so they took no time at all. However, I was still nervous getting in the chair for mine to be done. The tattoo was pretty painful considering it was being done on basically bone itself, but the real story was what followed.
After seeing the tat, I was like, "hell yeah, this is sick.. #tatted" and then all of a sudden, I got super tired, light-headed, dizzy, and turned white as a ghost. I turned to my mom and asked her to get me some water, but the tattoo artist yelled at the guy working at the front desk of the shop to go get me a Sprite and box of Nerds instead. I took two drinks of Sprite and the box of Nerds like a shot, but I felt like I was going to puke. My whole body was slowing down, and it was the weirdest feeling (thank goodness I was still sitting in the chair and not standing at least), but slowly, I started getting some energy and color back to my skin.
So, apparently, what happened was when I was getting the tattoo, all the adrenaline my body was producing (so that little bugger wouldn't hurt even more than it did) was using up my blood sugar. Given I had not eaten since 9:30 that morning like the dingus I am and my appointment ended up starting much later than scheduled, I didn't have much blood sugar to begin with, and I didn't sit down to eat supper until 8 PM. Long story short: eat before you get a tattoo, but if you don't you'll at least get a free box of Nerds (see image below). I didn't pass out doe, so there's that!
3.   Christmas Tree Shopping
    I think it was around four years ago when my family decided to ditch our artificial tree for a real one to use as our Christmas tree! I say real one, but it's not too big of a step because we still buy it from a store. It's not like we're out there axing down a tree on our own; we literally just pick out the best looking one from the garden center at Menards.
Don't get me wrong, though, this is quite the task and has still created some real good memories between my dad and me. For example, two years ago we went to Menards in hopes to find the fluffiest pine tree for that year's Christmas. There are two main types of real Christmas trees at Menards, and we go for the one that has soft pine needles that won't stab you on contact.
When we got to the garden center, we began our quest. The first tree I laid my eyes on I knew was the one, and my dad agreed. The downfall was that an older couple was looking and strongly considering it too. While they were evaluating, we watched closely from afar about what their decision would be. Then, I heard the old man of the couple call his wife over to the next aisle to look at another potential tree, and I knew it was now or never. My dad and I rushed to that godsend of a pine tree and ran off with it like it was the Olympics. From behind us I heard the old woman disapprove of her husband's choice of tree saying, "Nah, I think this one will fit better," referring to the one we had lowkey just stolen.
I didn't turn around so I couldn't tell you what her reaction was when the other contestant of a tree wasn't there, but I can tell you my dad and I walked out of that Menards garden center with the best tree ever and even though, in a way, it was Grinch-like behavior, we had a pretty funny story too.