I have loved makeup my whole life. When I was in 2nd grade, my parents used to have to make me wash my face before I got on my bus to elementary school. Yeah… I know… I did say 2nd grade.
I still have a deep passion for makeup, it's what calms me down. Getting ready is therapeutic for me, and I love doing my friends' makeup too. I was that friend who would have five girls come over to my house on the day of my own homecomings and proms so I could do their makeup and fake eyelashes. So, this week I am going to tell you my favorite must-have products that I use in my full glam makeup routine. This is the routine I use to go out, or when I have something important to do. I am also listing them in the order that I use each product. These are my ride or die go-to products, and I promise they will not disappoint!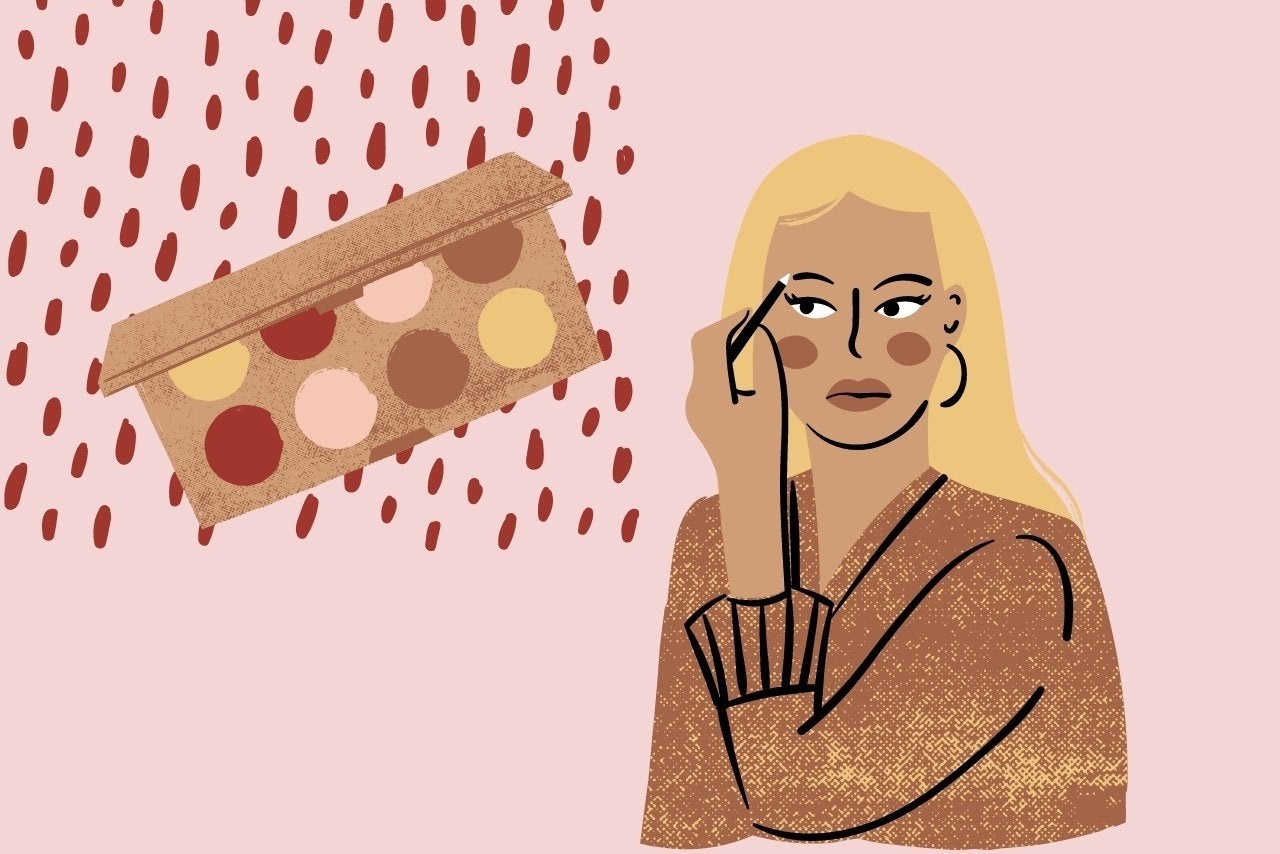 I use many different moisturizers, but this one is a great base for makeup. In my experience, using heavy moisturizers right before putting on makeup can cause conflict. This moisturizer is dermatologist approved and is a best-seller. It is very light and gives your skin the hydration it needs without heavy oils. This moisturizer is sold at Ulta Beauty, as well as many drug stores. It is very affordable.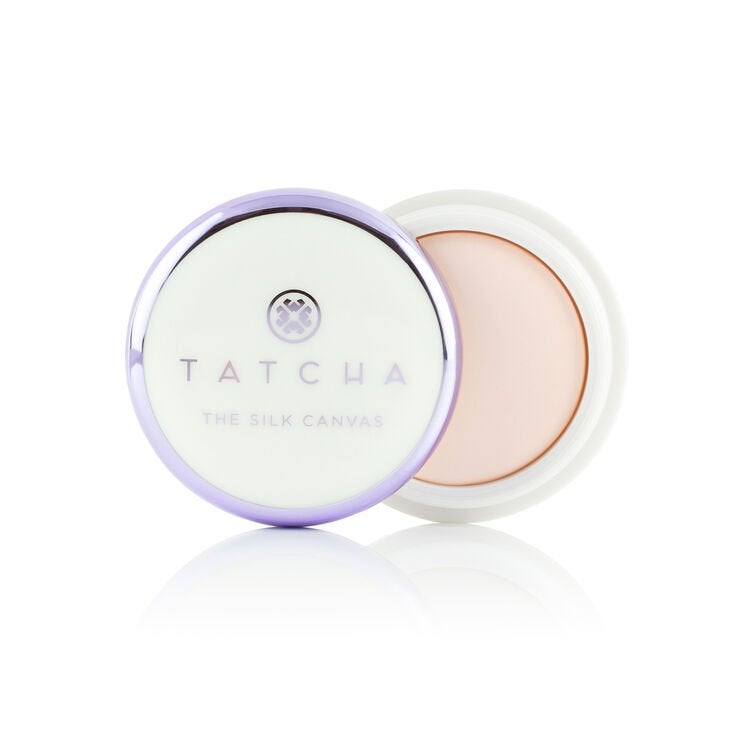 2. Tatcha Silk Canvas Protective Primer
This primer is a little bit more on the expensive side, but it is so worth it. This primer makes my face so smooth by blurring my pores and dullness. Even though it is more pricey, it honestly lasts me a very long time. I do my makeup very often, along with others, and I would say this product still lasts me about honestly a year. A little goes such a long way, and I have not used another smoothing primer that I like more.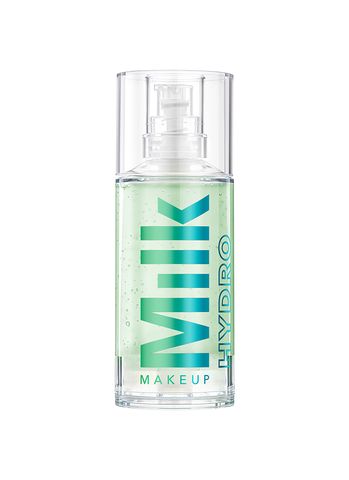 3. Milk Makeup Hydro Grip Gripping Primer
I am crazy, but I am free (If you don't know that reference, I'm upset). Yes, I do use two primers because I am obsessed with both of the primers that I have named. They also do two completely different things. This Milk Makeup primer has a very sticky consistency, and I am OBSESSED. This is very comparable to the J. One Jelly Pack Primer which is another one of my favorites. Unfortunately, the J. One Jelly Pack Primer has been discontinued- this news has caused me heartbreak. On the brightside, the Hydro Grip Gripping primer is also amazing. Its stickiness causes your foundation to grasp onto the primer which leads to no movement of the foundation or smudges. 
So, I use the Tatcha primer first to smooth, let it dry, and add the Milk Makeup primer right on top for some extra grip.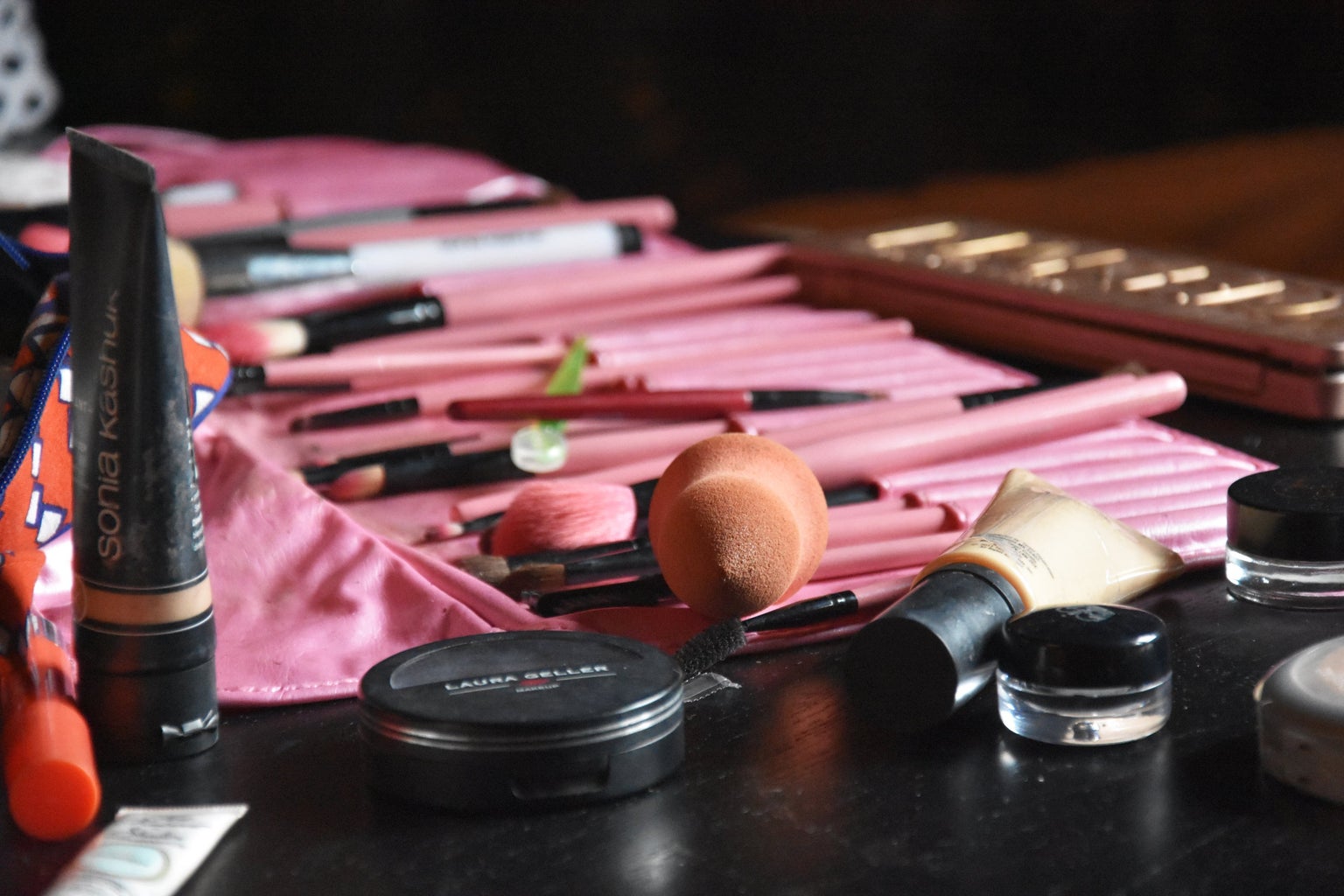 4. Anastasia Beverley Hills Luminous Foundation
My next step in my makeup routine is foundation. My preferred way to apply foundation is with a wet beauty blender. I have used a variety of different foundations, I love many different foundations- however, I find myself stuck on this one. Anastasia Beverley Hills is a queen in everything she does, and this foundation is amazing. The luminous finish has been really trendy recently because it allows your skin to actually look like skin while adding some glow. This foundation is medium to full coverage. This is one of my favorites because it makes my skin one even color and flawless.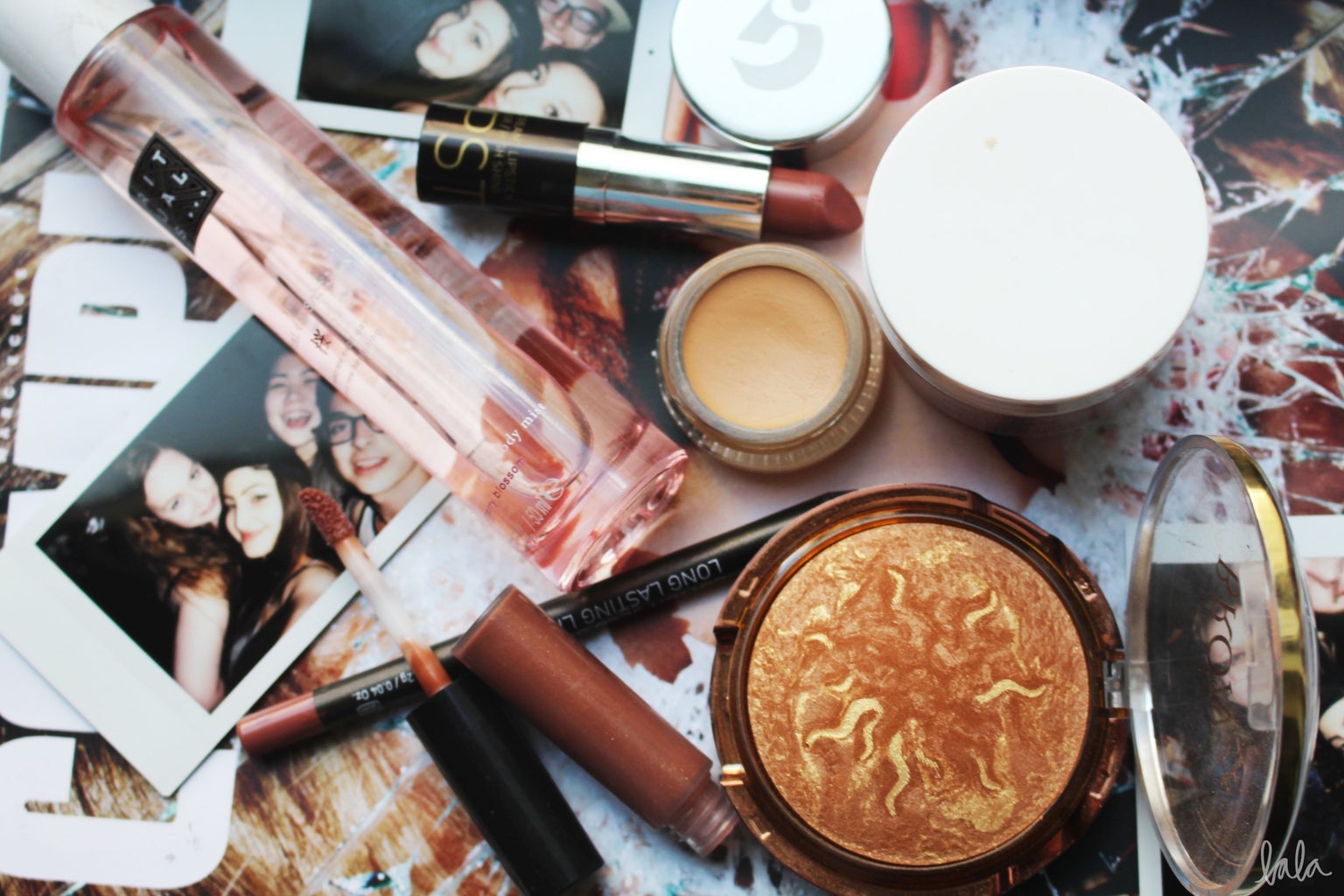 5. Kylie Cosmetics Skin Concealer
After applying my foundation I apply my concealer to cover up all my extra baggage. I usually like to conceal my under-eyes, forehead, chin, and acne. I also use my wet sponge to blend my concealer too. This concealer is also available at Ulta Beauty along with the rest of the Kylie Cosmetics beauty line. This concealer is also a medium to full coverage because I like to keep my face concealed. It is also more of a natural finish like the foundation, which is a nice feature because matte concealers can cause creasing due to dryness in the formula. This concealer is the bomb, I definitely recommend it.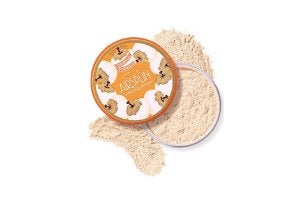 Quickly after I apply my concealer I use my same sponge to press on powder to the places that I concealed. This is a very affordable translucent powder that I've been using to substitute the Laura Mercier Translucent Loose Setting Powder because I'm balling on a college budget. Translucent is extremely important to set your concealer to avoid creasing and movement. I use this powder to bake my face. It sets my makeup perfectly and leaves a smooth finish.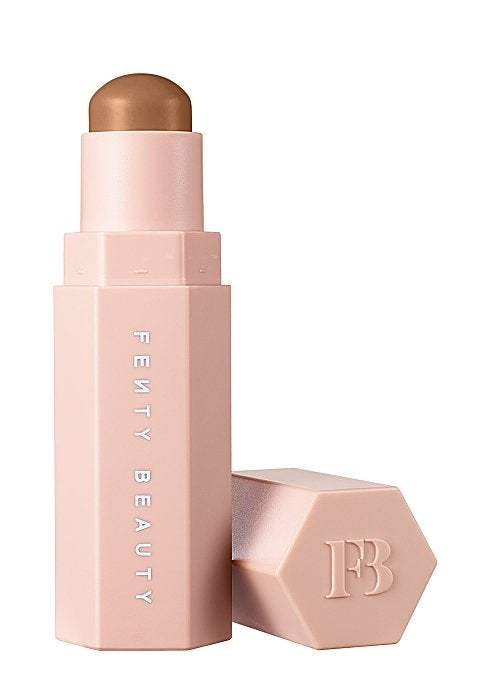 7. FENTY BEAUTY by Rihanna Match Stix Matte Contour
While my concealed areas are baking I use the FENTY BEAUTY contour stick. Do not apply the foundation stick on top of powder of any kind because it will not end well. I'm speaking from experience, it's not pretty. I apply the contour to my cheekbones, perimeter of my forehead, and my nose. These sticks are super pigmented and blend super easily. What else could you ask for? I like to use a synthetic face brush to blend it out because I believe that is what works best.
Following this step, I wipe off my setting powder with a fluffy brush.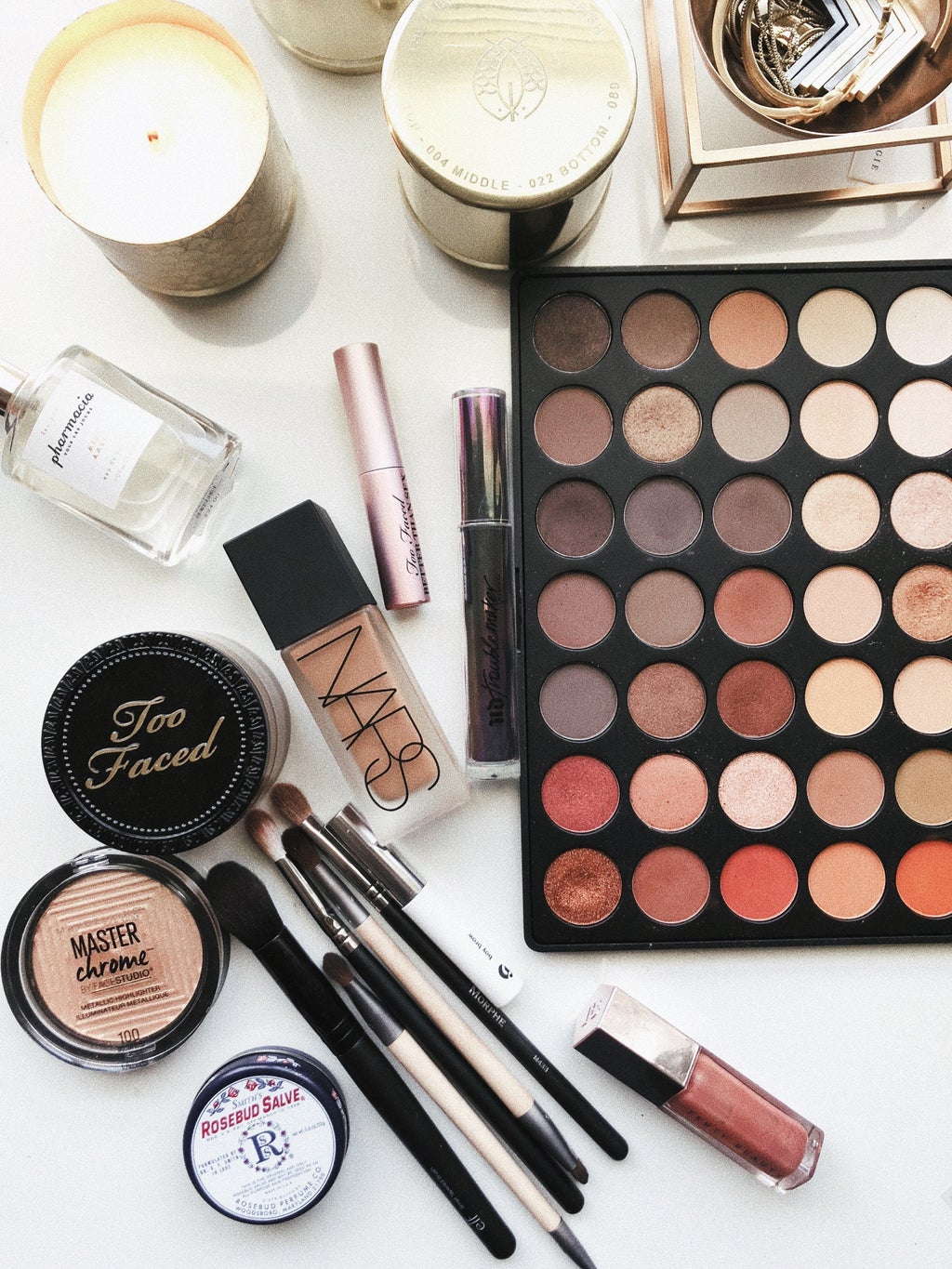 8. Morphe 8T Totally Tan Face Palette
This palette has everything you need for your face. Morphe is one of my favorite brands on this planet. A ton of beauty influencers have discount codes for Morphe, but it is also EXTREMELY AFFORDABLE. Morphe has its own stores, websites, and it's also sold in Ulta Beauty. The quality of their makeup and brushes is amazing. I use the lightest shade in the palette to set my whole face with a fluffy brush. Then I use the bronzers to go over my contour and warm up my face. This is such a good bang for your buck.  If you have never checked out the Morphe brand, please do yourself a favor, I am begging you.
Next, I move on to caking my face in blush. I have never been a big blush girl until recently. My best friend told me a few months back that she has been so obsessed with this blush. Again, super affordable, can be found in drugstores, as well as Ulta Beauty. This adds such a nice little pop of color to your face. I use the shade Coral Cove, it looks really bright and scary in the packaging, but I promise you it is so pretty. It is also a buildable blush which is so perfect because the product allows you to build up how much pigment you want. 
After applying blush, I usually dip back into my Morphe palette and apply highlighter to my cheekbones, and the tip of my nose.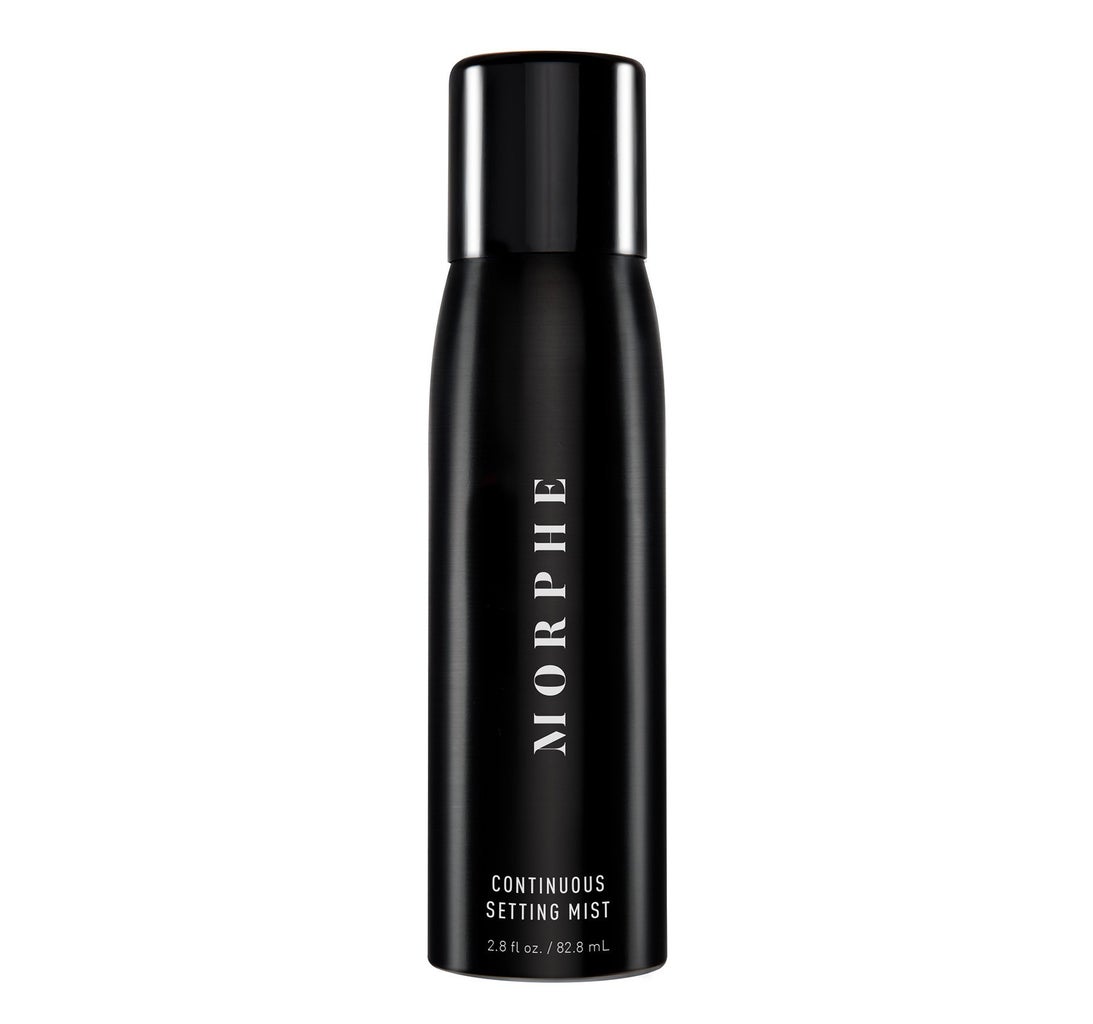 10. MORPHE X JEFFREE STAR SET & REFRESH MIST
My face is finally done at this point, which means that it is time for setting spray! I love setting spray because it allows all of my layers to blend together. It leaves my face looking so smooth and not cakey at all. Setting spray is a very important step that is sometimes overlooked. This is my favorite setting spray at the moment and it's on sale right now for $5!!! This mist gives me more of that natural finish that I strive for. Plus, it is a collab with Morphe and Jeffree Star.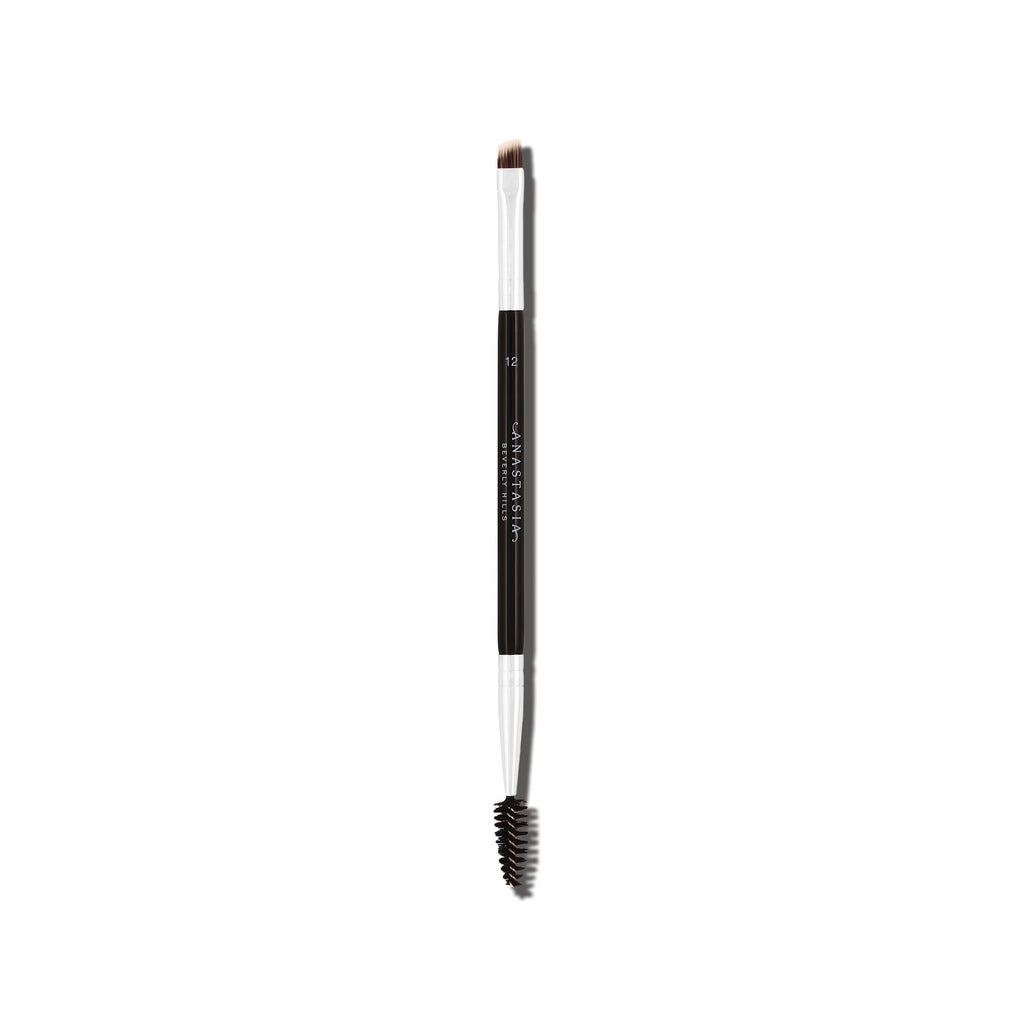 11. Anastasia Beverley Hills DIPBROW Pomade
It is now time to transform my eyebrows! I have been using this product for years, and I swear by it. I apply this product to my eyebrows with the Anastasia Beverley Hills Brush #7B. This product is super creamy and blendable. I love using pomade with an angled brush because it is precise. I even apply a few swipes in the front of my eyebrows to add the illusion of single eyebrow hairs.
I am a slut for a good brow gel. In my opinion, everyone needs to use an eyebrow gel whether you fill in your eyebrows or not. The current eyebrow trends are all about the lamination look. Eyebrow gel gives you that trendy look without having to chemically damage your eyebrow hair. This eyebrow gel has a small brush which is great for getting each small eyebrow hair.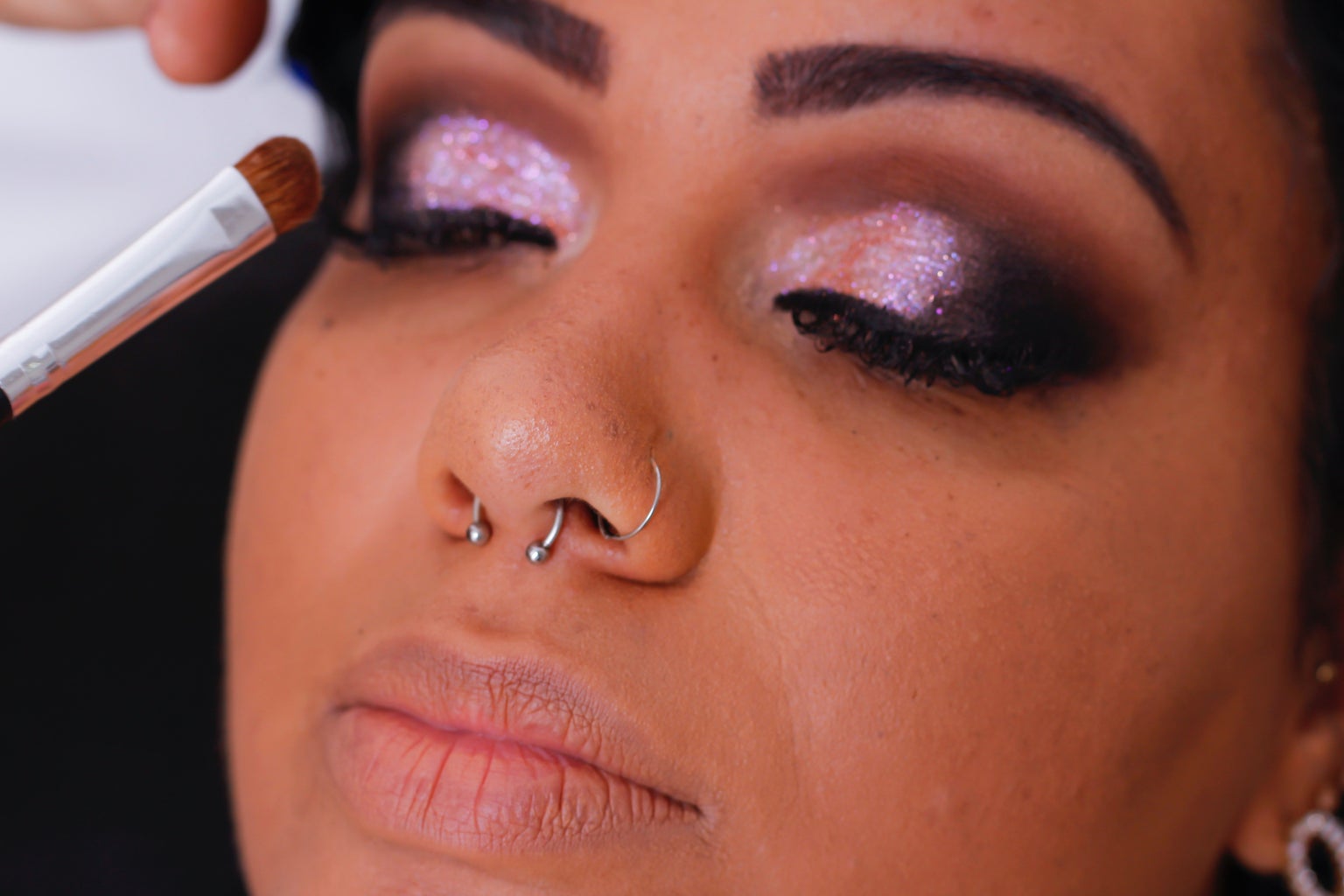 13. Juvia's Place The Nubian Eyeshadow Palette
I have a whole drawer of eyeshadow palettes, so it is hard to only pick just one. I am choosing to talk about this one though because I have been reaching for it a lot. Plus, I feel like a lot of people don't really know about Juvia's Place and it deserves some hype. This palette has twelve pretty neutral shades. I really like to use some shades as transition colors, and the shimmery shades look great on eyelids. Each shade is super pigmented, and it's also affordable for an eyeshadow palette.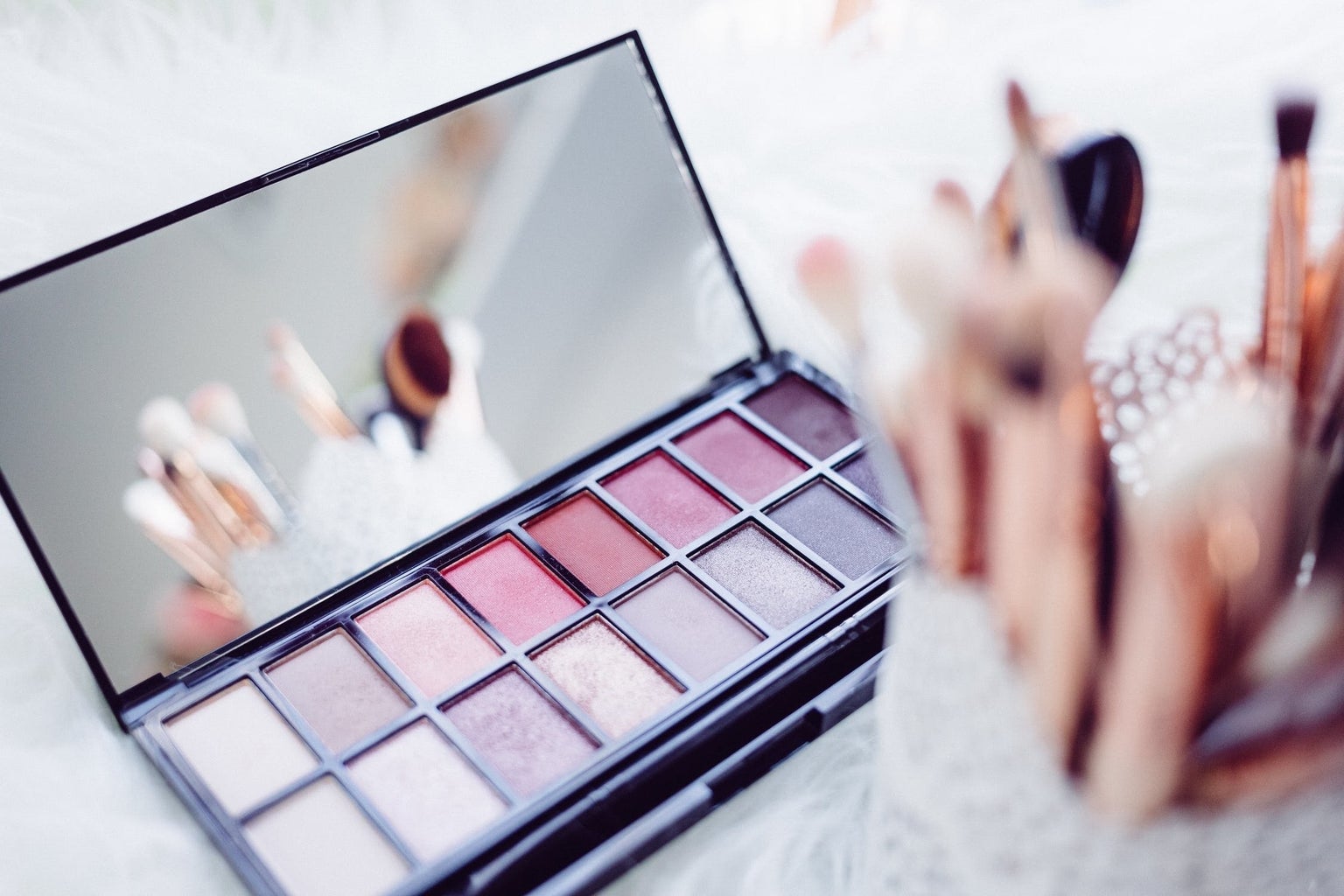 14. Milk Makeup KUSH High Volumizing Mascara
This mascara has been my go-to mascara for probably two years now. This stuff blows my socks off! Milk Makeup is a makeup brand that uses a variety of ingredients that are really good for your skin. This mascara is infused with cannabis oil which is actually really good for your eyelashes. And besides what you may think, this mascara does not release any effects from THC. Overall, it is amazing, long-lasting, volumizing, and its drier formula causes it to not melt or smudge on your face.
I am a huge advocate for over-lining lips with lip liner. I have a deep love for lip liner because it makes your lips look so much more full. Big lips are also super trendy right now, so why not have big lips without the needles?
16. Morphe Lip Gloss
This is my favorite gloss because it is so shiny, long lasting, and CHEAP. This lip gloss is $9 and the quality is impeccable. I keep this gloss on me wherever I go. It is not sticky, and I highly recommend it.
These are all of my current favorite products! I hope that this has helped you, or at least sparked your interest in some new products. More of these will probably be coming soon because I am a product hoarder. 
Bye<3