Over the summer, I had the exciting opportunity to go to the first day of Chicago's Lollapalooza. While Miley Cyrus, Flo Milli and Olivia O'Brien were showstoppers, it was the fashion that caught my attention. Everything from nipple pasties to Victoria Secret Bustiers to full-on Halloween costumes were seen. So, as a self-proclaimed fashionista, I thought it would be interesting to talk about the Do's and Don'ts of music festivals.
DO go out of the box and have fun but DON'T break the bank
Festivals are time to go out of the box. To try trends you have been afraid to try or be free from parental restrictions. Which is great and more power to you! However, since most festival pieces are usually the kind of thing you'd only wear once, like a fringe bodysuit or a neon cowboy hat, don't spend thousands of dollars on the ultimate festival look. Go to trendy websites like SHEIN or ROMWE where the trendiness is high but the price point is low. You will thank me when you walk across a muddy baseball field to Aly & AJ or end up eating your dinner in front of a pile of mud after getting trapped in a Playboi Carti mosh pit.
DO show off the body positivity but DON'T forget the circumstances of a music festival
I saw every kind of body type in every kind of body-baring outfit you could think of at Lolla. And while it was amazing to see both guys and girls and gays feeling liberated, you also have to remember that while festivals look aesthetically pleasing on Insta, like most things on Instagram, that's just the highlight reel. You spend a lot of time sitting in the grass waiting for your favorite musician or eating food. Your clothes will get dirty. You have to go to the bathroom in claustrophobic porta-potties. So, while that cheeky bodysuit may be iconic, just remember it may not be the most practical. Just keep that in mind.
DO dress to the nines DON'T be uncomfortable
You spend literally all day on your feet, whether it's watching or waiting for your favorite artist or walking to your next show. So, it is vital you wear comfortable shoes. I saw girls in heels, go-go boots (I'm admittedly envious) and wedges. Just remember that when you buy those latex boots on Amazon.
DO dress on theme DON'T wear nice things
People's interpretation of the festival aesthetic is very diverse. Some go alternative. Some go rave. Some go bohemian. Some go sexy. Some dress as if they are going to college parties. I was surprised about how many went into fall fashion and athleisure. It's basically a fashion free-for-all. There are no rules. Except, maybe don't wear your Gucci belt, Chanel fanny pack or white Air Force 1s. Trust me, they will get dirty or break.
DO have fun DON'T be unsafe
As someone with SEVERE anxiety and germaphobic tendencies, I was surprised by how much fun I had and how carefree I was at Lolla. Don't let those viral pics fool you. Security doesn't just look at your Vax card, but examine it. And if you weren't Vaxxed, then you had to go through about an hour of COVID testing or bring one from the past 72 hours. Just remember to stay with your group. Make a plan prior and also find a meeting spot in case of separation. I recommend one by the main stage and one in the middle of the festival. While festivals are meant for fun, safety should be your first priority.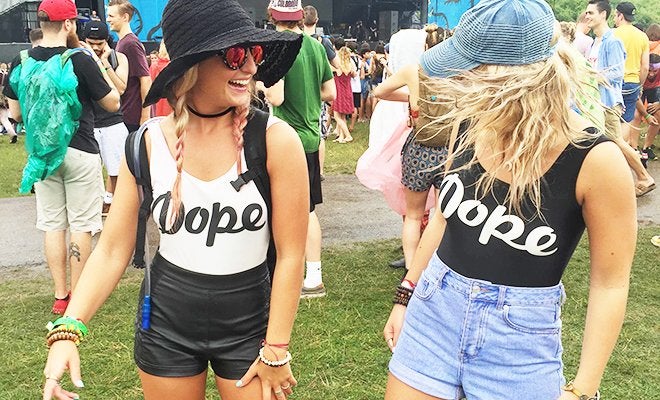 Have fun at your next festival!