If you clicked on this article, you are probably one of two types of people: (1) you already have a pretty ironed-out system for your bullet journal but you're just looking for ways to gear it a little more towards your studies, or, (2) you're completely new to bullet journaling and want to soak up all the information you can before getting started. If the second option applies to you, I recommend checking out my article, How I Set Up My First Ever Bullet Journal: Essential Pages and Supplies You'll Actually Use, before reading this. Either way, welcome! I have developed a love of bullet journaling and I am so glad you're here to join me!
Something I learned after bullet journaling for a while is that it's good to make a spread of all reoccurring events. When I know what events I'll have consistently every week such as classes, meetings and work shifts, I like to lay it all out in a spread. I can refer back to this page throughout the semester rather than including these constants on every single weekly spread. On top of saving me time, this frees up space in my weekly spreads for all of my tasks and one-time events. I just make a simple spread with the hours of the day on the y-axis, starting at the time of the earliest event in my week and ending at the latest. Then, I write the days of the week across the top. Personally, I always start my week on Monday because I like the weekend to be connected at the end. I know that can be weird to some people, and that's okay! The most important part about making a bullet journal is to make it work for you.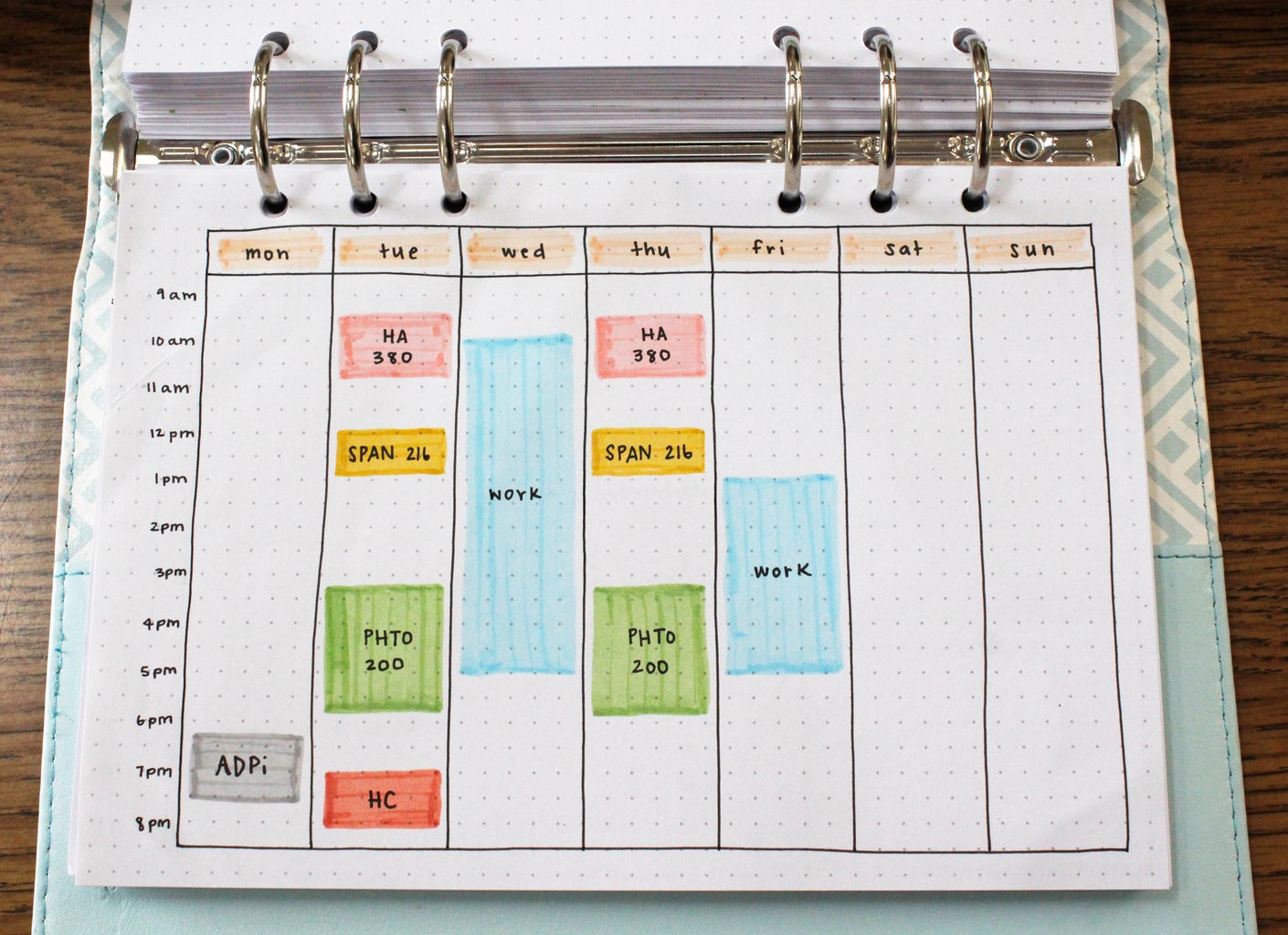 I'll be honest, my next tip is from a TikTok, but I just had to include it in my bullet journal. At the beginning of the semester, take some time to go through all of the schedules in your classes and enter the important due dates in an Excel document. It'll take some time, but you only have to do this once and then you can then reference it for the remainder of your classes. Excel then allows you to sort the assignments by due date, giving you a chronological list of your assignments across every class! Now, there will be no surprises as far as due dates for this semester. You can copy this list into your bullet journal, or you could just print it out and glue it right next to your weekly schedule. I'll let you guess which way I did it.
As important as time management is during the school year, it is also important to manage your money. I always find myself spending more money when I'm at school than I do at home. So, I began to track my purchases and make goals for where I want my money to go (or stay). A great example of a budget tracking spread is one by Caitlyn's Corner on YouTube. Once you've tracked your expenses for a while, you should then reflect on your purchases and ask yourself questions like, "Am I happy with where the majority of my money went?" "Do I need to make adjustments to the way I am used to spending my money?" and "What will happen if I continue my current spending habits?"
These are just a few pages that I think are helpful to set up before the start of a new school year, but nothing about bullet journaling is mandatory. If you read this and would like to use one of these spreads to stay on track in school, great! If not, I'm still glad you stopped by! What works for me is not what works for everyone, and the beauty of bullet journaling is it's custom-made for you. Good luck on your bullet journal and have a great school year!