An Honest Review of Spring 2021 Trends
As a lifelong (by that I mean 20-year-old) fashionista, I love looking at the new trends that come about each season. Some are recycled from years past (looking at corsets or what I, who was backbraced as a tween, like to call "voluntary breathing restrictions"). Some are very fresh and unique. Some will stay and so will go, but whatever they are, we see them anywhere and everywhere. So, I decided to give an honest review of the current fashion trends for Spring 2021. 
But first (no, not coffee), I just want to say that these are my personal and current opinions. They could change, but by the time they change they will probably be out of style. My personal style is very New York prep meets comfy casual and more inspired by the past then present. With that being said, these are my opinions. If you don't agree with them, that's 100% okay. Wear what you want. I'm not telling anyone what to wear. If you want to rock it, then rock it! More power to you!
Let's get started:
Giphy
Red Hot: 
Red is the hot color of spring. It's a color that represents love, passion, intensity, rage, adventure, and energy, which I think we are all feeling in some way, shape, or form in 2021. Red is everywhere from dresses to tops to skirts to shoes to Valentino's runway to even Amanda Gorman's Prada headband at the presidential inauguration. Personally, I love red, and by that I mostly mean I love maroon. I am totally supportive of the 2021 trend. 
Leather Galore:
Leather jackets, leather pants, leather accessories, and even leather corsets are all on trend this spring, which is kind of weird because leather is typically regarded as a colder month essential. It's also weird because eco-friendly, vegan clothing is on the rise in the 2020s, so having leather on trend is very interesting, but if it's vegan leather or faux leather I understand. Seen on Gabriela Hearst's runway, leather jumpsuits and leather in untraditional hues of khaki, camel, and sand as well as classic black, designers are finding new and creative ways to wear the timeless fabric. I love this trend because a leather wardrobe piece or accessory is probably the easiest way to edge up an outfit. I have also been seeing a lot of dominatrix inspired leather outfits, probably thanks to Kat Herandez in Euphoria, so if that's your vibe, this trend is perfect for you.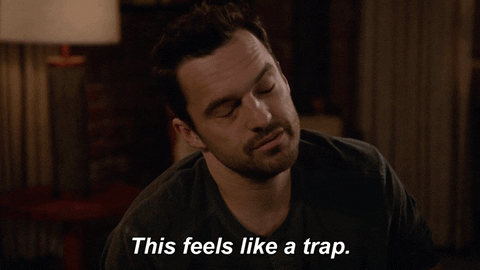 Giphy / Fox
What do we wear when we are home all day? Slippers!
Due to COVID-19, we are all home 90% of the time. So, it's no surprise that slippers are one of the hottest trends this spring. Or rather, slip-on shoes that you can wear in or out of the house. Proenza Schouler and J.W. Anderson figured out how to make slippers high fashion with furry and fun embellishments. Personally, I am always in my black fuzzy slippers in my college apartment. Who doesn't want their feet to be comfy?
Denim, Always:
Denim itself will never go out of style. However, TikTok debates aside (I'm team skinny jeans & team wear whatever you feel confident in because who really cares?), I like denim in so many forms from skirts to dresses to normal jeans, but this season we are seeing more creative ways to wear normal jeans. Creative teens on TikTok are painting and cutting up jeans in interesting ways. Fashion houses like Chloe and Balencigia (who based on their runways are on the Non-skinny jean side of the TikTok debate), brought back 70s edge with their jeans, as well as boyfriend style denim.
A Classic Button Down:
Jacquemus & Valentino showed off new and refreshing ways to wear something every fashion blog says every person should have in their closets, a white button down. With corset ties, embellishments, patterns, and layering, there are endless possibilities for spring when it comes to a classic button down, whether you like yours fitted or oversized. 
Giphy
Bright Colored Dresses:
This one isn't really surprising. Spring is by far the most colorful season fashion-wise. J.W. Anderson and Proenza Schouler take 50s and 90s inspiration when it comes to bright-colored dresses this season with teatime inspired silhouettes and girly grunge (think Gwen Stefani) dresses.
MBD: Modern Black Dress:
I love a good LBD. I honestly have one for every occasion. Casual. Dressy. Dressy casual. Formal. Cocktail. You name it. The thing with this season's LBD is that it's being called the MBD, as you can see from the header. This is because designers like Victoria Beckham, Khaite, and of course Chanel are finding contemporary ways to wear the LBD with everything from cutouts to fringe to puff sleeves to seductive leg slits.
Knitting Is No Longer Just My Grandma's Hobby:
Gucci and Bottega Veneta have been showing off all kinds of new ways to wear knits that don't feel too old cat lady with embellishments, deep Vs, and cutouts. The most commonly revived knit style I've been seeing is the sweater vest. While I do like the look of a chic and modern sweater vest over a white button down, I believe this trend will expire on January 1, 2022. So, in order to not waste money, I have not purchased one yet. However, I am more than happy to be proven wrong since it is very cute.
The 80s are back with Oversized Jackets & Big Shoulders:
I love 80s fashion because while oversized clothing might not be the most flattering most of the time, it is always the most comfortable. This is proven in the effortlessly chic oversized blazer trend. Blazers, no matter what style, are a timeless and chic addition to any wardrobe. Another 80s trend that's back is big shoulders. From puffy sleeves to sharp edges to more-or-less tame shoulder pads, dramatic shoulders are all the rage. 
Giphy
Face Masks, Because Duh:
This is a MUST! We are in a pandemic, so for that reason alone I believe we should all hop on this trend. 
Headscarves: 
I love this trend if we are talking about how Audrey Hepburn wore them in her movie 'Charade'. But if we are looking at them like how I wore them to day camp in 2005, then probably not. With the harsh sun of spring, I definitely understand why this could be appetizing. I think I would only wear this if that was the case. Or I really did find myself in an Audrey Hepburn in Charade type of situation where I needed to tail someone. Though it probably wouldn't be Cary Grant unfortunately. 
Sorbet Pastel Colors:
You may be confused about what I mean by sorbet. It's not the rainbow colors from ice cream. It's more oranges, yellows, greens and magentas, while lilacs, mints, periwinkles, and baby pinks. I love a good pastel and a good magenta, but orange and yellow aren't really my colors. But if they are yours, go for it!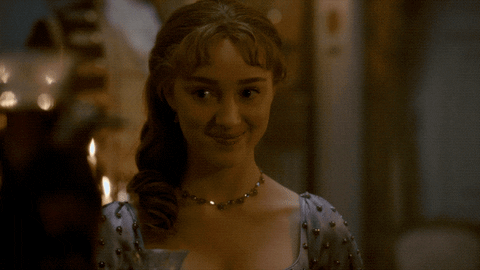 Netflix / Giphy.com
Camel & Yellow:
Whether it's handbags or clothes, these colors are the neutrals of spring. Personally, I'm not really a fan. I just love black.
Folklore, And No Unfortunately I'm Not Talking About Taylor Swift's Grammy-Winning Masterpiece:
Folksy style is all the rage this spring. So that means florals, flowy dresses, embroidery, and tapestry looking patterns. Personally, this isn't really my thing, but I can definitely appreciate it. If I ever had the opportunity to run through a bright green field, I'd definitely channel this style. 
The Go-Go's & Nancy Sinatra:
White go-go boots are back and I couldn't be happier. I have always wanted a pair of go-go boots because I love that 60s mod style. It's so cutesy, chic, and classic. I'm glad to see mod staple returning to today's fashion. However, most of what I've seen are thigh-high white go-go boots and I prefer the classic knee high ones.
Pops of Blue:
Blue is either a popping color or a neutral depending on the person. However, pops of blue is more on trend for this season whether it's in the outfit or in the accessories. I've mostly seen it in the accessories.
Fringe:
70s style fringe is back, and it's on everything. In high fashion, it's mostly seen in handbags, shockingly enough. While I love fringe, I prefer it more in the flapper sense than the hippie sense. 
Giphy
Mini Skirts:
I love a good mini skirt. They are more flattering on my body type, and there are so many ways to wear them. Also for the warmer months, I prefer to wear skirts and shorts. Mini skirts were all over the runway of Miu Miu, one of my favorite designers. They were in all different colors and with different embellishment. With other 60s trends like headscarves and go-go boots coming back, it's not as surprising that Mary Quant's revolutionary mini skirt would come back.
Trousers Instead of Sweats:
The dressing up while at home trend is so up my alley. I just wish I did have the trousers to match. Dress pants have been a fashion item on the list for some time now, so I'm very happy to see that it is actually on trend right now. I love some sweats, but they definitely aren't the most fashionable pieces in anyone's wardrobe. In my opinion trousers > sweatpants anyday. 
Psychedelic Designs:
Another 70s trend coming back. Personally, the 70s is one of my least favorite decades for fashion. I just don't vibe with it as much as do other decades like the 60s, the 80s, and the 90s. So, I think I'll have to pass on this trend. But if the 70s are your vibe, then go for it!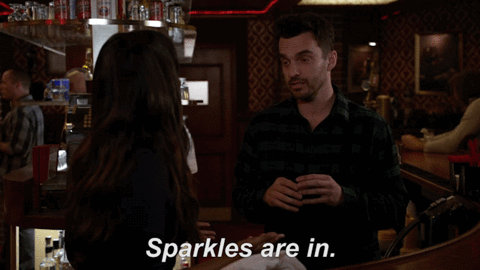 Giphy / Fox
Clingy Clothes:
Tight silhouettes are big this season. That means bodycon dresses and bodysuit tops. I love this trend with my body type, especially on those days post-PMS. But this is definitely a trend that doesn't make everyone feel confident. If this works for you, great. If not, well, oversized clothes (like I said before) are on trend too!
Classic Coats:
Sleek, crispy, solid colored coats are on trend this spring. After all, it does shower in April. I love sleek style coats more then the puffer coats of the winter, so I am totally on board for this. 
"Florals? For Spring? ...Groundbreaking":
I think The Devil Wears Prada says it all. Let's move on. 
Giphy
Creative Cutouts:
Just when I think designers have come up with every way to wear cutouts, they surprise me. Personally, it depends on the outfit. Some cutouts I love, and some not so much. I say find what works for you and wear whatever makes you confident. 
Feathers On Feathers On Feathers:
I love this trend. Feathers are such a fun way to be glamorous and a little youthful. It also reminds me of 'Scream Queens', and I loved the wardrobe in that show. 
White Is The New Black:
Personally, black will always be the new black for me, so I will not be falling in line with this trend.
Bras As Tops:
YES GIRL! Show off that bra! The feminist in me will always support this trend, and maybe on a day I feel super confident, I might even sport it. Who knows?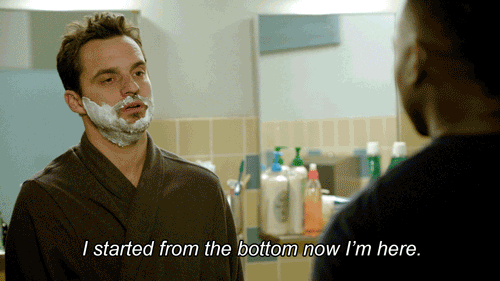 Giphy / Fox
Sheer:
Sheer is the perfect option for a shy girl who loves fashion. It's confident-boosting, sexy, and fun. You can also wear sheer clothing in so many different ways.
Bridgerton: 
This trend definitely doesn't surprise me. Bridgerton is one of the biggest things in pop culture, so of course we are trying to dress up like our favorite characters. Personally, it's a little too girly for my taste, but it's definitely cute.
A Bubblegum Pop Of Pink:
Pink is such a fun color to express yourself with, and it always ~ pops ~ onto the scene around spring and summer. 
Bustiers:
Another trend the feminist in me loves. Girl, if you got it, flaunt it. Bustiers make girls feel confident and I am all about that!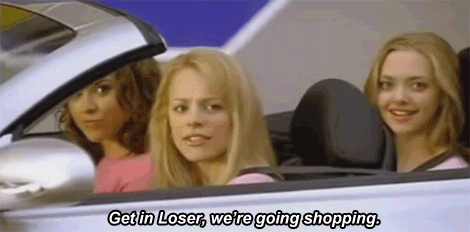 Paramount Pictures
I hope this helps with your spring shopping.
XOXO