Moving into a new space can be difficult, especially the adjustment period before it feels like home. I've been in my current apartment for just over a year, and I find myself still slowly adding decorations to my room as I go! However, there are a few items I've noticed that have really made a difference and helped my space feel cozier.
1. blackout curtains
I used to have trouble sleeping in my apartment—more specifically, I would wake up incredibly tired even after getting enough sleep. I soon realized it was because my blinds just weren't doing a good enough job of keeping the light out, even at night. I decided to invest in blackout curtains and all I have to say is, wow. What a difference. I'm still not a morning person, but I definitely wake up feeling more refreshed than I did before.
What I bought: this tension rod, these curtains
2. bedside lamp
Whether you buy a nightstand lamp or a floor lamp with a reading light, this is a must-have. I'm the type of person who enjoys reading for a few minutes before going to bed (which sometimes leads to accidentally finishing the book instead of going to bed … oops). Anyway, I love reading physical books, and my overhead ceiling lights just weren't doing enough to illuminate the pages.
I also find the lightbulbs that I purchased more soothing than the overhead lights. Lighting really does make a huge difference in atmosphere, especially in a bedroom space. Overall, I would highly recommend having a relaxing lamp next to you so you don't have to get up to turn off the lights when you're ready to sleep.
What I bought: lamp, light bulbs
3. reading / bed rest pillow
This plush pillow is truly a game-changer when it comes to sitting in your bed. I use it when reading, watching shows or movies, writing, doing homework, etc. It's a fantastic alternative to your desk chair when you're tired of sitting in the same spot for too long. Unfortunately, it also enables my poor habit of working in bed … but it's so comfy that I honestly can't feel too bad about it.
What I bought: bed rest pillow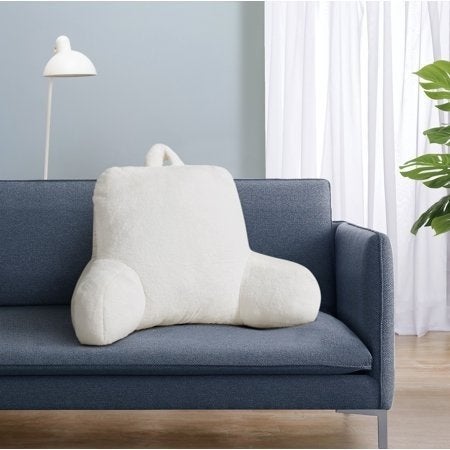 4. whiteboard calendar
I love writing in my planner, but I get tired of writing the same schedule down week after week. That's where this handy whiteboard calendar comes in. I can write my recurring schedule on it, making changes as the week progresses, and just leave it up as a reminder of my upcoming events!
What I bought: whiteboard calendar
5. full-length mirror
If you're lucky enough to be in a place that comes with a full-length mirror, you can disregard this last suggestion! Otherwise, I would definitely recommend purchasing one of these mirrors. There are plenty of cheap, over-the-door options, or slightly pricier framed versions—either works, depending on your preference. I like to use mine when picking outfits to go out, and I like the versatility of the lighting depending on where you keep this mirror.
What I bought: I stole mine from my mom so I unfortunately do not have a link for this one. However, Target, Wal-Mart, Bed Bath & Beyond, and IKEA have some great cheap options!
That's it!
There you have it! There are certainly more items that could go on this list, but these were some examples of things I felt like made the biggest difference in helping my apartment bedroom feel more like my own place. I feel that the lighting and curtains really changed the ambiance of my room and help me sleep much better at night, so those are my two biggest suggestions to consider investing in.
As an added bonus, everything listed above can also double as decorations to spruce up your room! I'm no interior designer, but now my room both feels and looks much better to me personally. All in all, I definitely think it's worth putting some money down on items that will be both helpful and decorative. Happy shopping!
The Her Campus National Editors write about products we love and think you'll love too. Her Campus has affiliate partnerships, so we get a share of the revenue from your purchase. All products are in stock and all prices are accurate as of publication.