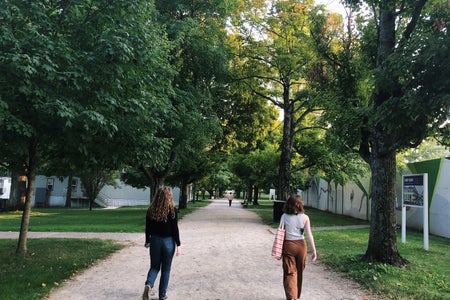 Original photo by Shea Humphries
The Kenyon Experience: Before and After a Pandemic
There's something otherworldly about a college campus. Fledgling people, all of similar ages, running around old stone buildings and perfectly green grass, trying to learn from and for each other. There's nowhere else like a college campus. I am lucky to be at what I find to be one of the most beautiful campuses. From the moment you step foot on Middle Path, Kenyon becomes a home for students. It is impossible to walk across campus and not be met with a smile or small conversation. Naturally, it has taken me some time to come to terms with the changes 2020 has brought, especially regarding COVID-19.
I wanted to talk with my friends about the changes they've witnessed because I knew everyone felt the difference. For sophomores, the majority of "upperclassmen" on campus this semester, having to explain to the freshmen that "this is not what it's usually like" is a strange phenomenon. We barely know what it's usually like. Nonetheless, I interviewed some Kenyon sophomores about their favorite things about campus, before and after the pandemic hit. 
Abby has bright red hair, glasses, and a passion for niche activities. When I asked her about her favorite part of Kenyon during her first year, she immediately said, "I really enjoyed getting involved in my clubs." Abby created a radio show through Kenyon's radio station, WKCO, called "Happy 2 Be Here" with her best friend, Seth. She also co-founded a club solely dedicated to fermentation called Fermentation Friends. Her freshman year was full of extracurriculars. So, I asked what has changed this year due to the pandemic. "Everything's a lot more quiet," she said. "I'm a lot less active in my clubs, and a lot more active with my job." As the radio station takes a semester hiatus and club meetings become a safety hazard, Abby got a job working at the Brown Family Environmental Center (BFEC). She feeds and walks the rescued turtles. Though her job is incredibly cool, I asked if she missed the activities she started last year. "It's been different but it's still nice," Abby finished with a soft smile.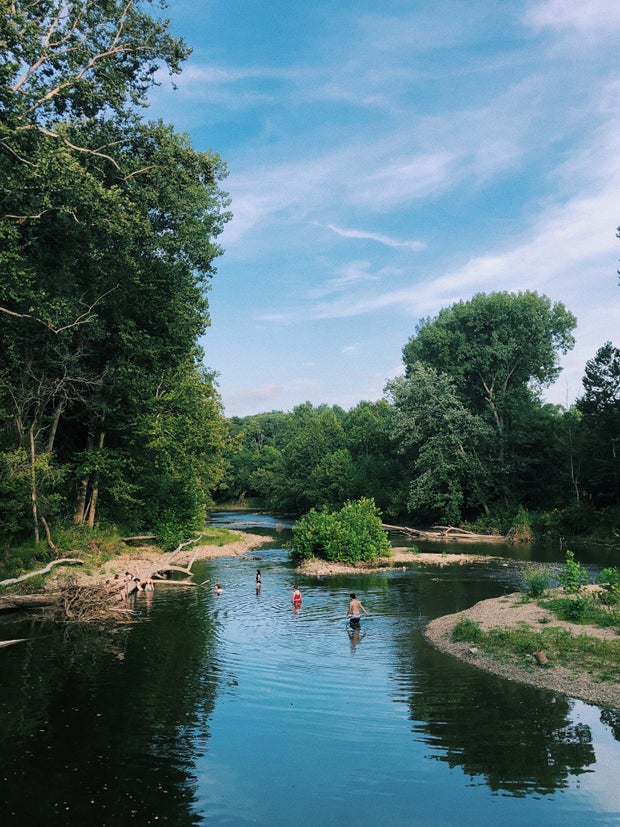 Original photo by Shea Humphries Sitting right next to her was Seth, who is always wearing flip flops and a smile on his face. I asked him the same series of questions. "Trivia every Wednesday night used to be fun. Also, I used to sit on that little bench by the greenhouse," Seth answered, laughing. "Mainly, during my freshman year, everyone was so fun and accepting." I wanted to know what had changed and what he missed. "I bet I could still go sit on that bench," Seth replied. This is true. He continued, "People are still the same accepting people they are, but during a pandemic, it's a lot harder to meet new people." This is also true. Wednesday night trivia may be on a temporary pause, but Kenyon's friendliness certainly isn't. It just takes a little more time to make new friends when everyone's wearing a mask.
After interviewing Seth and Abby, I walked back home to ask one of my roommates for her perspective. Ani has the greatest sweaters and an undying love for art history. She was even willing to stay up late with me in our living room to reminisce. I asked her what she loved about her first year at Kenyon, and it came quickly to her. "The Norton common room," she answered. For reference, Norton is a freshman dorm for femme-identifying students, and each dorm typically has a large common space. I asked Ani why she chose Norton. "Because every time I walked in there, it was full of beautiful energy. It just always made me feel like home when I didn't feel like I had a home yet," she said. Besides no longer being a first-year student, I wondered what else had changed that experience. Very eloquently, Ani responded, "Yes, I don't live in Norton anymore, but I learned to find that energy in other places around campus. Whether that's here in my new home, or on the rugby field, or on Peirce lawn. I had to learn to make a home for myself no matter where I go. While it's not the same and probably never will be, there's always home."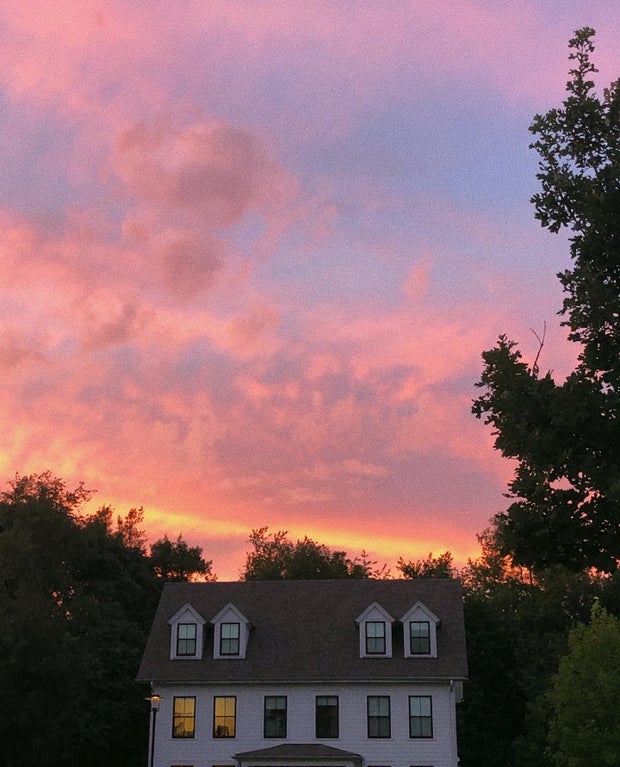 Original photo by Shea Humphries Ani put it perfectly. No matter how Kenyon changes, it will always be home. Not even a pandemic can alter that state. The clubs and trivia nights and common gatherings will return in due time. For now, whatever campus you're on, we have each other.