Female Singer-Songwriters For Your November Playlists
I don't know why, but when fall rolls around I often find myself listening to singer-songwriters. Something about the season makes me more contemplative, I suppose. The perfect weather gets me in the mood for poignant lyrics, and I find the lyrics of female artists to be particularly relatable. If you need something to fill your earbuds while the leaves crunch under your feet on your next beautiful walk to class, look no further than these female singer-songwriters.
Phoebe Bridgers is known for making sad music, but don't let that turn you away. A devotee of Elliott Smith, Bridgers' lyrics are filled with specific memories, hard-hitting metaphors, and bits of clever comedy. Her clear, beautiful voice stands out and draws the listener in. Bridgers has released two solo EPs, 2017's Stranger in the Alps and 2020's Punisher, and collaborated with artists including The 1975, Conor Oberst of Bright Eyes, Matt Berninger of The National, and solo artists Lucy Dacus and Julien Baker. I find her collaboration with Conor Oberst, called Better Oblivion Community Center, to be particularly interesting because it allows Phoebe to expand her horizons and explore more up-tempo folk-rock type sounds.
Must-listen tracks: "Motion Sickness," "Scott Street," "Garden Song," "Dylan Thomas"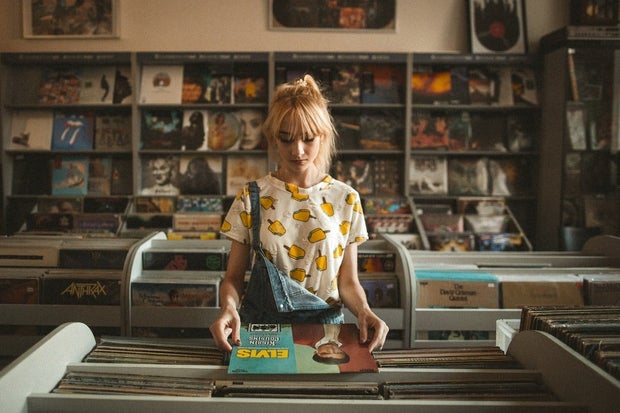 Photo by Jamakassi from Unsplash
Julia Jacklin is a musician from Sydney, Australia. She has released two LPs, 2016's Don't Let the Kids Win and 2019's Crushing. Her nasal voice, jangly guitars and meandering melodies set her apart and make her music infectious. Jacklin's lyrics cover topics such as social anxiety ("I know I've locked myself in my room / But I'll open up the door and try to love again soon") and being body-shamed by a significant other ("Do you still have that photograph? / Would you use it to hurt me? / Well, I guess it's just my life / And it's just my body") in a poetic yet relatable fashion. 
Must-listen tracks: "Pressure to Party," "Pool Party," "Someday" (The Strokes cover)
Angel Olsen's raspy voice and expert songwriting skills have carried her through an impressive six albums in the past eight years, ranging in genre from folk to rock to art-pop. This means there's something in Olsen's catalog for just about anyone. Check out 2012's Half Way Home for some gentle acoustic folk, 2016's MY WOMAN for rock with a country twang, or 2020's Whole New Mess for thoughtful, artsy ballads.
Must-listen tracks: "Shut Up Kiss Me," "What It Is," "Acrobat"
Photo by blocks from Unsplash
Fiona Apple has been an important part of the music industry for so long it seems impossible not to know her name at this point. Still, her discography can be intimidating, and many of those who were very young or not yet born when she began making music (like me) may be confused about where to start. I'd recommend working through her albums in chronological order, starting with 1996's relatively radio-friendly Tidal and ending with her critically acclaimed 2020 release, Fetch the Bolt Cutters. It's thrilling to hear Apple's development from a confused and frustrated teen to a righteous but mature woman. Her songwriting skill has never been anything but excellent—the type of lyrics begging to be screamed out the car window.
Must-listen tracks: "Paper Bag," "Valentine," "Hot Knife," "Not About Love"
I have to admit, people told me to listen to Big Thief many, many, times, but I failed to understand why they were so great until this year. The indie folk-rock band is led by Adrianne Lenker, who has also released several solo albums. Her voice is both raspy and twee at the same time, a combination which put me off at first, but further listening made me love it. The instrumentals backing Lenker pack a punch that goes far beyond typical chill indie rock fare.
Must-listen tracks: "Masterpiece," "Not," "Mythological Beauty"
While none of these artists are particularly obscure, they should be a good starting point for you to go out and discover more talented female singer-songwriters for yourself. Now put those headphones in and head outside while the weather's still good!