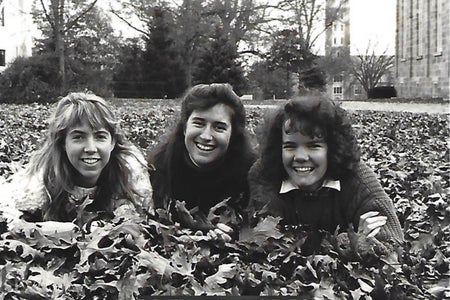 I have a very close relationship with my mom. She has been a stay-at-home mom since I was born, and because of that, I have had the amazing blessing of getting to spend the majority of my time with her. Throughout grade school, she drove me and my brother to school (sometimes coming back in the middle of the day when I forgot my instrument for band or an important piece of homework on the dining room table), and she was at every sports game, concert, parent-teacher meeting, and extra-curricular event. Throughout my whole life, she has been my number one supporter and best friend. She was also a big part of my college process. She wore a college counselor hat, paying close attention to what I wanted in a school and encouraging me in all my interests. We spent the spring break of my junior year of high school driving all over Pennsylvania, Virginia and the surrounding states to various colleges for tours and admissions interviews. After our college visit road trip, I decided to look at Kenyon, her alma mater, because the junior preview day happened to occur right at the end of my spring break, before I had to go back to the boarding school I attended in Michigan. 
I grew up with Kenyon. I went there almost every memorial day weekend for class reunions, even when it wasn't my mom's reunion year, because, as an active alumna, she helped out every year. I have memories of sitting in the Kenyon bookstore reading Harry Potter and the Soccer's Stone for the first time while my mom was busy with various reunion events, and in late middle school studying for finals on the second floor of Finn House, going downstairs for a study break to the event my mom was putting on to get cookies and lemonade. Lots of people assume that I chose Kenyon because my mom went here, or that I had pressure from her to pick Kenyon. But that wasn't the case at all. I began looking at Kenyon for college because I had done the whole leaving-home thing in high school by going away to boarding school, so Kenyon being so close to my home in Columbus wasn't an issue anymore. I must have looked at twenty schools, all of which I compared to Kenyon––and all of which never quite measured up. 
Throughout my entire visit, I kept saying to my mom, "I really love Kenyon". It didn't take long for me to know that Kenyon was where I wanted to go, where I belonged. My mother just kept saying, "I'm not going to say anything. I don't want to influence your decision." From the beginning, my mother has wanted my experience at Kenyon to be my own. Before coming to Kenyon, I expected that having the same "Kenyon experience" as she did would be what bonded us, and while there are aspects of my Kenyon experience––like living in the same freshman dorm as she did (shout out to my Norton girls, all-female housing is the best) and taking one of her favorite classes––it has been discovering the differences in our experiences that has brought us closer. 
Moving into my freshman dorm, Norton, which my mother lived in as a freshman
College is a weird experience. It's this four year period where you aren't exactly in the "real world" (and Kenyon is definitely more of a bubble than other places). It's also a weird in-between period with your parents. You are on your own, but not totally. You start seeing your parents as individual people and not just as your parents. You start understanding that even though you are their whole world, they had a life before you. College has its challenges, and every school has its own set of unique ones. During my freshman year, I found a lot of solace in the fact that my mom understood the place where I was––both the physical place and the life-stage place. Being at the same school as my mom has opened up a lot of conversations about what her four years at Kenyon were like, and those conversations are more meaningful to me because I know the places she is talking about. Being a legacy means that the place that you call home becomes home in a deeper way, because you already have roots there. I am living the Kenyon experience that I grew up hearing about––even if that experience isn't exactly the same. At the end of the day, my experience is mine and her experience is hers, and we find joy in that we are a mother and daughter who were shaped as individuals by the same special place.
Taken on the day I declared my Religious Studies major—a different major than my mother, who was an economics major.
Image Credit: Author