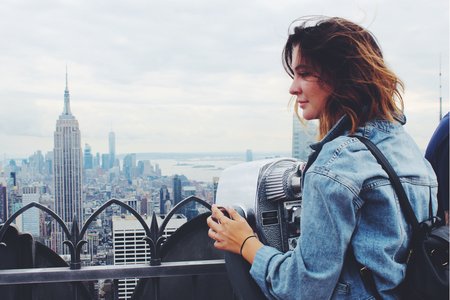 Anna Thetard / Her Campus
What All the Cool New York Girls Are Wearing
I have a confession: I'm obsessed with cool girl New York influencers. You know who I'm talking about. Girls like Leandra Medine Cohen, Alyssa Coscarelli, Jenny Welbourn; just to name a few. They have a style that is as close to perfection as you can get. They can always achieve a perfect balance of chic and fun in their outfits. So, I thought I would share with you what they have been wearing that I love.
Paloma Wool
I love this brand. I go on their website at least once a day because their clothes are so beautiful. It's a Barcelona made brand that mixes fashion with art and photography. They have created this unique aesthetic of colorful minimalism. Some of my favorite pieces are their corduroy jackets and pants that come in the most beautiful pastel shades.
Outdoor Voices
We love a good a pair of leggings, and if you're a girl who lives in New York who does pilates and drinks celery juice, then you definitely own a pair of these. This company is really cool because they make work out clothing for all different types of actives, from running to hot yoga and spinning, they have it all. Unlike most athletic wear companies, they have a chill vibe that focuses on the everyday person working out for enjoyment. Their clothing comes in an assortment of fun colors!
Balaclava
This clothing item is not only stylish, but it is very sensible for cold New York winters. Balaclava's came on the scene when Raf Simmons for Calvin Klein featured them in his fall 2018 runway looks. They came in many different colors and patterns, and they now have become something nobody knew they wanted but now have to have. Man Repeller just featured some by the company Kule in one of their latest photoshoots. They are delightfully quirky and fun.
Barrettes
Scrunchies have not gone away, but they lately been overshadowed by their hair accessory cousin: the barrette. I literally can't scroll through Instagram without seeing an influencer with a beautiful barrette in their hair. They have entranced the influencer world and are a fun way to spice up any hair style. I have been scouring through Etsy to find some.
Manrepeller Holiday Buffet Unibrow Sunglasses
I don't mean to exaggerate, but these are one of the best things to ever happen to the sunglass community. I wanted a pair so desperately. They were a unique shape that brought fun to way you save your eyes from the sun. They were also created by the MR team and loved by Leandra, how could ask for more?
Lisa Says Gah 
This company is my always mood and style. They love vintage pieces and sustainability, but also their clothing and accessories are so fun. All of their pieces come in beautiful bold colors and are so unique. Their clothing just screams joyfulness in the best way.
Dauphinette
This clothing company is bringing fun and sustainability to outerwear. Dauphinette will not let you get the winter time blues. Each piece of clothing is so groovy, and it's all made using reclaimed fur and leather. I just bought an amazing crew neck from them, and it's my favorite thing that's in my closet right now.
Check out these awesome brands and styles!