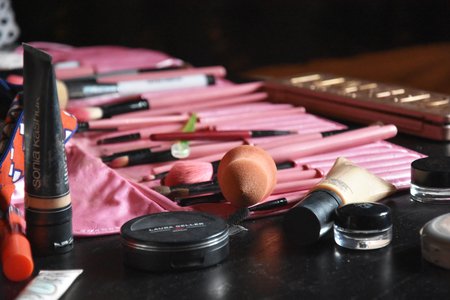 Anna Thetard / Her Campus
Some Awesome Makeup Looks From Euphoria
Euphoria, the HBO show, gave us a deep dive into the dark lives of teenagers and young adults. The show used costumes and makeup to display deep truths about the characters and how they are coping with the problems they are facing. Glitter, rhinestones and bold eyeshadows in this show are not used for sake of style, but to give us a more in-depth look at each character. That doesn't mean we can't love them and try to recreate them on our own. Here is a list of my favorite makeup looks from Euphoria!
Rue imagines this makeup look on Jules when she is fantasizing about burning Nate to a crisp. Makeup artist, Doniella David, said that " I wanted Jules' eyes to look like they could actually injure Nate." 

This makeup is look was for Kat's Halloween costume of Thana from Ms.45. This is the perfect look for the vengeful female murderer Kat is portraying. I love the red eyes and the crosses. It brings so much darkness and intensity to an already dark costume idea. 

This look is from Maddy's Halloween costume of Iris from the movie Taxi Driver. The bold eye lightens what could be a very dark and depressing costume because Iris is a 14-year-old prostitute. 

Any look with a glittery eyebrow I'm totally on board for. I love that Jules took this costume and totally made it her own. It's otherworldly and amazing. 

Rue starts crying glitter as she is tripping in the blanket fort with Jules. I love that in the show, they have repeated images of Rue crying glitter. 

Fezco sums Jules makeup aesthetic up the best when he says she has "Sailor Moon vibes." Out of all the looks, I feel this is peak Sailor Moon or something a character would wear in the Powerpuff Girls.