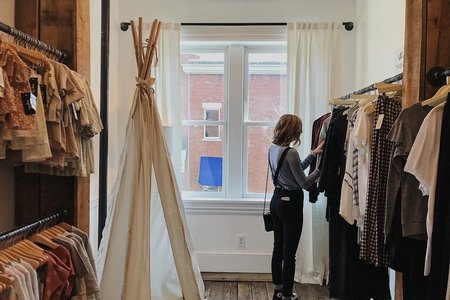 I Bet You Didn't Know THIS About T.J. Maxx
Being a fashion major really opens your eyes to some of the things you don't know about your favorite stores. As a consumer, I like to know everything that's going on. Today transparency is a major factor in how consumers view companies. For this reason, I wanted to look into the questions that pop in my head when shopping at one of my favorite locations, T.J. Maxx. 
Department stores, boutiques, retailers, discount stores, we have all heard of them, so what exactly is T.J. Maxx classified as? It is North America's largest OFF-PRICE retailer. In case you aren't familiar with the terminology, an off-price retailer is a store that sells items at lower prices than retail stores and typically fills it stores with overstocked goods. 
So where EXACTLY does T.J. Maxx get it's products? It's no secret that it is stocked with designer and brand name items, but how exactly do they get them to you at these prices?
According to their website… 
"We take advantage of a wide variety of opportunities, which can include department store cancellations, a manufacturer making up too much product, or a closeout deal when a vendor wants to clear merchandise at the end of a season, as well as lots of other ways to bring our customers tremendous value." What is so interesting about this claim is that manufacturers, especially good ones, follow sales trends and know how much to produce. Meaning that depending on this tactic will make any store run out of merchandise. For this reason, T.J. Maxx actually has it's own private label and manufactures clothes MEANT to be sold in the store. You're probably thinking this does not make any sense since this isn't what T.J. Maxx is about, but they need to make a profit somehow, right? According to T.J. Maxx, 10% of the merchandise in it's stores are under a private label which include Frou Frou and Mercer and Madison. 
In addition, T.J. Maxx works with designers and purchases their items with no buy back clause, meaning that there is no requirement for the designer to buy back any of the items that never sell (unlike most department stores), which therefore lets T.J. Maxx bargain for a cheaper price which then reflects back onto the consumers. 
Another interesting thing I find and question at T.J Maxx is the part of the price tage that says "compare at." The prices listed next to "compare at" are supposed to represent what you would pay for the same item at a retail store. Unfortunately, these prices are usually inflated to seem like a ridiculous deal. For example, ABC news did a quick test on Micheal Kors purse that suggested the retail price on the compare at tag was $328 however, the manufacturer tag that was still left on the purse said that it sold for $228. Now although it was a $100 jump from the actual price, T.J. Maxx was still selling it for the lowest price at $199. 
Besides clothing, what's the deal with all the food? We don't know a lot about T.J. Max's pantry or where all of it comes from (because they protect their sources like no other company in the business), but what we do know is that just like the clothing T.J. Maxx has products specially manufactured for them. Braswells, a jam and condiment company, produces specially made items only sold at T.J. Maxx. What the company is trying to do is focus on the idea of FOMO, or fear of missing out. By having a scarce amount of weird, nontraditional, and interesting products, there is a need for the consumer to buy it now or they will never see it anywhere else or at any other time. 
Knowing all this, don't be fooled by any tricks of the retail trade. Know before you go and don't fall into the idea of FOMO with both the clothing and the food. And if you think you should buy something based of the "compare at" price, think again. Now THAT is saving like a maxxinista.