Although he got his start in a boy band, Harry Styles is just as much a fashion icon as a musician these days. Styles is featured as American Vogue's December cover star, the first man to ever grace the cover solo – in a custom-made Gucci ballgown, no less. Of course, one doesn't jump from boyband heartthrob to Vogue cover star overnight. Styles has been drawing attention with his fashion choices for years; but the flared trousers, floral printed suits and glitter boots of his One Direction days turned out to be just the start of the star's penchant for flamboyant fashions.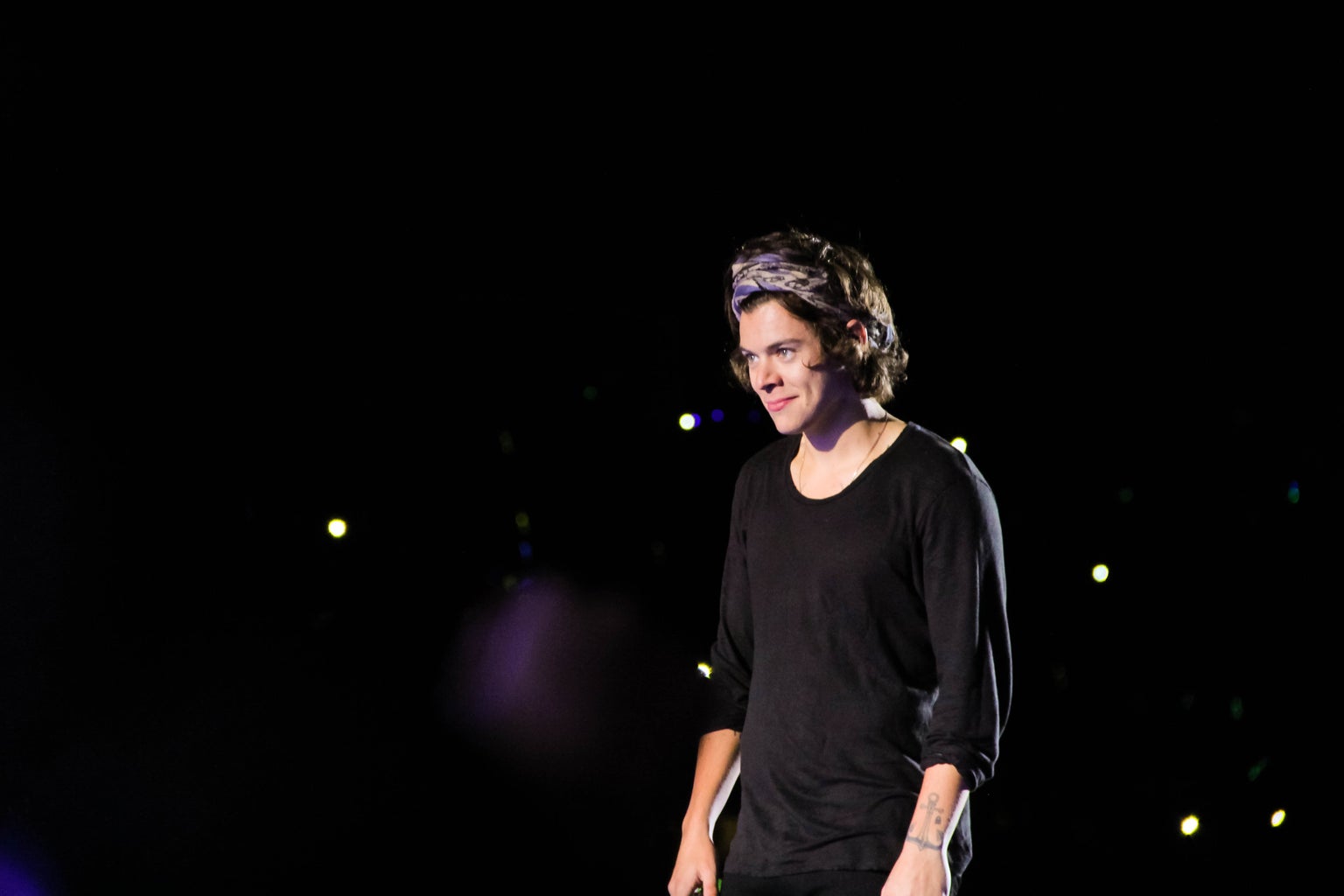 Styles knows that fashion and music are linked. In. 2019, Styles told Dazed he feels that dressing up is "part of the show, if you will. Especially, when performing." He pointed to stars like David Bowie and Elvis Presley, saying "the people I have always admired and looked up to in music, clothes have always been a big part of the thing."
His status as a bona fide style star was cemented a few months later as he co-hosted the 2019 Met Gala (largely recognized as fashion's biggest night of the year) in a custom Gucci blouse and trousers, paired with a single pearl earring, manicured nails and his signature rings.
Speaking of signature – pearls have since become a hallmark of his Styles, well, style, he was seen wearing a variety of pearl necklaces during the press tour for his sophomore album, Fine Line. From tailored suits to sweatshirts, there seemed to be no outfit that Styles wouldn't finish with a strand of pearls.
The favorite accessory of Styles was notably absent in his Vogue cover, although he more than made up for it as he frolicked in gowns by Gucci as well as up-and-coming nonbinary designer Harris Reed, kilts, a variety of avant-garde jackets and one dazzling JW Anderson chain belt.
In his Vogue interview, Styles told editor Hamish Bowles, "I like playing dress-up in general," but credits his style evolution to his long-time stylist Harry Lambert, saying "He just has fun with clothing, and that's kind of where I've got it from. He doesn't take it too seriously, which means I don't take it too seriously."
Styles elaborated, saying "clothes are there to have fun with and experiment with and play with. What's really exciting is that all of these lines are just kind of crumbling away. When you take away 'There's clothes for men and there's clothes for women,' once you remove any barriers, obviously you open up the arena in which you can play. I'll go in shops sometimes, and I just find myself looking at the women's clothes thinking they're amazing. It's like anything—anytime you're putting barriers up in your own life, you're just limiting yourself. There's so much joy to be had in playing with clothes. I've never really thought too much about what it means—it just becomes this extended part of creating something."
It seems Styles is just getting started and will be continuing to push the barriers, playing with fashion both on and off the stage – and certainly on a few more magazine covers, as well.