8 Things I Wish I Learned In Sex Ed
"For the fifth consecutive year, combined cases of gonorrhea, chlamydia and syphilis have risen in the United States, according to a Sexually Transmitted Disease Surveillance Report from the US Centers for Disease Control and Prevention published on Tuesday," writes CNN contributor Jacqueline Howard. Not for the first time, America and its views on sexuality are ASS BACKWARDS. Rates for STIs have been especially high in young adults around college age. Additionally, more people are getting tested, while fewer people are wearing condoms.
I cannot speak for every young adult in the United States. However, when one examines the previous 20 years in politics relating to sexual education, the high rates of sexually transmitted diseases and infections make perfect sense. Our dear republican leaders like former POTUS George W. Bush and current POTUS Donald Trump decided that they would cut funding for sexual education programs and then promote abstinence-only programs. These programs are proven to not work, employ scare tactics, discuss inaccurate or religiously biased information and are ummmmmm sexist AF!
A lot of us have experienced horrible classes much like this one. Girls who have sex in high school will be compared to dirty shoes, used toothbrushes or chewed gum. Why don't guys get to be those things? Last time I checked, guys were the metaphorical foot that went into the metaphorical shoe! At my school, Operation Keepsake told us lucky ladies that we were tape. Fancy, I KNOW! The more partners you have, the less you "stick" to the person you marry. AHA, clever. (Feel free to look that organization up, I name dropped them for a reason. They hurt a lot of people every year.) If you were in one of the lucky 20 states (YES, less than 50% of the country) that teaches "medically, factually or technically accurate" information, you may at least know the joke Mean Girls tells about sex ed.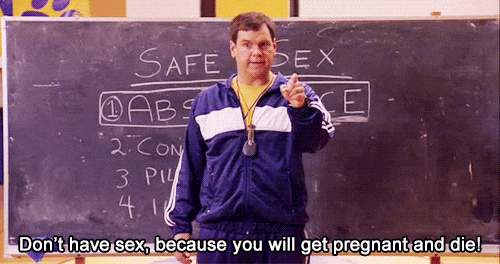 SO basically, I laugh because most of us are willing to have sex and risk death than be abstinent and live! Young people are going to do it … so why not tell us the right information? Below is my ideal comprehensive sex education lesson plan. BANANAS, CUCUMBERS, OTHER OBJECTS AT THEIR MARK!  
Overall, the state of sexual education in schools needs a LOT of help! You can make a change. Stay educated, share what you know with friends who may have questions. Planned Parenthood has great educational pages on its website as well. You can even call your local and state officials and voice your complaints about these issues that may face your schools!
Comprehensive sex ed can save a lot of lives and change the future as we know it. Stay sexy and make good choices!