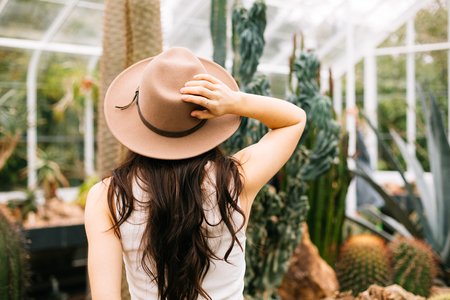 Breanna Coon / Her Campus
6 Sustainably Made Fashion Lines Worth the Splurge
Among a sea of greenwashing, it can be hard to tell which fashion lines are actually sustainable and which are just using clever (read: deceiving) marketing tactics to get eco-conscious consumers to pay a premium. Here are six brands that are truly working to creating a better environment (and even world!), making their products worth the slightly higher price tags.
This brand prides itself on producing the entire line in the US and paying workers a living wage. Not only that, but they use sustainably grown and organic cotton, which is the fiber that makes up the majority of their line. Check them out for everyday basics with an on-trend twist.

Launched in 2018, this relatively young brand says they are "here to redefine fashion's new standard" through ethical labor and sustainable textiles. It helps that the line is super cute, too, featuring many everyday staples like the Hatch Sweater (a personal favorite of mine)!

A slogan like "trash looks better on you than polluting the planet," may seem alarming, but it's because the brand makes activewear out of recycled single-use plastic water bottles, keeping them out of landfills. Bonus - they release new limited-edition colorways a few times a year, but the quantities are very limited to keep from having left-over product and creating waste, so be sure to scoop them up while you can!

Known for their ultra-feminine dresses and blouses, Reformation is a staple among LA it-girls, but it's not just the aesthetic that's so appealing. The company puts a focus on sustainability and features a page on their website mapping out their sustainability programs and goals. 

This brand is perfect for all the work-from-home looks you've been needing lately. Offering comfortable loungewear that's made sustainably and planting 10 trees for every purchase makes this a brand you can feel good about supporting, So, they have planted over 30 million trees and plan to reach a billion by 2030.

Denim is the textile that contributes the most damage to the environment, but DL1961 is trying to change that by finding ways of making jeans with a lower environmental impact. They even use biodegradable fibers so that their products can reenter the eco-system at the end of their lifecycle. Beyond just jeans, the company offers many ready to wear items including denim jackets that perfectly coordinate with their jeans - pretty hard to resist!
While it's great to purchase from sustainable fashion brands, it is important to remember that the most sustainable clothes are the ones you already own. So while these a great brands to shop, remember to take a second thought before purchasing - do you really need that cute new top or another pair of leggings? Don't you have a closet full of clothes?