As the Halloween season approaches us, I thought what better way to get into the Halloween spirit than to test out some of my favorite pumpkin-inspired recipes. Now, I am a big pumpkin-connoisseur and in the past, I've tried multiple pumpkin-inspired recipes that did not turn out the way I had imagined. I can confidently say that these three recipes are fool-proof and if you are not a baker (like myself), then you can do them too. Happy baking!
Pumpkin Whip Dip
Ingredients:
Dip:
1/2 container of Cool Whip (you can use dairy-free Cool Whip too!)
¾ cup of pumpkin puree (canned)
3 tbsp of instant dry vanilla pudding mix
½ tsp of pumpkin spice
Dippers:
Graham Crackers of your liking or sliced apples
Instructions:
The instructions for this delicious dip is quite easy! Simply put all of the dip ingredients in a large bowl and mix.
Put this mixture in a cute bowl with your choice of dippers and you're good to go!
This recipe is BEYOND easy and takes less than 5 minutes to put together. My roommate and I had a "fall"-themed dip night, and this dip was the perfect dessert! It is very light and does not leave you feeling heavy afterwards (a big plus!).
Pumpkin Pie Parfaits
Ingredients:
1 cup of pumpkin puree
1 cup of cream cheese (whipped)
1 tsp of pumpkin pie spice
3 tbsp of brown sugar
2 cups of heavy whipping cream
2 tablespoons of powdered sugar
Graham Crackers
Instructions:
The instructions for this parfait is quite easy! The first step for making this parfait is to mix together the cream cheese, brown sugar, and pumpkin puree, and pumpkin pie spice in a bowl. I recommend using an electric mixer, but if you're like me and don't have one at college, no worries! Mix the ingredients as best as you can. Next, in a different bowl, beat the powdered sugar and heavy cream until it is fluffy. Lastly, layer all of the ingredients in a small cup or jar and repeatedly layer until full (crushed graham crackers, pumpkin cheese layer, whipped cream).
I absolutely love this recipe because it looks a lot fancier than it is and it also tastes very yummy! You can also prepare these parfaits 24+ hours in advance and it still tastes delicious.
Pumpkin Pancakes
Ingredients:
1 cup of flour
2 tsp of baking powder
1 tsp of baking soda
½ tsp of cinnamon
½ tsp of kosher salt
1 ¼ cup milk ( you can use almond, oat, soy or other plant based milk of choice if dairy-free)
1 tsp of vegetable oil, plus more for greasing
½ cup of pumpkin puree
Instructions:
The first step of this recipe is to mix all of the dry ingredients in a bowl. Next, in a separate bowl combine all of the wet ingredients. After, combine both wet and dry ingredients in one bowl and whisk. Heat stove on medium heat and grease pan with vegetable oil. Lastly, pour 2 tbsp of batter in pan and let cook accordingly.
I really like this recipe for pumpkin pancakes because it is very straightforward and follows the recipe of regular pancakes, however they are pumpkin! It makes the process of making breakfast a fun festive activity.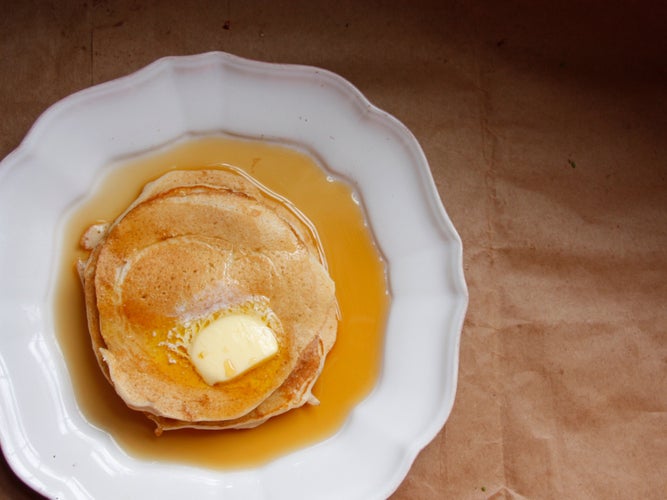 If you get the opportunity to try any of these recipes, I hope you enjoy them! Happy Halloween!