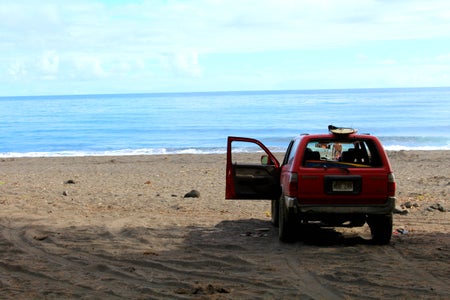 Tessa Pesicka / Her Campus
The Road Trip Diaries: Mersea Island
Being stuck with your persistent thoughts for a few months is enough to make you question yourself and the outside world. Fortunate enough to remain at home during this period of Orwellien tragedy, I seemed to, by my own choices, have forgotten what it means to exist outside my personal space. I had forgotten what fresh air smelt like, how it felt to be outside, and what it even meant to travel outside beyond the boundaries of my own front garden. The seemingly endless waters of Mersea Island reminded me of how very minute my existence was. And, more importantly, how privileged I was to stay safe enough to witness the shrinking new boundaries of our world.
The task of travelling as two separate families was no easy feat. Not only were we all irrevocably late on all fronts; we also frequently lost our way. Our decade old sat-nav was too weary from countless miles to process any new routes. So, we resorted to following the silver haze of our neighbours' car, before it blended in with the expected cacophony of metallics on the motorway. We were left to our own devices, relying on our mobile phones, frightfully wary of the imminently 'low battery' signal.
Soon enough, we were on the edge of nowhere. Deep into blue skylines and remote store huts, we took a pit stop to get our bearings and recover our recently delayed friends. As we waited, the store manager popped outside, asked if we had enough food and water, and directed us to our destination.  As cosmopolitan Londoners, this sense of kindness took us by surprise. Whether it was because humanity improved, or because of mere random generosity, I couldn't tell.
Directed to intertwining country roads, space became a luxury we struggled to find. It seemed that everyone had heard of this hidden border of Colchester. After a smatter of circling streets, car parks, and narrow roads, we found twin spots near the water front. It seemed to be fate. Our view was now polluted with a rich, Elysian blue, a sparkling blanket of the heavens. We compiled our belongings and began our descent along the warm, alarmingly smooth sands.
Our first hour together was filled with sparse chatter, drowned out by the lapping of shallow waves. Seven-year-old Arshan began an expedition, collecting patterned shells with the vehemence of a scientist on the edge of a breakthrough. Eleven-year-old Jasmine concentrated on deciphering the colour patterns of surrounding beach huts. The simplicity of their tasks, the joy it brought, was an unfamiliarity I had longed to remember.
Our lunch time was passed similarly. Our ever-organised parents had designated lunch boxes, provided a variety of drinks, and supplemented these with the severity of sweet sea beach ice cream. This last treat we earned from a trek through murky sands. Not particularly soft or hard, we still struggled to find our footing. Jasmine told me about her fears of starting secondary school. She wasn't ready to let a huge chunk of her life slip away, especially when she didn't really know what for. She just knew she couldn't go back. By now, we had left our families leagues behind on the beach, and continued chatting into the open wind. It was colder now; the water had turned to an uncompromising shade of grey. At least we were encompassed by the yellow hues of the afternoon sun.
Travelling back to our cars brought out an unfathomable exhaustion in us. We were relieved to see our families packing up. We were ready to leave this little corner of the world and return to our outrageously normal lives. Only after looking back at the sea one last time did I realise the emptiness of the beach. The sands looked worn out, and seaweed sprung from abstract corners. The blue tones were now a remnant in the depths of my memory.
We soon raced home, back into the familiar terrain of imposing buildings. Oddly, I missed seeing the macabre street names near my home. Of course, these dinted alleys and patches of green were not particularly postcard worthy. But, it was humbling to return to a place where I felt safe. Secret beach corners are not my reality. They rarely even feature in figments of my imagination. Yet, Mersea Island reminded me of the glorious simplicity of merely existing.