Life in a Snapshot: The Power of Archives in Black History
I've had a weird relationship with Instagram lately. My days on "the gram" have been quite sparse, nothing really catches my eye and at times I fall into the black hole that is the explore page. However, recently I've found something that stopped me from prematurely clicking out, and it's an amazing account called Black Archives (@blackarchives.co). It's a mosaic of black history weaving through decades and diasporas. Lives and stories are relayed through amazing photography from momentous events such as the Civil Rights Movement and Muhammad Ali vs Joe Frazier's iconic 1971 boxing match, to the beautiful quotidian shots of a mother doing her daughter's hair. When I look at these wonderful pictures of people who look like me, one thing that stands out is the smile on their faces. Even when they're not smiling, there's always something captured in those images, an animated quality to their expressions, a vibrancy in their movements.
Founded by filmmaker and archivist Renata Cherlise in 2015, the project itself is an online exhibition where black people are both the subject and curators. This project also showcases the work of brilliant photographers such as Jamel Shabazz, Gordon Parks and underrated ones too. People can send in their own personal photos from family albums and a simple picture of two best friends can result in re-established relationships. One of the great things about scrolling through their feed is going through the comments. You find so many people rejoicing at the history that they never got to see in school and – something truly magnificent - people finding family members, friends and neighbours iconised in an image. I saw a girl pointing out her mother's school friend and another woman identifying a photo which her late father took. This archive is a gratifying journey of self-discovery and documentation for black people.
Last summer, I took part in a voluntary young filmmaker's project with my local museum, National Maritime. We got the opportunity to visit the "Get Up, Stand Up Now" exhibition at Somerset House showcasing Black British life and it was so exciting to see all the art the black community produced in this country.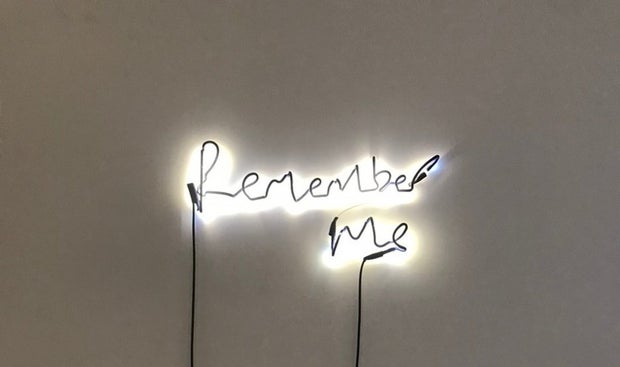 Original photo by Sara Osman Saeed / Installation by Steven McQueen Steven McQueen, 'Remember Me' (2016), photo by Sara Osman Saeed
At times, it feels as if the only dominant narrative on black life is the African American one, so this exhibition was especially important. We also got to meet influential archivist June Givanni, a Guyanese-born curator, who has the UK's largest personal collection of Pan-African cinema. She showed us around the mass of film posters, books and pamphlets in her office from decades ago and we got a chance to interview her.
Whilst looking at these photos, I felt like I had to reflect on my own family's history. My mother is a first-generation refugee to the UK from Somalia who had to leave home as the country was ripped apart by a Civil War in the 80s and 90s. My grandmother died by the time I was a toddler, so the only memories I have of her are my mum's accounts and the beautiful pictures from our albums. For me, these photos are the precious imprints of a person who has so strongly shaped my life but who I never got the privilege to meet. In my photos, I can see different versions of myself: the 7-year-old karate kid, the awkward brace-face, the quiet secondary student. My younger brother even has his whole life archived on my mum's Facebook.
Let this be a reminder about how pictures can shape your personal history and the history of a people. It can give autonomy to those who are disenfranchised and it can help us create our own narratives outside dominant ones. A single picture can say a thousand words.
Sources: 
- June Giovanni Pan- African Archive http://www.junegivannifilmarchive.com
- Black VRCHIVES https://www.blackarchives.co/about 
- Get Up Stand Up Now @ Somerset House (2019)